Iot Scotland Welcomes First Customer As The Highland Council Introduces Transformational Water Monitoring Technology
13th August 2019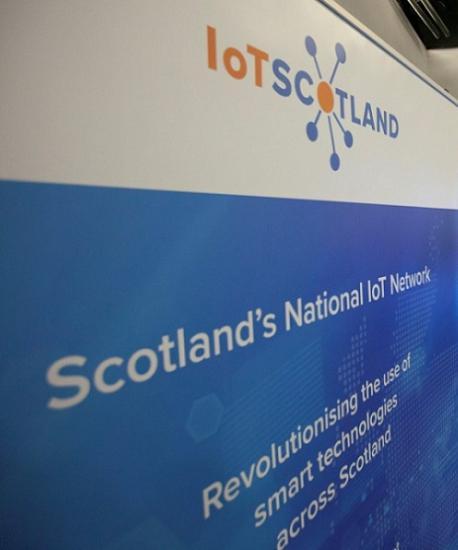 IoT Scotland has welcomed its first customer after The Highland Council selected the open access network to provide IoT connectivity for an innovative and transformational water monitoring contract.

The Highland Council awarded a three-year contract to Dundee-based IoT Scotland partner M2M Cloud to roll out their Neptune water-monitoring sensor technology to over one hundred buildings across their estate. The sensors will be used to remotely gather data from the council's water systems, providing an effective way to monitor and control legionella risk.

Water systems with the right environmental conditions, such as temperatures between 20 - 45, can potentially develop harmful bacteria, such as legionella. To negate this risk, sensors are attached to the surface of water pipes to record temperature readings every 10 seconds. Data captured is then transferred over the IoT Scotland network for The Highland Council to view via an intelligent dashboard.

Real-time alerts notify the building users of changes to the temperature to provide early notification that the water system is out of specification, replacing a previously timely and manual monitoring process where engineers would travel across the council estate to take temperature readings.

The Highland Council is responsible for the largest local government area in the UK. Covering an area larger than Belgium, with a population of over 230,000, the council manages 1100 non domestic properties.

M2M Cloud developed their Neptune technology following a proof of concept trial involving CENSIS - the Innovation Centre for Sensor and Imaging Systems and IoT - which saw the technology rolled out at two Highland Council properties.

The Scottish Government backed IoT Scotland network provides businesses and the public sector with access to affordable IoT connectivity. Allowing them to monitor and potentially control the status, efficiency and productivity of their assets and equipment, and to make more informed data driven decisions that will deliver economic and social benefits and drive operational efficiencies.

Chair of the Highland Council's Environment, Development and Infrastructure Committee, Councillor Allan Henderson said: "The Internet of Things (IoT) has been 'the next big thing' for a while now, but in recent years it has developed in a major way, to the point that there are now a number of well tested and useful applications for the public sector. IoT represents a very real opportunity to help local authorities save money, reduce their energy/carbon output and improve service delivery, and a national IoT network provides the connectivity facilitate these projects."

Scott Edgar, Operations Director at M2M Cloud, commented: "Having a National IoT network will enable any business or public sector organisation across the country to potentially access and benefit from Neptune Water Monitoring technology. Neptune helps ensure a water system is compliant and also helps with planned preventative maintenance schemes. The technology can also help organisations react quicker to problems and target resources to the right place saving time and money, while lowering carbon emissions".

The Highland Council project has been part funded through the Scottish Government's European Regional Development Fund (ERDF), as part of the Strategic Intervention "Scotland's 8th City – The Smart City.
Related Businesses
Related Articles
Consumer complaints about second-hand cars have topped the complaints "league table" in Scotland for many years. Common problems include mechanical issues, misdescribed cars and history.
Changes to a number of Polling Districts and Polling Places in the Highlands were agreed yesterday (Thursday 5 September 2019) at the meeting of The Highland Council. Members approved a new Scheme of Polling Districts and Polling Places that will be in place for the next four years.
As part of The Highland Council's Redesign, the Council has announced two further appointments to new posts of Executive Chief Officer (ECO). Stuart Black, Director of Development and Infrastructure, will take up the post of ECO for Transformation and Economy at the end of the month.
Kings Golf Club Inverness, (formerly known as Torvean Golf Club), has officially opened a new course and clubhouse on the north side of the A82 trunk road, on the outskirts of Inverness, marking the completion of a £12.35M investment as part of the Inverness West Link Road project. The official opening ceremony took place today, Friday 30th August 2019, with special guest Bernard Gallagher, former three times Ryder Cup Captain and the Provost of Inverness Helen Carmichael.
The Highland Council is now inviting applications for Community Transport grant funding, to cover the three-year period from April 2020 - March 2023. The Council encourages both current grant recipients and new applicants to submit applications.
During the Caithness Committee on Tuesday 27 August 2019 Members had the opportunity to review progress of the capital programme for the area and scrutinise the amount of money spent to date. The current year's capital investment allocation for projects in the Caithness area is £4,210,000.
Members have, at a special council meeting today, agreed a top priority for the Scottish Government New Schools Investment Programme bid. Members agreed that the proposed Tain 3-18 Campus project is nominated as The Highland Council's priority for consideration by the Scottish Government for inclusion in the initial phase of the New Schools Investment Programme with a delivery timescale by the end of 2021.
At this time of year many householders are thinking of their gardens, keeping them tidy or seeing to those jobs that need done before the weather turns. This is also the same time of year for criminals to take advantage of this and prey on the unsuspecting.
The Council has successfully distributed more than 20,000 Chromebook devices to all its schools to support learners to acquire key technology and life skills in facilitating a digitally enabled generation. Based on the ICT in Learning Strategic Action Plan 2015, The Highland Council started the Chromebook Project in November 2017 where every pupil in P6-S6 will be allocated a Chromebook for their use in school and at home for educational purposes and P1-P5 pupils will have access to Chromebooks at school on a 1:5 ratio.
Considerable effort has been focussed on returning young people to Highland. Since the Councils enhanced Placement Programme began in June 2018, 34 young people have returned to Highland or circumvented OOA (Out of Authority) avoiding costs of over £5M as compared with these young people remaining out of area for a year.