Could you help shape the future of Wick High Street?
30th September 2019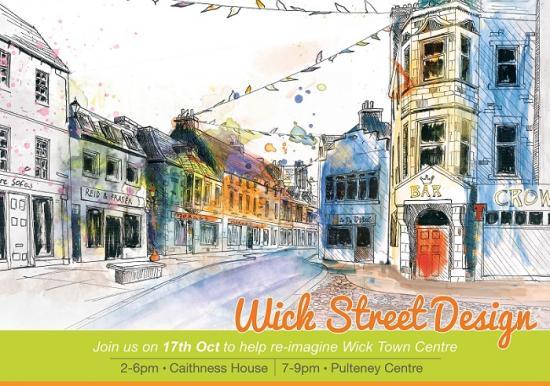 Wickers are being given the chance to help transform their High Street into a more vibrant, accessible and a welcoming place for everyone to spend time in, as part of the Town Centre Regeneration.

The Wick Street Design project is being delivered by Sustrans Scotland in partnership with The Highland Council, Royal Burgh of Wick Community Council and Local Councillors.

Local residents, business and community groups are invited to drop in to the Highland Council Offices between 2:00 and 6:00pm on Thursday 17th October 2019 to find out more about the project. There will also be refreshments as well as child-friendly activities.

There also will be an evening session between 7:00-9:00pm at the Pulteney Centre.

The Wick Street Design project aims to improve the pedestrianised zone of the High Street including Market Square and the two signalised pedestrian crossings on Bridge Street.

The community will primarily be involved in the design process for these areas however the section of Bridge Street between the junction and the bridge is also open for comments to understand the means by which the High Street is accessed by foot, wheelchair or by bike.

Kasia Koziel, Sustrans Scotland Project Lead, Sustrans Scotland said of the project: "This is the first in a series of engagement activities in the area."

"We want to provide as many opportunities as possible for people to be able to share their ideas on how we redesign the area to ensure that it meets the needs of those who use it the most."

"We look forward to hearing people's ideas on how we can help create a welcoming, more attractive space that will provide people of all ages and abilities a comfortable and safe area to walk, wheel and cycle through."

Councillor Nicola Sinclair - Wick Council's Project Champion - said: "The Street Design project is one part of a fully funded regeneration plan that local members will launch next month.

"I'm absolutely delighted to welcome the expert Sustrans Scotland team to Wick, where they will support our community in re-imagining the town centre, delivering a High Street that is more vibrant and welcoming for all.

"I know people will have lots of great ideas to suggest and hope to see a great response to the public event on the 17th and to the online and paper surveys."

The aim of the collaborative design process is to create:

- Warm, welcoming and more attractive public spaces;

- A comfortable and safe environment to walk, wheel and cycle;

- Better travel experiences through Wick town centre - particularly when accessing local facilities;

- A sense of identity for the town centre in Wick, drawing on local culture and heritage;

What if I can't make it on the day?

From the 2nd to the 23rd of October 2019, an interactive project website will be open to allow people to submit their comments and ideas https://wick.commonplace.is/

The comments can also be submitted in writing between 5th and 23rd October at locations across Wick including:

· Morag's Cafe, 94-102 High Street

· Pulteney Centre, Huddart Street

· Co-op store, Angle Park, Thurso Road

· Tesco Superstore, North Road
Related Businesses
Related Articles
Earlier today (Wednesday 1 July 2020) members of The Highland Council's Economy and Infrastructure Committee had the opportunity to discuss (by video conference) progress made with the Corran Ferry Project which is reviewing the options for securing a replacement ferry and considering the way forward for the future operation and management of the service. The Corran ferry service has reached a critical point and strategic decisions need to be made.
As Scotland prepares for the easing of lockdown and the re-opening of the tourism and hospitality sector, The Highland Council's Environmental Health are advising holiday accommodation providers to make sure their private water supplies are safe to drink. A large number of self-catering and tourist accommodation in the Highlands are served by private water supplies and with these being closed during the lockdown period, the water supply system may not have been maintained and could create a risk to the quality and safety of the drinking water.
Lesley, who previously worked for Hackney Local Authority in London, expressed how much she has enjoyed working for the Council. Lelsey started with highland council on 13 August 2019.
Following Scottish Government guidance on returning to construction sites across Scotland, works will be restarting on the EES:ABS scheme across the Highlands. In line with the guidance, contractors will be undertaking phased restarts and adhering to social distancing to allow workers to return to construction sites gradually while using measures such as hand hygiene.
Two prominent derelict buildings in Wick High Street are to be demolished following decades lying empty. Numbers 30 and 126 (known locally as Dominoes (the former cinema) and Sloans are to benefit from demolition and site clearance, before ownership is returned to the local community.
Highland Council has produced a new video which shines a spotlight on how children across the region have been able to continue learning during lockdown. Last month the Council produced a video 'Learning During Lockdown' to highlight how teachers were able to continue to deliver education despite the closure of school across the UK.
The Leader of The Highland Council has written to the Cabinet Secretary for Transport, Infrastructure and Connectivity, Michael Matheson MSP, raising her deepest concerns over Eastern Airways decision to withdraw their Wick - Aberdeen Service. The decision by Eastern Airways follows Loganair's earlier decision to withdraw its Wick-Edinburgh route, which now leaves Wick John O'Groats Airport with no commercial services operating.
£257.6 million to help tackle COVID-19 approved by Parliament. Almost £258 million of additional funding for vital local services, such as food provision for those in need, education and social care, has been approved by the Scottish Parliament.
The Highland Council is inviting private landlords and providers of short-term lets, including Air B&B hosts who may be interested in leasing their property to the Council to get in touch. Chair of the Housing and Property Committee, Councillor Ben Thompson said: "The COVID-19 outbreak has affected all aspects of our daily lives and we have seen increased pressure on our homelessness service, including demand from the loss of tied accommodation in the hotel industry.
Councillor John Finlayson, Chair of the Highland Council's Education Committee responded to the announcement today by John Swinney, Deputy First Minister on the return of education. "Today's announcement by the Deputy First Minister that the planning assumption will now be for a full return to school for all pupils in August if it is safe to do so, is very welcome news for everyone and it reflects the aspirations that have been communicated to me over recent days by so many parents.