Highland Council Cuts 800,000+ Miles With Enterprise Car Club Saving £400,000
29th October 2019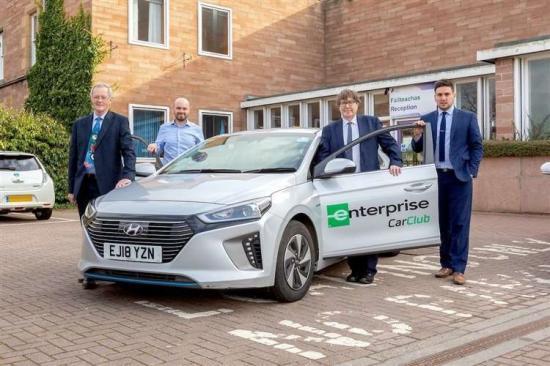 Highland Council saves £400,000 And 377 Tonnes Of CO2 In First 12 Months With Enterprise.

The Highland Council has reduced its annual business mileage by more than 825,000 miles and made cost savings in excess of £400,000 in the first 12 months since introducing Enterprise Car Club, part of global vehicle rental group, Enterprise Holdings.

This represents a 15% reduction in overall business travel costs. The council's grey fleet mileage has fallen by nearly a quarter (22%) and its overall business mileage has dropped by 13%.

A fleet of 60 Enterprise Car Club vehicles located across 21 Highland Council offices is now available for booking by the hour or day by employees who would have previously used a private car and claimed mileage reimbursement, sometimes referred to as the 'grey fleet'. Enterprise Car Club is also used as an alternative to daily rental in many locations, as it has proven to be a more efficient choice.

The majority of the 60 vehicles are plug-in hybrids. Five plug-in Nissan LEAF electric cars are also based at Council offices in Inverness, Golspie and Fort William, where average journey lengths are often shorter and electric vehicles (EVs) offer the most viable and sustainable option. Enterprise has also installed car club technology, including the ability to book online or via a mobile app, in many of the council's own pool cars.

The Highland Council estimates that it has cut its carbon footprint from staff travel by approximately 377 tonnes of CO2 equivalent* in 12 months by transferring grey fleet mileage onto dedicated hybrid and electric Enterprise Car Club vehicles, a reduction of 19%.

The Council covers a large area of Northern Scotland, roughly equivalent to the size of Belgium. Many of its 10,000 employees travel great distances for business to and from around 700 local offices, schools and depots to deliver essential local services. Before bringing Enterprise on board, its grey fleet mileage amounted to more than six million miles a year at a cost of more than £2.2 million.

Enterprise worked with the Council to analyse employee mileage in detail to identify why, how, when and where trips were taking place, if alternative options were suitable, and where it would make sense to have dedicated car club vehicles located on-site.

A significant factor in the success of the club has been an employee communications programme that provides clear information on how to make better travel choices. This will shortly include the generation of automated emails to notify when employees could be utilising vehicles more efficiently.

The Council aims to increase its car club fleet to 80 vehicles by the end of this year to achieve even greater savings.

In addition, the Council is rolling-out an improved ICT infrastructure to encourage video conferencing and is focusing on shared and public transport for service delivery where practical.

Councillor Allan Henderson, Chair of The Highland Council's Environment, Development and Infrastructure Committee, said: "Enterprise has completely transformed our approach to business travel and given us control over all the previously unmanaged elements. We'll always have to deliver some services face-to-face, but this programme ensures that our business mileage is drastically reduced, saving a lot of taxpayer money.

"We worked closely with Enterprise to analyse where we needed vehicles and to roll out the programme across our offices and made sure employees were on board and understood the benefits."

Diane Mulholland, General Manager for Scotland/Northern Ireland at Enterprise, said: "The Highland Council has developed a sophisticated programme that encourages employees to avoid journeys if they can, and to use the most cost-effective and sustainable option if the trip is unavoidable. It's also monitored and adjusted on a day-to-day basis to keep it as efficient as possible. The impact on air quality and congestion could be significant if all organisations reduced their road travel emissions by 19% and their business mileage by 13%, as the Highland Council has managed to achieve."
Related Businesses
Related Articles
Highland council members today (9 December 2019) wholeheartedly gave their support to a report to Council on tackling gender-based violence. Highland Council has been working closely with trade union colleagues and Close the Gap to create a zero-tolerance culture towards gender-based violence.
Highland councillors today approved the findings of a public consultation supporting the introduction of a Highland Transient Visitor Levy and committed to further work to develop an optimal scheme for Highland. The results of more than 6600 responses gathered through online and face-to-face surveys, alongside a pre-consultation with the tourism industry and written submissions received from representatives from the tourism industry and local communities were considered by Members.
Members have approved a proposal to substantially increase the payment to foster carers at the meeting of Highland Council today, Monday 9 December 2019. The new payment proposal recognises the valuable role of foster carers in providing a home and care for the most vulnerable children within their Highland community.
Voters in the three Highland constituencies for the UK Parliamentary general election of: Caithness, Sutherland and Easter Ross; Ross, Skye and Lochaber; and Inverness, Nairn, Badenoch and Strathspey are being reminded by Returning Officer Donna Manson that their vote matters. On Thursday 12 December voting begins with all Highland polling stations opening their doors at 7am and remaining open for voters until 10pm.
New guidance for parents and carers who wish to apply for deferred or early entry to Highland schools for their children has been approved (subject to some additional conditions agreed) by Members of The Highland Council's Care, Learning and Housing Committee. The guidance is helping to deliver the Council's Programme priority to 'expand early years provision and provide the best start for young people across Highland'.
A question from Councillor Ben Thomson to Highland Council meeting next week. To the Chair of the Corporate Resources Committee "What reassurance can the Council provide that it is applying discretion where appropriate to the imposition of the 200% Council Tax rate applicable to empty homes? i.e.
Members will be asked to approve a proposal to substantially increase the payment to foster carers at the meeting of Highland Council on Monday 9 December 2019. The new payment proposal recognises the valuable role of foster carers in providing a home and care for the most vulnerable children within their Highland community.
The public is being asked for its views on proposals by The Highland Council to review the maximum level of charges for the hire of taxis or private hire cars fitted with taxi meters operating under licence of The Highland Council. The Council has a statutory duty in terms of Section 17 of the Civic Government (Scotland) Act 1982 to review its scales for the fares and other taxi related charges every 18 months.
Improving literacy and numeracy is giving more young people a better chance of fulfilling their potential in life. Highland Council is committed to tackling poverty and inequality and enabling all our children and young people to reach their full potential, with a focus on reducing the attainment gap for those from more disadvantaged communities across the Highlands.
Helen Budge, Director of Children's Services at Shetland Islands Council, has taken up the mantle as Lead Officer for the Northern Alliance. She will be supported in leading the improvement collaborative by a quality improvement manager, working with Aberdeen, Aberdeenshire, Argyll & Bute, Comhairle nan Eilean Siar (Western Isles), Highland, Moray, Orkney and Shetland councils to improve the life chances of children and young people.