Highland Council Cuts 800,000+ Miles With Enterprise Car Club Saving £400,000
29th October 2019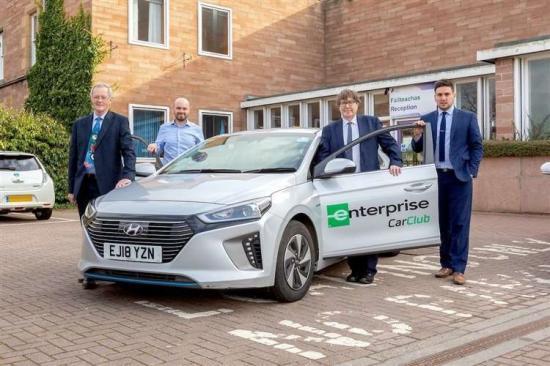 Highland Council saves £400,000 And 377 Tonnes Of CO2 In First 12 Months With Enterprise.

The Highland Council has reduced its annual business mileage by more than 825,000 miles and made cost savings in excess of £400,000 in the first 12 months since introducing Enterprise Car Club, part of global vehicle rental group, Enterprise Holdings.

This represents a 15% reduction in overall business travel costs. The council's grey fleet mileage has fallen by nearly a quarter (22%) and its overall business mileage has dropped by 13%.

A fleet of 60 Enterprise Car Club vehicles located across 21 Highland Council offices is now available for booking by the hour or day by employees who would have previously used a private car and claimed mileage reimbursement, sometimes referred to as the 'grey fleet'. Enterprise Car Club is also used as an alternative to daily rental in many locations, as it has proven to be a more efficient choice.

The majority of the 60 vehicles are plug-in hybrids. Five plug-in Nissan LEAF electric cars are also based at Council offices in Inverness, Golspie and Fort William, where average journey lengths are often shorter and electric vehicles (EVs) offer the most viable and sustainable option. Enterprise has also installed car club technology, including the ability to book online or via a mobile app, in many of the council's own pool cars.

The Highland Council estimates that it has cut its carbon footprint from staff travel by approximately 377 tonnes of CO2 equivalent* in 12 months by transferring grey fleet mileage onto dedicated hybrid and electric Enterprise Car Club vehicles, a reduction of 19%.

The Council covers a large area of Northern Scotland, roughly equivalent to the size of Belgium. Many of its 10,000 employees travel great distances for business to and from around 700 local offices, schools and depots to deliver essential local services. Before bringing Enterprise on board, its grey fleet mileage amounted to more than six million miles a year at a cost of more than £2.2 million.

Enterprise worked with the Council to analyse employee mileage in detail to identify why, how, when and where trips were taking place, if alternative options were suitable, and where it would make sense to have dedicated car club vehicles located on-site.

A significant factor in the success of the club has been an employee communications programme that provides clear information on how to make better travel choices. This will shortly include the generation of automated emails to notify when employees could be utilising vehicles more efficiently.

The Council aims to increase its car club fleet to 80 vehicles by the end of this year to achieve even greater savings.

In addition, the Council is rolling-out an improved ICT infrastructure to encourage video conferencing and is focusing on shared and public transport for service delivery where practical.

Councillor Allan Henderson, Chair of The Highland Council's Environment, Development and Infrastructure Committee, said: "Enterprise has completely transformed our approach to business travel and given us control over all the previously unmanaged elements. We'll always have to deliver some services face-to-face, but this programme ensures that our business mileage is drastically reduced, saving a lot of taxpayer money.

"We worked closely with Enterprise to analyse where we needed vehicles and to roll out the programme across our offices and made sure employees were on board and understood the benefits."

Diane Mulholland, General Manager for Scotland/Northern Ireland at Enterprise, said: "The Highland Council has developed a sophisticated programme that encourages employees to avoid journeys if they can, and to use the most cost-effective and sustainable option if the trip is unavoidable. It's also monitored and adjusted on a day-to-day basis to keep it as efficient as possible. The impact on air quality and congestion could be significant if all organisations reduced their road travel emissions by 19% and their business mileage by 13%, as the Highland Council has managed to achieve."
Related Businesses
Related Articles
The Highland Council is warning the public to be on their guard for the latest COVID-19 scam which is circulating around the country. Information on this scam was received by Highland Council Trading Standards, through a national intelligence network.
Following the freezing of some charges and suspension of enforcement for others during the lockdown period, The Highland Council has been following a phased return to normal operations since the 26th of June. Further details are given below.
Many Highland Council tenants may be missing out on help towards their rent from Universal Credit because they have not notified the Department for Work and Pensions (DWP) of their annual rent increase which came into effect on the 30th March 2020. Those tenants who have not yet reported their rent increase could be facing a shortfall in the help they receive towards their rent, putting them at risk of rent arrears.
The Highland Council is updating parents and carers of its position on early learning and childcare (ELC). In response to the COVID-19 pandemic, The Scottish Government removed the statutory requirement for Local Authorities to deliver 1140 hours of ELC from August.
Following on from the recent publication of Highland Council's Supporting Economic Recovery in Highland - A Guide for Businesses - the Council is announcing relaxation of some controls that will assist tourist accommodation providers have been impacted by the Covid-19 pandemic. In recognition of this where there are specific planning and licensing controls in relation to occupancy, for example: a restriction on the occupancy of any caravan for a continuous 12 month period; or where conditions restrict occupancy for specific periods of time, ...these will be relaxed by the Council up to and including April 2021.
The Caithness Committee met virtual today for the first time since the Covid-19 pandemic and it's agenda focused on the actions taken by the Council and the third sector to deal with the effects of Coronavirus in Caithness. The Executive Chief Officer for Education and Learning, Paul Senior, gave members an update on the plans and preparations underway to prepare for the return of pupils and staff to Caithness schools in August.
Margaret Davidson, the Leader of the Highland Council has given her strong support to the efforts of the Scottish Government to obtain greater fiscal flexibility from the UK Government. The Scottish Government have sought flexibility to offset capital underspend against resource expenditure, more flexibility over resource borrowing and greater flexibility over the use of the reserve for capital.
The Highland Council is planning to re-open play areas across the region throughout summer. Advice was provided by the Scottish Government on 28 June as to the safety measures that should be applied.
The Highland Council was one of the first local authorities in Scotland recognised to develop a Schools Digital Learning Hub, which provides a resource for staff, parents and pupils to support home learning. Prior to Covid-19, we had an estate of 27,000 Chromebooks that were already a part of our ICT in Learning Strategy.
Earlier today (Wednesday 1 July 2020) members of The Highland Council's Economy and Infrastructure Committee had the opportunity to discuss (by video conference) progress made with the Corran Ferry Project which is reviewing the options for securing a replacement ferry and considering the way forward for the future operation and management of the service. The Corran ferry service has reached a critical point and strategic decisions need to be made.