Wick Golf Club
www.northhighland.ac.uk/nhconline/wgc/index.htm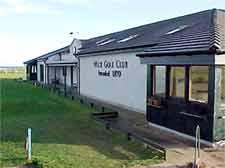 Founded in 1870 and located just 3 miles North of Wick in the Highlands of Scotland, this beautiful course comes highly recommended by many a player.
Postal Address
Wick Golf Club
Reiss
Wick
Caithness
KW1 4RW
News for Wick Golf Club
A golf enthusiast from Wick has been using his networking skills to help build a range of new contacts for future business. John Hunter owns and runs Hunter's Promotions Ltd, along with his wife Christine.
If you contact this Business, please let them know, you found them in the Caithness Business Index