Clydesdale Bank Plc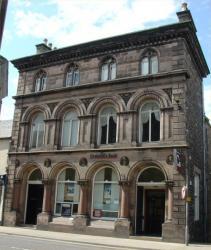 Postal Address
Clydesdale Bank Plc
30 Bridge Street
Wick
Caithness
KW1 4NG
Opening Hours
Tuesday :
9:15am - 4:00pm
Wednesday :
9:15am - 4:00pm
Thursday :
9:15am - 5:30pm
News for Clydesdale Bank Plc
The agriculture sector in Scotland is showing signs of growth as famers successfully navigate uncertainties linked to currency fluctuations and future subsidies, analysis by Clydesdale Bank shows. The farming sector in Scotland saw a drop in Total Income from Farming from £775 million in 2014 to £653 million in 2015.
In September 2016 CYBG PLC, the parent company of Clydesdale Bank, announced that its branch network would be reducing as part of the Bank's strategy to create a truly integrated digital, mobile, telephone and branch service for its customers. Following last year's announcement, Clydesdale Bank has today confirmed that it will close 40 branches in 2017.
If you contact this Business, please let them know, you found them in the Caithness Business Index