UKAEA Today Evolved Into Dounreay Site Restoration Ltd
31st March 2008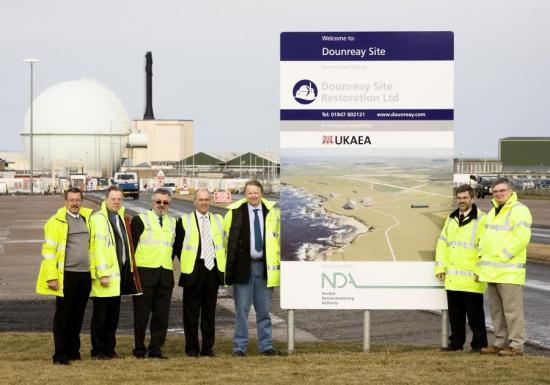 UKAEA Dounreay today evolved into a site licence company, Dounreay Site Restoration Ltd.

The site is also changing how it communicates with the media, public and other stakeholders.

A new website - www.dounreay.com - from today becomes the primary means of public communication for DSRL. News about progress to decommission the site and events will be posted here.

Recipients of who previously received the Dounreay Bulletin once a fortnight will now receive a weekly email alert, "news at dounreay.com", rounding up additions to the website during the previous seven days.

The Bulletin has ceased publication. If you do not wish to receive the weekly "news at dounreay.com", please respond to communications[AT]dounreay.com.

A new easy-to-understand monthly performance report, Countdown to Closure, will also be published soon at www.dounreay.com

Learn more about the site closure programme at dounreay.com public information centre at 7 Olrig Street, Thurso (open 9am to 5pm, Monday to Friday) and the world-wide web.

Photo
Tony Wratten, DSRL assurance director; Stuart Chalmers of the NDA; DSRL non-executive director Charles Curtis; DSRL chairman Stephen White; DSRL director and secretary Phillip Colville; Randall Bargelt of NDA; and DSRL managing director Simon Middlemas.
Related Businesses
Related Articles
Employees from across the Nuclear Decommissioning Authority group have been honoured at a prestigious national awards ceremony in London. The Women in Nuclear (WiN) Annual Awards recognises those who have gone above and beyond to promote gender balance and diversity across the nuclear sector.
The latest particle find on the Dounreay foreshore was on 17th January 2020. See the updated list.
Starting Salary: £12,595 in Year 1 rising to £18,191 in Year 4. Dounreay is working at the forefront of nuclear decommissioning, waste management and environmental restoration.
Dounreay heritage strategy - Updated 26 November 2019 The Dounreay Heritage Strategy was published in 2010 and is managed by the DSRL heritage officer with advice from a panel of external experts from Historic Environment Scotland (HES), National Museums Scotland (NMS), Highlife Highland (HLH) and the Nuclear Decommissioning Authority (NDA). The Heritage Advisory Panel held its ninth meeting on 26 March 2019 in Nucleus: The Nuclear and Caithness Archives.
As part of the nuclear sector deal, to foster ever-stronger links between the British and Japanese nuclear industry, Councillor Struan Mackie who represents Thurso and North West Caithness on Highland Council (Deputy-Chair of the Dounreay Stakeholder Group) undertook a five day Japanese visit to discuss the impact of nuclear decommissioning on local communities with stakeholders in Tsuruga City, Fukui prefecture. The whistle-stop visit included two days in Tsuruga on , the home of the Japanese Atomic Energy Agencies fast reactor 'Monju', is generally regarded to be a 'partner plant' to Dounreay's PFR in Caithness.
Dounreay's latest supplier information day, hosted jointly with companies appointed to its decommissioning services framework, has proved popular with companies from around the UK. Around 200 people packed into a venue in Wick, Caithness to hear about plans for future work to decommission the site.
Construction work on the latest radioactive waste store at Dounreay is setting records. The concrete floor slab has just been completed ahead of schedule and with an excellent safety record.
This latest approval brings the total number of schemes authorised by TPR up to 35, following the approval of the University of Oxford Staff Pension Scheme earlier this month (8 October). CNPP is an industry-wide scheme, set up in 2006, for workers in the nuclear decommissioning industry.
Half of the last remaining radioactive fuel elements jammed for decades inside the iconic Dounreay Fast Reactor (DFR) have now been removed. DFR with its famous dome once led the world in fast breeder technology.
Seven Dounreay apprentices have received their indenture certificates at a special event to mark the successful conclusion of their 4-year training programme. The latest group 'graduating' joined the company in 2015 - the 60th year apprentices had been part of the workforce at Dounreay and the first time in more than a decade that design office apprentices had been recruited.