Restored Thurso building to throw open its doors
11th July 2016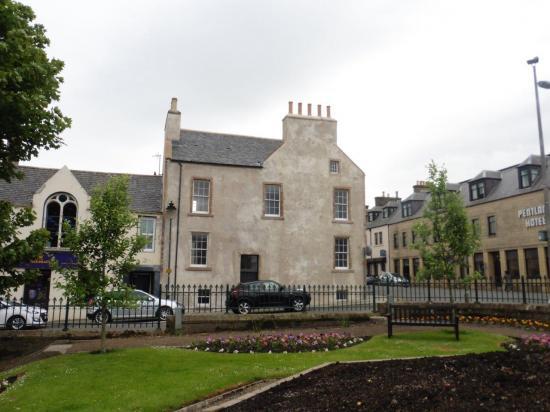 The Highland Council is to throw open the doors of 30 Princes Street on the corner with St John Square in Thurso on Saturday 16th July 2016 to give members of the public, councillors and community councillors the chance to see how it has restored and brought back into use this iconic Category B listed building which sits a prime position within the conservation area of the town.

Originally constructed in the early 1800s, over a period of time, lack of maintenance led to the demolition of the chimney head and the rear stair tower. The building became an eyesore and in order to save it, The Highland Council acquired the building by Compulsory Purchase.

Renovation works started in May last year and now the property has been transformed into three, one bedroom flats. During the works, where possible, the original features of the building were repaired and preserved. These include repairs to sash and case windows, the original timber doors, skirtings and facings, the ornate plaster cornices and the original roofing slates had been removed are now replaced. Stone repairs have included rebuilding the original window openings at the shopfront and rebuilding the gable chimneyhead. The external walls have been lime rendered in keeping with how the building would have been rendered from early in its history.

This intervention by the Council has saved the building for the foreseeable future and it will now provide useful accommodation in the centre of the town.

Leader of the Caithness Committee, Councillor Roger Saxon said: "This building has been a cause celebre with the Thurso community because of its prominent position at the corner of Sir John's Square and Princes Street, the town's square. It's kept the local paper's columns and letters pages filled for over a decade.

"After years of legal argument, a compulsory purchase order and a public local enquiry, the council gained control of the property. Along the way, the council had to act to make the building safe and preserve its structure. This was a long and frustrating process for all concerned but we persevered. There were even calls for it to be demolished, but as we saw with the Miller library building, Thurso is proud of its built heritage and will work hard to preserve our important buildings for future generations. We congratulate the many council officials involved in planning, conservation, legal etc, also Historic Scotland for their work and advice.

So now we have a restored, 200 year old B-listed building which will shortly be occupied - it's already on the councils 'choice-based lettings' web page at a very reasonable rent. This will provide three much needed flats in central Thurso.

"We very much hope the public will come along to see how the building has been sensitively restored to use."

The main contractors for the works have been the Laing Traditional Masonry Group Ltd who specialise in works to historic buildings and O'Brien Construction.

The open day takes place on Saturday from 10.00am to 1.00pm on Saturday 16th July 2016 and anyone is welcome to come along.

History of the property:

30 Princes Street is a Category B Listed Building within the Conservation Area of Thurso. It occupies a key position in the planned town grid of the early nineteenth century new town.

It was constructed in the early 1800s and along with a similar building at No.26, they provide a strong frame to Sir John's Square.

In the order to accommodate two families, a rear stair tower was constructed around the late 1880s.

In the late 1930s, a shopfront was created in Sir John's Square and the shop was used as an optician and electrical retailer and later a drapers and fish shop.

In the late 1990s, 30 Princes Street was converted into bed-sit accommodation and lack of maintenance caused it to fall into disrepair.

See the photo gallery link to see what it looked like in January 2013.
By that time the council had put on a temporary roof covering and made the building safe as walls were bulging.
Related Businesses
Related Articles
The Highland Council has agreed to use City-Region Deal funding to part fund new mid-market housing projects throughout the Highlands. The affordable housing projects will be developed by Albyn Housing Society and Highland Housing Alliance in Ullapool, Fort William, Alness, Inverness, Aviemore, Grantown, Drumnadrochit and Newtonmore and will deliver 61 new homes targeted at young people working in the area.
The Highland Council is set to make it easier for the public to report incidents of fly tipping and be advised when action is taken. As part of an evaluation of its street cleaning service an in-depth LEAN review of how the council deals with fly tipping has been carried out to look at ways of improving responsiveness and customer satisfaction.
Highland Councillors agreed a council tax increase of 3% which will mean an increase of £35.93 per annum on a Band D property. Overall, the budget gap of £15,146 million has been met by a package of savings which includes increasing Council Tax income by £3.448 million, increasing income by £3,059 million, setting a target of £2,250 million to be saved through Redesign and reducing expenditure by £5.1 million.
Redesign is about the Council being more open-minded to new ways of delivering services, more commercially-minded to raise income to support services and jobs across the region and being more community-minded, listening locally and supporting more community-run services. The Highland Council is seeking to release over £2.2 million in savings this year through redesign projects.
An election will take place for Dunnet and Canisbay Community Council on Wednesday 21 February 2018. The maximum permitted membership for the Community Council is 7 and as 8 nominations have been received, the 1349 electors in the community council area are being invited to cast their vote via a postal ballot.
Over three thousand people visited Inverness Town House last weekend to see for themselves the completion of interior works on the public historic Grade A listed building following recent renovations. Around 2,000 visitors passed through the Town House doors on Saturday 10th and another 1,200 people on Sunday 11th February.
Nomination packs for prospective candidates for the Caol and Mallaig Ward by-election are now available from The Highland Council's website. The by-election is being held following the sad death of Councillor Billy MacLachlan who was one of three Councillors representing Ward 11.
Maps of the Council's gritting routes by priority and policy are available online at www.highland.gov.uk/gritting The information provided is a summary of reports from operational staff and is intended to give a general indication of typical conditions in each area at a point in time. It is not intended to imply that any individual route is entirely snow and ice free and drivers must be aware that conditions can change rapidly and make their own assessment of conditions for travelling.
In recognition that roads are a high priority for communities in Highland the Administration at The Highland Council will be putting forward a budget on Thursday (15 February) that protects the budget for local roads. Chair of the Environment, Development and Infrastructure Committee, Councillor Allan Henderson said: "We have nearly 7,000 kilometres of roads in the Highlands and this network is vital to our rural communities and lifeline services.
The Highland Council is asking stakeholders and members of the public for feedback on new draft guidance aimed at ensuring high quality designs for traditional, replacement and new shopfronts. Not only does the draft Shopfront Design Guide: Planning Guidance provide advice to help promote good quality applications but it encourages developers and applicants to consider design at the earliest stage in their proposals.