Public warned of algal bloom presence at Loch Watten, Caithness
2nd September 2016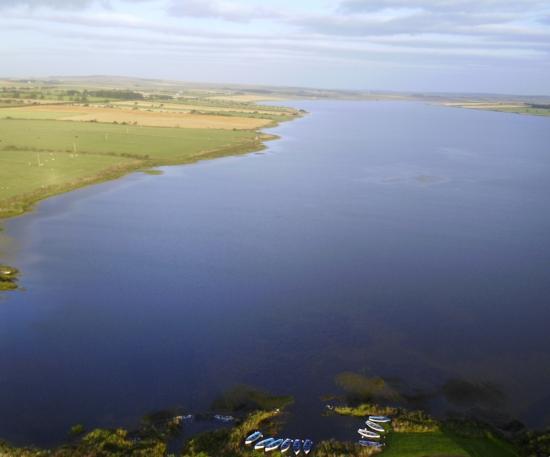 The Highland Council is warning the public of the presence of an algal bloom at Loch Watten, Caithness.

As a precautionary measure, environmental health have posted notices next to the water body, warning that contact with the algal scum or mat material should be avoided.

Adjoining landowners and fishing interests have been advised of the situation as have NHS Highland and SEPA.

The Council's Environmental Health Officers are working with SEPA on sampling to identify the algal species. No drinking water supplies are sourced from Loch Watten.

Posters erected in the Loch Watten area warn the public that:

• Swallowing the water or algal scum can cause stomach upsets or more serious health effects.
• Contact with the water or algal scum can cause skin problems.
• It is a sensible precaution for you, your children and your animals to avoid contact with the scum and water close to it.

• Blue-green algae exist in fresh waters in Great Britain and throughout the world; they are noticed when their concentrations increase to form 'blooms' and when they form scums - looking like blue-green paint - or when they collect on the shore line.
• Some blue-green algae may give rise to adverse medical effects - but not always. Effects on people coming into contact with toxic scums include skin rashes, eye irritations, vomiting and diarrhoea, fever and pains in muscles and joints. Toxic algae have caused deaths of livestock and dogs, waterbirds and fish. The treatment of water supplies removes blue-green algae and additional treatment may be applied to destroy or remove toxins should they arise. The actions currently taken are precautionary.
• The behaviour of algae is erratic.
• The level of its toxicity can fluctuate; it can appear one day, be dispersed by the wind and mixing and re-accumulate at any time.
Related Businesses
Related Articles
Recent outcomes of Redesign work were noted by Members at yesterday's Highland Council meeting. In the first year of the programme, 8 redesign projects were undertaken using a "Lean" approach and 36 staff have been trained as facilitators.
Motorists are being advised that The Highland Council is currently preparing to carry out resurfacing works at the following locations: • B862 Fort Augustus - Whitebridge - Torness - Dores – Inverness Road; specifically at Errogie Village (North Gateway), Errogie Village (South Gateway), and Compass Farm; and • B851 Errogie – Strathnairn – Daviot Bridge – Culloden Moor Road; specifically at Aberarder House. Advanced works notification signage will be provided at various locations from Thursday 15 March 2018.
The Highland Council has agreed a capital programme of £482m over the next 5 years. The Highland Council serves the largest geographical area in Scotland (over 30%) and has just under £2bn of assets on its balance sheet comprising, amongst other things, 203 operational schools, over 6,700km of roads and over 2,000 properties.
The Highland Council's Enforcement Officers have stepped up patrols in Caithness in a move to tackle the problem of littering, fly tipping and dog fouling. A number of fixed penalty notices have been issued recently including an £80 fine for dog fouling in the Stafford Lane and Back Bridge area of Wick, a £200 fine for fly-tipping on Ackergill Street and another £80 fine for dog fouling in Lybster.
Speaking ahead of today's Council meeting to agree the Council's Capital Programme for 2018/19 to 2022/23, Cllr Margaret Davidson, Leader of the Highland Council said:- "This programme delivers significant investment in a range of key projects across the Highlands. We are investing in schools, roads, bridges, harbours and flood prevention schemes that will benefit our communities.
Highland Council is to make a special case for extra capital investment in the road infrastructure after a winter period which has seen the Highlands battered by some 57 days of severe weather. Highland Council area is particularly subject to severe winter weather, which has a significant impact on the roads and other infrastructure.
Maps of the Council's gritting routes by priority and policy are available online at www.highland.gov.uk/gritting. The information provided is a summary of reports from operational staff and is intended to give a general indication of typical conditions in each area at a point in time.
The £48.5m Wick Community Campus built by Morrison Construction has been announced as a finalist at the Royal Town Planning Institute (RTPI) Awards for Planning Excellence 2018. The project is entered in the category for "Excellence in Planning for a Successful Economy" against eight other finalists from across the UK with the winner to be announced during a ceremony at Milton Court Concert Hall on 24 May 2018.
A Partnership for Procurement event was held in Inverness today (Thursday 6 March) to raise awareness and the capability of the third sector to successfully bid, supply and deliver services for the public sector. Partnership for Procurement (P4P) is a new initiative funded through the Scottish Government's 10 Year Social Enterprise Strategy; supporting social enterprises and third sector organisations to better access public contracts and build partnerships.
Across the Northern Alliance local authorities an exciting project has been rolled out to raise attainment in literacy, language and communication. The programme is being delivered in around 50% of primary schools across the Northern Alliance and is aimed at supporting practitioners to take a developmental approach to supporting early literacy development.