Highland Residents To Benefit From Pioneering Fithomes Thanks To £3m City-region Deal Windfall
9th January 2018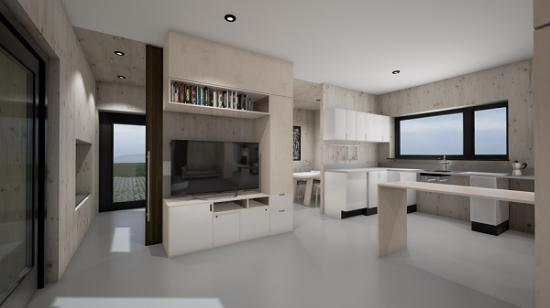 Around £3 million of funding has been agreed for a ground-breaking Highland project that could transform the lives of people with complex health needs as part of the Inverness and Highland City Region Deal.

The business case for the 'FitHome' assisted living project was approved in November last year with £3m funding from the Scottish Government. The project, led by Albyn Housing Society in partnership with Carbon Dynamic and NHS Highland, aims to establish a new concept for health and care delivery at home by utilising data-capture and Internet of Things capabilities to predict and prevent episodes leading to ill health. This in turn will enable people to live independently at home for as long as they want, while potentially allowing for early hospital discharge.

The FitHome concept, which will be piloted initially with the construction of 12 homes at Dalmore, Ross-shire, won the Saltire Award for innovation in housing last year and recently hosted a showcase event at the Scottish Parliament.

The Inverness and Highland City Region Deal funding will support the purchase and development of 32 additional homes across several Highland locations. It is anticipated that the first City-Region Deal project will be in Nairn. One of the clusters will be built in Inverness City to suit the needs of veterans.

Calum Macaulay, chief executive at Albyn Housing Society, said: "The central concept of these high-quality, sustainable homes is that they will include ambient, physiological and building sensors. The sensors will collect data that can be monitored and responded to by a variety of agencies. Potentially, this will transform the way health and social care is delivered.

"The collaboration has already included potential residents, school children, doctors, nurses, occupational therapists, health and social care managers, technologists, enterprise executives - anyone who can offer experience, expertise and insight to ensure this project results in a sustainable and successful model for the future.

"We're very excited to be progressing this unique initiative as part of the Inverness and Highland City-Region Deal given its enormous potential to develop a Highland, UK, even Global, solution that encompasses housing, health, care, digital technology and economic growth."

Chair of the Highland Council's environment, development and infrastructure committee, Cllr Allan Henderson, welcomed the latest funding announcement, saying: "We all have an interest in what the City Region Deal means to the Highlands as a whole. This is an exciting project which will bring benefits to communities across the region, together with other pan-Highland projects such as the Newton Rooms, affordable housing, free wifi, and support for small and medium businesses throughout the Highlands."

Cabinet secretary for economy, jobs and fair work, Keith Brown, added: "I look forward to the development of the assisted living homes that this city region deal funding will bring - especially those in Inverness City for veterans. This £3m investment shows the benefits of the Inverness and Highland City Region Deal and how it will improve access to healthcare and housing in the area and eventually help people live independently in their homes for longer.

"The £135m invested by the Scottish Government as part of the £315m City Deal for the Inverness and Highland region, will continue to deliver significant long-term benefits for the city, region and Scotland as a whole.

"The Scottish Government recognises the value of this type of partnership which is why we have doubled our overall investment in city region deals in our draft budget for 2018-19."

The £315m Deal Document sets out the projects and programmes where the Scottish and UK governments will commit investment of up to £188m, together with £127m of further investment by the council, Highlands and Islands Enterprise and the University of the Highlands and Islands.

Led by The Highland Council, the Inverness and Highland city-region deal is a joint initiative supported by up to £315m investment, aimed at stimulating sustainable regional economic growth.

As part of the agreed programme governance, the council is the accountable body for the majority of the City Region Deal projects. This means the council distributes funding and monitors progress for council led projects and partner projects.
Related Businesses
Related Articles
At Highland Council work has been ongoing for some months to prepare a Revenue and Capital Budget for 2018/19 and beyond, with the anticipation of a significant cut to available funds. The Scottish Government's proposed grant settlement was announced on 14 December 2017.
An article in the Press and Journal today 9th January 2018 highlights the cuts in staffing levels across Scottish councils with Highland being one of the highest. In 2009 Highland had 9953 Full-time Equivalent Staff and in 2017 it had dropped by 21% to 7838.
Highland Council Trading Standards team has recently seen an increase in scams targeting Highland businesses. The most common scams reported by businesses relate to marketing and publishing but other frauds such as those involving demands for payment for unsolicited goods sent to businesses (such as ink cartridges which were never ordered) are also on the rise.
Cognitive improvements to be included in Blue Badge scheme The disabled person's parking badge pilot, which was launched in April 2016, has been made permanent by the Scottish Government. The eligibility criteria were revised and extended under a pilot to allow carers and relatives of people who pose a risk to themselves or others in traffic to apply for a disabled person's parking badge, provided they meet the criteria.
People looking to pick up a New Year bargain in the sales on the internet, by mail order or on the high street are being encouraged by The Highland Council's Trading Standards team to be aware of their consumer rights and to stay safe online from scams and fake websites that try to dupe inexperienced online shoppers trying to buy a bargain. Consumers have extra protection when they shop online.
The British Hospitality Association secured a major victory today (21 December2017) as the Scottish Government confirmed that any plans for a 'tourist tax' in Edinburgh - or any other Scottish cities - are firmly off the table. The BHA has been campaigning consistently for over six years against the implementation of any such additional and uncompetitive tax and is delighted that the Scottish Government has recognised our reservations.
Chief Executive of The Highland Council, Steve Barron said: "The Council is continuing to do all it can to support employees who lost their jobs following the change in contract for the processing of recycled waste. Evanton-based William Munro Construction laid off the staff after Highland Council transferred a recycling contract.
The Highland Council has successfully prosecuted a food business after discovering unsafe hygiene practices in the transportation of food. An investigation by officers of the Council's Environmental Health Team discovered that N E Meats Ltd of Newcastle had been transporting and delivering foods from the North of England to the Highlands without any temperature control measures.
The Commission on Highland Democracy has this week launched its report at the meeting of The Highland Council. The Commission, which was supported in its work by The Highland Council, but is independent, has produced a comprehensive analysis of the state of democratic participation in Highland.
Maps of the Council's gritting routes by priority and policy are available online at www.highland.gov.uk/gritting The information provided is a summary of reports from operational staff and is intended to give a general indication of typical conditions in each area at a point in time. It is not intended to imply that any individual route is entirely snow and ice free and drivers must be aware that conditions can change rapidly and make their own assessment of conditions for travelling.