Apprentice Day for Highland Youth Parliament Members
28th March 2019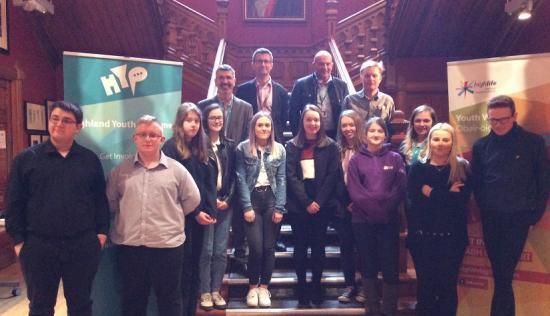 The 14th Highland Youth Parliament Apprentice Day was held on Tuesday, 26th March 2019.

Highland Youth Parliament, the elected Youth Parliament for the Highlands, holds an annual 'Apprentice Day' on which members of HYP shadow Senior Managers across public sector services. The aim of the Apprentice Day is for services to gauge young people's views of their service and for services to become more aware of Highland Youth Parliament and young peoples' views. It also provides an opportunity to give young people a better understanding of the services provided for them and how services impact on and consult with young people. There were16 young people from across Highland 'shadowing' representatives from High Life Highland, The Highland Council, NHS Highland, Police Scotland, Fire and Rescue Service Scotland, the University of the Highlands and Islands and HM Prison Service who took part this year.

Officials met their Apprentices at the start of their day and were accompanied by the young people in a range of meetings and business activities in and around Inverness. The day concluded with an informal discussion reflecting on the day.

Donna Manson, Highland Council's Chief Executive said: "It's not easy choosing a career path at a young age which can set out your entire future. Recognising the challenge of making career choices that face our young people, I am delighted along with Senior Managers and Members to support Apprentice Day to help give the young apprentices an insight into the workings of Local Government. While we can share our experience, it's also refreshing to receive feedback from the apprentices on how they view the Council. I wish all the apprentices taking part, a productive and enjoyable day."

Highland Youth Convener, Esme Leitch commented: "Apprentice Day is a real strength of the Youth Team at High Life Highland and I really enjoyed taking part this year. It is a unique opportunity for both the young people and the officials they are shadowing to learn from one another, and gain new insights. Deciding what you want to do after school can be really difficult for a lot of young people and involvement in Apprentice Day is one way to make those decisions more informed, especially for someone already considering a career in the Council. I hope our young people leave the day more excited about job prospects within Highland and the officials make the best use of their chance to consult with their apprentices about their work. It was a really beneficial day for both parties and a lot of fun for everyone involved."
Related Businesses
Related Articles
Over £2.3 million pounds of investment is set to benefit town centres across the Highlands with 30 transformational projects about to get underway to stimulate economic investment and to help towns diversify and flourish. The Town Centre capital grant fund from the Scottish Government is targeted to encourage town and city centres to diversify and flourish, giving new purpose and creating footfall.
Transport group chair calls for immediate research on viability of publicly operated Highland bus services. SNP Ness-side councillor Ron MacWilliam has written to members of the Highland Council Redesign board to urge them to consider options for publicly run bus services in the Highlands.
Highland Council's Placement Services Change Programme (PSCP) is helping make a real difference for the region's most vulnerable young people. The Placements Team in Children's Services has developed a creative, courageous and dedicated programme to work with multi-disciplinary professionals to identify children out with Highland whose needs can be met back in the local area.
Following the close of the Community Council Nominations on Tuesday, 29 October 2019, 20 community councils received more nominations than their maximum membership. After the withdrawal period where candidates had the opportunity to withdraw their nomination, The Highland Council has confirmed that 16 Community Councils will be contested.
BT are proposing to remove 110 payphones across The Highland Council area. Under Ofcom guidelines, the Local Authorities are responsible for co-ordinating consultation responses on behalf of their local community for any proposed removal of public payphones.
DINGWALL, Dingwall & Highland Marts Ltd., (October, 31st) sold 3,675 store sheep. Lambs (2,603) averaged £48.91 and sold to £85 gross for a Texel tup lamb from Wester Raddery, Fortrose. Ewes (890) sold to £79 gross for a pen of Texel crosses from Kinnahaird Farm, Contin. Feeding Sheep (182) sold to £170 gross for a Cheviot ram from Keppoch Farm, Dundonnell.
Feedback from Highland Council's annual citizen's panel survey has highlighted the welcoming nature of people living in our communities. This was just one of many findings included in the latest Citizens' Panel 2019 Performance and Attitude Survey which was considered at the Council meeting on 31 October 2019.
Following the recent call for candidates wishing to serve on Highland Community Councils to come forward a total of 120 Councils attracted sufficient interest to allow them to form from 12 noon on Friday 1 November. 20 Community Councils received more nominations than their maximum membership, and elections will take place for these Community Councils using a postal ballot.
Highland Council saves £400,000 And 377 Tonnes Of CO2 In First 12 Months With Enterprise. The Highland Council has reduced its annual business mileage by more than 825,000 miles and made cost savings in excess of £400,000 in the first 12 months since introducing Enterprise Car Club, part of global vehicle rental group, Enterprise Holdings.
The Housing (Scotland) Act 2001 requires social landlords to consult tenants and take account of their views when making decisions about proposed rent increases. The Highland Council Tenant Participation team are starting a month long trip around Highland communities talking to tenants about what their rent money is spent on and consulting on the rent they will pay in 2020 / 2021.