Apprentice Day for Highland Youth Parliament Members
28th March 2019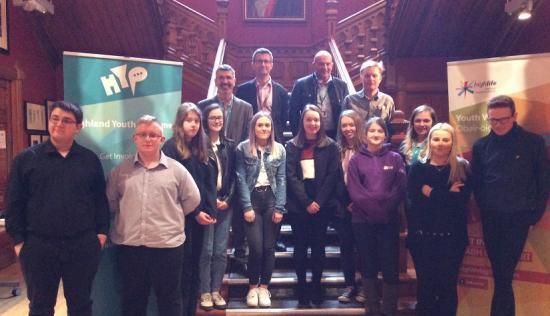 The 14th Highland Youth Parliament Apprentice Day was held on Tuesday, 26th March 2019.

Highland Youth Parliament, the elected Youth Parliament for the Highlands, holds an annual 'Apprentice Day' on which members of HYP shadow Senior Managers across public sector services. The aim of the Apprentice Day is for services to gauge young people's views of their service and for services to become more aware of Highland Youth Parliament and young peoples' views. It also provides an opportunity to give young people a better understanding of the services provided for them and how services impact on and consult with young people. There were16 young people from across Highland 'shadowing' representatives from High Life Highland, The Highland Council, NHS Highland, Police Scotland, Fire and Rescue Service Scotland, the University of the Highlands and Islands and HM Prison Service who took part this year.

Officials met their Apprentices at the start of their day and were accompanied by the young people in a range of meetings and business activities in and around Inverness. The day concluded with an informal discussion reflecting on the day.

Donna Manson, Highland Council's Chief Executive said: "It's not easy choosing a career path at a young age which can set out your entire future. Recognising the challenge of making career choices that face our young people, I am delighted along with Senior Managers and Members to support Apprentice Day to help give the young apprentices an insight into the workings of Local Government. While we can share our experience, it's also refreshing to receive feedback from the apprentices on how they view the Council. I wish all the apprentices taking part, a productive and enjoyable day."

Highland Youth Convener, Esme Leitch commented: "Apprentice Day is a real strength of the Youth Team at High Life Highland and I really enjoyed taking part this year. It is a unique opportunity for both the young people and the officials they are shadowing to learn from one another, and gain new insights. Deciding what you want to do after school can be really difficult for a lot of young people and involvement in Apprentice Day is one way to make those decisions more informed, especially for someone already considering a career in the Council. I hope our young people leave the day more excited about job prospects within Highland and the officials make the best use of their chance to consult with their apprentices about their work. It was a really beneficial day for both parties and a lot of fun for everyone involved."
Related Businesses
Related Articles
Highland Council's Environmental Health team have identified raised levels of naturally occurring algal toxins following routine monitoring in coastal waters at Loch Glencoul, Kylesku area. Eating shellfish such as cockles, mussels, oysters or razor fish from these areas may pose a health risk arising from the consumption of these algal toxins.
Highland Council's Environmental Health team has identified raised levels of naturally occurring algal toxins following routine monitoring in coastal waters at Loch Eishort. Eating shellfish such as mussels, cockles, oysters or razor fish from these areas may pose a health risk arising from the consumption of these algal toxins.
Funding for food and activities during the summer break. More children and young people will benefit from a nutritious meal and a place to play this summer holiday.
At a meeting of The Highland Council on Thursday 27 June 2019, Councillors decided to discontinue the provision of education at Altnaharra Primary School, dividing its catchment area between Tongue Primary, Farr Primary and Lairg Primary schools. A copy of the consultation report, together with the original proposal paper and all relevant appendices can be viewed on the Council's website at: www.highland.gov.uk/schoolconsultations The Council is satisfied that implementation of closure is the most appropriate response to the reasons for formulating the original proposal identified by the authority.
"Highland Council as agreed to allow a question time for members of the public at future Council meetings. The motion was presented by Depute Leader Cllr Alasdair Christie and means that from December 2019, Highland Council meetings will include a time allocation for questions from members of the public.
Highland Councillors have unanimously agreed that the Council will support the continuation of the exemption from UK Air Passenger Duty for flights departing from airports in the Highlands & Islands; and Members also agreed that the Council will continue working with HiTRANS to present the case of the need for, and benefit arising from an exemption from the current UK Air Passenger Duty and any successor duty. The Council's stance comes this week as calls have been made by Aberdeen Airport for greater parity with Highlands & Islands.
Suicide prevention is a key priority for The Highland Council. Members have agreed today, to take forward a piece of research with partners including NHS Highland and Police Scotland, to better understand the current evidence base and experience of suicide in Highland.
The introduction of a service to support the mental health and wellbeing of Highland Council staff and councillors has been approved by the Council as part of a range of measures to improve wellbeing. An Employee Assistance Programme for staff and Members will be put in place to offer telephone and internet-based counselling 24 hours a day.
Councillor Mackie had a written question at today's meeting of Highland council. Item 12 - Question Time To the Chair of the Environment, Development & Infrastructure Committee "Official Highland Council guidance indicates that, unless extended, successful Community Asset Transfer requests should be completed by the Local Authority within a nine months' timeframe.
From highland council Meting today 27 June 2019. Item 12 - Question Time To the Chair of the Corporate Resources Committee "What are the current best estimates for present total Highland Council debt and the annual financial commitment required to service this debt?".