New Power Generation Of Apprentices Join SSE
22nd August 2013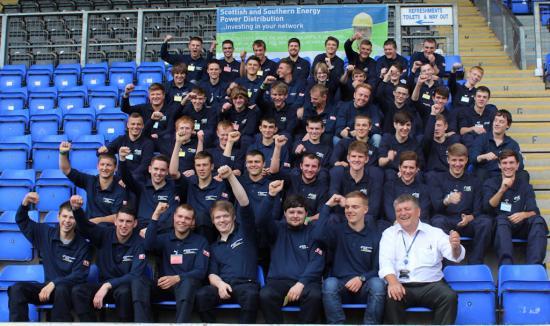 New power generation join SSE for the start of a bright career in the energy industry

Over one hundred talented new Modern Apprentices (MAs) are starting a bright and promising career after passing a rigorous selection process to join SSEís industry renowned Modern Apprenticeship programme this week.

The new recruits were picked from thousands who originally applied for the roles and they took up their tools for the first time at the Scottish induction in Perth this week. Fifty two apprentices will now join the companyís prestigious Modern ApLinkprenticship training programme in Scotland and SSEís highly skilled and safety conscious 20,000 workforce.

The 2013 Modern Apprentices come from all over Scotland (from Orkney to Edinburgh) and will be training for around three to four years. They will be based at key sites throughout Scotland from Clyde Wind Farm in Lanarkshire to Peterhead Power Station and engineering depots throughout Scotland. The programme combines theoretical study with site based hands on practical experience, while under the supervision of an experienced manager in the company. SSE is one of the largest energy companies in the UK and the apprentices represent all disciplines of the energy industry.

An Apprenticeship is a great opportunity to learn about the disciplines that are so vital in the energy industry, giving each individual the opportunity to develop his or her own skills, the MAs will be exposed to a broad spectrum of activities including: wind turbine installation and commissioning, mechanical engineering, electrical installation, power engineering, safety inspection and testing, high voltage installation. They will also receive a thorough grounding in SSEís rigorous health and safety rules and security awareness. The theoretical part of their apprenticeship will be conducted at Colleges throughout Scotland including Anniesland College, Banff and Buchan College, Fife College, North Glasgow College and Perth. During this time they will be working towards higher qualifications.

Once the MAs have finished their training, there is no restriction to how far they can progress within SSE. Newly qualified staff can take full advantage of SSEís development scheme, receiving guidance as to the most appropriate route to take in order to achieve their particular goals. The apprentice scheme is vital to the companyís continuing success.

Ryan Sadler, SSEís Head of Learning and Development said: ďOur people are our greatest asset and this programme is an investment in our future. I am personally delighted that despite the tough economic climate SSE is still showing its commitment to investing in its people .

He added: ďAs industry leaders SSE can offer an exciting and diverse career through a defined and innovative Modern Apprenticeship programme. The future is very bright indeed for todayís apprentices. ď

Chief Executive of Skills Development Scotland Damien Yeates said: ďEvery one of these apprentices has won a passport to success through SSEís apprenticeship programme. This is a fantastic opportunity to join one of Scotlandís top companies and build a career in a fast-moving and vital sector.Ē

A spokesman for SSE said, "The qualities we look for in our apprentices are GCSE grades A-C in Maths, English and a Science. You need to be hard working, reliable, willing to learn and be able to strictly adhere to the SSE Safety Culture. We will be looking for many more apprentices in coming years as the energy business in UK expands."

PHOTO
Apprentices seen here with Paul Sinclair, Programme Manager for Modern Apprenticeships.