Bmt Nigel Gee Secures 85m Ropax Ferry Contract For Pentland Ferries
18th March 2017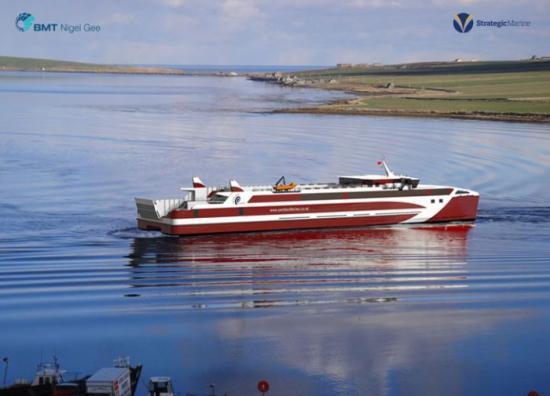 BMT Nigel Gee (BMT), a subsidiary of BMT Group, has announced a new project to design an 85m steel-hulled catamaran RoPax ferry for Strategic Marine, a subsidiary of Triyards Holding Limited. The ferry is for Scottish ferry operator Pentland Ferries and BMT will be responsible for concept through to production design, working closely with Strategic Marine.

RoPax The vessel will replace Pentalina that has been operating on the route from the Scottish mainland to the Orkney Islands since 2008. The new vessel has a significantly increased capacity compared to Pentalina and will be capable of transferring up to 98 cars or a combination of cars and trucks together with 430 passengers from Gills Bay on the mainland to St. Margaret's Hope on the Orkney Islands. The crossing takes approximately one hour, sailing through Pentland Firth and into the Orkney Archipelago. This is the shortest and quickest sea route to Orkney with a vehicle.

The vessel totals 84.5m in length, powered by four YANMAR 6EY17W engines. The ferry will travel at a service speed of 16 knots. She has space to accommodate 50,000 litres of fuel plus an extra 50,000 litres in a long-range fuel tank. This will allow the vessel to sail under her own power from Strategic Marine in Vietnam to the Orkney Islands, a trip of some 5,481n.m.

BMT Nigel Gee's Technical Director, Ed Dudson, comments: "We are extremely pleased to win this design contract with Strategic Marine for Pentland Ferries. We look forward to seeing this vessel in service in the summer of 2018."
Related Businesses
Related Articles
With expert guidance from the crew of Pentland Ferries "Alfred" this lorry safely loads onto the ferry at Gills Harbour, Caithness, today (9 January 2019), for her crossing to St Margarets Hope. Sea swells were evident, making the job even harder & causing the ferry to be delayed.
Pentland Ferries' new £14-million vessel, mv Alfred is almost ready to make its first trip from St Margaret's Hope to Gills Bay on Friday, 1st November 2019. The new ferry arrived on 9th October 2019 after completing its journey from the shipbuilders in Vietnam for the final fittings to be carried at Kirkwall after quick call at St Margarets Hope where local children had a chance to get a glimpse of it.
Scotland's most modern + environmentally-friendly, fuel-efficient ROPAX ferry ship rge MV Alfred, arrived AM today (Wed 09.10.19 at St Margarets Hope. The boat went round to Kirkwall immediately at the end of 9,000+ miles voyage from the Strategic Marine yard near Ho Chi Minh city (ex.
Pentland Ferries has announced that the company's new ship, Alfred, left the yard in Vietnam, yesterday morning, Thursday, to start the long voyage home to Orkney. Director of Pentland Ferries, Kathryn Scollie, said: "We are delighted that the MV Alfred is now on her way.
A Alfred Banks, born Kirkwall, Orkney 13 May 1931 died St. Margaret's Hope, Orkney, 26 January 2019.
OFFICIAL FIGURES SHOW MORE PEOPLE AND CARS SAILED ACROSS THE PENTLAND FIRTH FROM CAITHNESS TO ORKNEY IN 2016 FROM GILLS BAY THAN ON ANY OTHER ROUTE. Official figures recently published by Scottish Government 'spending watchdog' body Audit Scotland show that the so-called 'short sea-route' from Gills Bay to St Margaret's Hope was the busiest seaway to Orkney across the Pentland Firth in 2016.
Community-owned Gills Harbour is the most Northerly seaport on the British mainland, lying on the shores of the Pentland Firth's Inner Sound, just off the A 836 road, only four miles West of John O'Groats. The spring of 2015 has seen some significant developments locally, both in sea-transport and marine electricity, that bode well for the future of the little port on the inland 'apex' of Gills Bay; it belongs to the 600 people living along the North coast.
Two vessels made their debut visits to Gills Harbour on the morning of Sunday, May 10th, 2015. The mini-ships Uskmoor and Lodesman sailed across the Pentland Firth from Orkney to conduct operations in the Inner Sound of the narrow, tide-swept, channel separating Caithness from the isles.
Pentland Ferries is all set to buy the former Caledonian MacBrayne ferry Saturn. The move has been confirmed by the owners of the ship, Caledonian Maritime Assets Ltd (CMAL)..
Independent questionnaire conducted for Pentland Ferries Ltd by 'Survey Monkey' about the desirability of a 'real' short-sea-crossing of Pentland Firth Gills Harbour, Caithness to a 'new' RO:RO terminal at Burwick, just eight miles across the water. Give Your Views In the survey HERE Folk in Caithness who travel by ferry to Orkney have only a few more days to vote if they would like to see a new route developed from Gills Harbour that would cut the Pentland Firth sea-crossing time to just half-an-hour.