WICK-ed Paintball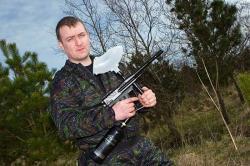 You have to book a game in advance so call or e-mail to set a date.

What does it cost?
It's the same for everyone £17.50 per head with a £5 deposit, for a 3 hour period of activity.

What is included in the cost?
For your money, you get the hire of a marker gun, 100 free balls and the markers hoppers and pouches. Also all protective gear that you require: - masks, overalls and gloves are included.

Any additional costs?
Balls are £6 per 100 there after.

When are you open for activity?
We will be open only at weekends for first few weeks, then working towards 7 days a week. Initially we are only offering half days, with hours being 10 to 1 and then 2 to 5. However in the summer we will be open later.

How many people can be catered for at one time?
We can take up to 20 people on site at one time, with a lower limit of 8 people.

Is there food supplied?
Due to the activities only being for half days so far, there is no food supplied. However you will be given bottled water half way through.

What scenarios are set up/planned for warfare?
The area is an open site with obstacles and we have several different games that we will be playing. We will also supply paintball grenades on site.

Any other information?
Before you start we take you through all the aspect of using and firing the guns. You will be required to read and sign a declaration that you understand every thing you have been told. You will then be let loose on the site.

How to book?
Please contact us to book.

Details required for booking?
The only details we need are number of people attending that everyone is over 16, basically fit and well. We need a few days notice but I will think it will change as we get up and running.If under 16 must accompanied by a parent or adult.

Where are we based?
We are base at Bilbster, which is a few miles outside Wick.
Postal Address
WICK-ed Paintball
66 Glamis Road
Wick
Caithness
KW1 4HZ
Contact
Paul Steven
News for WICK-ed Paintball
A new business in Wick is set to have everyone running for cover. For Paul Steven, whose family owns AMS Motorcycles in Wick, has started up a paintball business on a five-acre site at Bilbster Mains.
If you contact this Business, please let them know, you found them in the Caithness Business Index