Mini-ship Green Isle Begins Work In Pentland Firth
23rd August 2015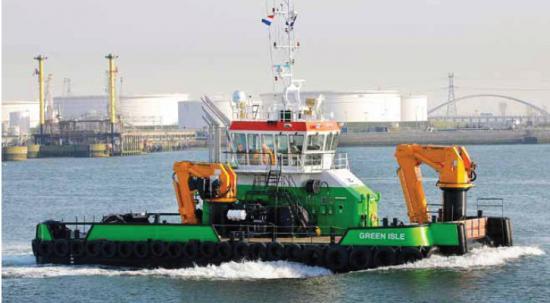 The most modern vessel in the Far North of Scotland's 'marine renewables' fleet is conducting debut operations in the Pentland Firth's Inner Sound this week. (commences 24.08.15).

The brand-new many-purpose mini-ship Green Isle is being accompanied on her mission off Canisbay by the survey vessel Lodesman, that has been a regular visitor to Gills Harbour this year.

The 27.7-metre long Green Isle was delivered 'in record time' earlier this summer to her owners Green Marine UK Ltd, of Stromness, Orkney from the Damen Shipyards, in the Netherlands.

The powerful rectangular-shaped steel craft is technically a Multi-cat 2712 with several special design features specified by Green Marine UK for her planned career at assisting in installing and recovering tidal and wave energy devices, seabed surveying, moving 'heavy-lift' barges and general towing operations; she has a maximum registered 'bollard pull' of almost 35 tonnes.

In an official 'Notice to Mariners' Green Marine UK state that between 24.08.15 and 26.08.15 Green Isle is contracted to MeyGen Ltd for recovery of small items from the recently-surveyed precise route planned for laying cables on the seabed of the Inner Sound from the company's landfall at Ness of Quoys, Canisbay, to the locations off Stroma Island where the four pioneering, electricity-generations 'tidal turbines' are due to be installed next year (2016).

Cable-laying operations are planned for next month; the sheathed cable-lines will be 'weighted-down' on the seafloor from the turbine sites to a location c. 600 metres off the Canisbay headland.

From there, the cables for carrying electricity will the 'threaded through' one of four ducts directionally-drilled from the shore earlier this summer, so that the cables are not exposed to chaffing due to wave actions on coastal rocks.

Tasks for the Green Isle's crew include recovering stainless-steel 'holders' for ADCPs (Acoustic Doppler Current Profilers) previously installed on the TSC (Turbines Subsea Cables) route on the 35 metre-deep swept-bare Caithness flagstone floor of the narrow 1.5 miles-wide channel separating Stroma, Caithness's only island, from the Canisbay shoreline.

Green Marine Ltd's MD is Skipper Jason Schofield, a member of the well-known Sinclair fishing family from Stromness, Orkney; his father-in-law Skipper Angus Sinclair at one time owned and operated Orcades Viking, then the UK's biggest trawler.

Green Isle is being accompanied on the task by Lodesman, a specialist vessel in underwater Remote Operated Vehicles (ROVs) tasks, owned by Roving Eye Enterprises, of Orphir on Scapa Flow, Orkney.

Its boss, Mr Keith Bichan sent a 'support' letter to Gills Harbour Ltd, the community company that owns and operates Gills Harbour, backing its plans to enhance the facilities at its Inner Basin to allow safe overnight berthing and all-tides access for workboats, such as powerful little multi-cats.

It had been intended to hand-deliver the letter last week to Scottish Energy Minister Rt. Hon. Fergus Ewing MSP, but his visits to the MeyGen Ness of Quoys site and Gills Harbour had to be postponed because thick fog over Caithness made landings impossible at Wick John O'Groats Airport.

Arrangements are being made to send it on during this coming week.
Related Businesses
Related Articles
OFFICIAL FIGURES SHOW MORE PEOPLE AND CARS SAILED ACROSS THE PENTLAND FIRTH FROM CAITHNESS TO ORKNEY IN 2016 FROM GILLS BAY THAN ON ANY OTHER ROUTE. Official figures recently published by Scottish Government 'spending watchdog' body Audit Scotland show that the so-called 'short sea-route' from Gills Bay to St Margaret's Hope was the busiest seaway to Orkney across the Pentland Firth in 2016.
One of the contractors that has been operating in the Inner Sound for Atlantis RL's MeyGen site has been taken over by another, a much-larger one. See note on Insight Marine Services Ltd of Cornwall.
Notice of Annual General Meeting: On Tuesday 21.03.2017 @ 19.30. Gills Harbour Ltd: A Community- owned trading Company limited by guarantee.
Jack-up barge Neptune arrives in the PF's Inner Sound early this afternoon 22.09.16. German tug Elbe, which will be working closely with the self-propelled JU, is already on site.
Update From Bill Mowatt. 'Notice to mariners': Installation of first tidal-stream turbine in the Pentland Firth's Inner Sound at Atlantis RL's MeyGen site c.
On Friday 18th September 2015 the 24 metre-long rectangular steel multi-cat C-Chariot built in 2013 was to be seen loading a Data-fish buoy at Gills Harbour, Caithness. North Sea systems Ltd who own the Datafish describe it on their web site (http://www.northseasystems.com/) as follows - "DataFish is North Sea System's metocean survey buoy for unforgiving marine environments.
Seabed cable-laying operations in the Pentland Firth's Inner Sound, off Canisbay, which may occur in the period 10.09.15 to 25.09.15. The cable ship being used in the Inner Sound is the 121 metre long Siem Daya 1 and she will reel in the four cables at Hartlepool in NE England.
We thank John Green for his picture of what £4.5 million of marine renewables vessels + kit looks like when alongside at Gills Harbour..
Scotland's Shadow Minister for Transport Mr David Stewart, Labour MSP for the Highlands & Islands constituency, has made a fact-finding visit to community-owned Gills Harbour on the shores of the Pentland Firth's Inner Sound. There he was shown around by three officers of Gills Harbour Ltd (GHL), the Canisbay company that owns and operates the Scottish Mainland's most Northerly port.
Community-owned Gills Harbour is the most Northerly seaport on the British mainland, lying on the shores of the Pentland Firth's Inner Sound, just off the A 836 road, only four miles West of John O'Groats. The spring of 2015 has seen some significant developments locally, both in sea-transport and marine electricity, that bode well for the future of the little port on the inland 'apex' of Gills Bay; it belongs to the 600 people living along the North coast.