New investment in Caithness battery power
6th March 2014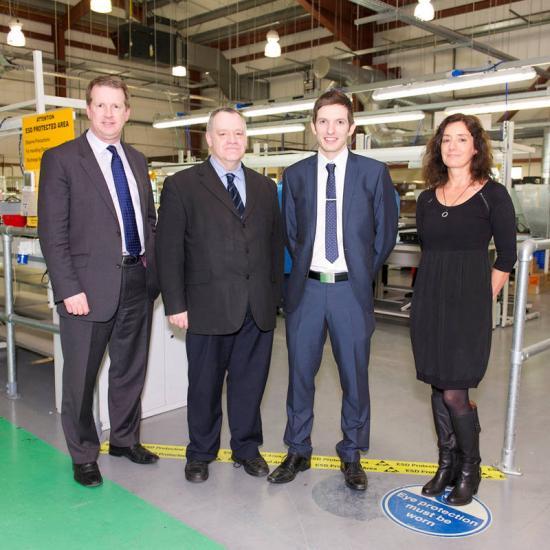 Highlands and Islands Enterprise (HIE) Chief Executive Alex Paterson has been visiting a Thurso factory where two battery manufacturing firms are powering ahead under new ownership.

HIE has supported the smooth change-over for new investors at AGM Batteries and ABSL Power Solutions, which were previously owned by US-based multinational Enersys Inc.

Denchi House, the HIE custom-built battery factory on Thurso's business park on the outskirts of the town, is home to the two companies, which together employ around 35 staff.

AGM Batteries Ltd is a manufacturer of battery cells – the basic building blocks from which batteries are assembled – specialising in Hi-Tech Lithium Ion battery cells; whilst their neighbour ABSL Power Solutions Ltd is an assembly plant producing the finished product.

AGM Batteries Ltd has now been bought by AMTE Power Ltd, which will continue to trade under its existing name. AMTE is lead by a management team with significant experience in developing new technology, particularly in the battery cell sector, and they have exciting plans to develop niche products particularly for specialised military applications.

Steve Farmer, Chief Operating Officer at AMTE, said: "Battery Cell technology is moving ahead very quickly, and we believe there is a fantastic opportunity to build on the skills of the local workforce and take AGM to a whole new level. The support of HIE has been invaluable in helping us pull our plans together, and we are looking forward to an exciting future for AGM in the years ahead."

Meanwhile, the ABSL battery assembly business has also changed hands, with new owners Denchi Power Ltd taking over at the beginning of February. The new company sees a great opportunity to build on the success of ABSL, particularly in supplying the highly specialised and very demanding requirements of the military sector.

"ABSL has a great reputation with our customers," says Derek Campbell of Denchi Power Ltd. "We will be building on that reputation, and harnessing the unique skills of our workforce here in Thurso to build a world-beating business."

"Maintaining very close working relationships with our customers is the key to success in these markets," explained Derek. "Not only do we aim to deliver the products they need right now; but we will work with our customers to plan ahead for the next generation of power solutions – and develop the products they need when they need them."

HIE has provided a package of financial support to Denchi Power to help them develop the business. As well as their existing range of battery packs, the new company has ambitious plans to develop new products to serve the needs of their customers.

"It was great to discuss the future plans for these two Thurso firms with their ambitious new management teams," said HIE's Chief Executive Alex Paterson. "It is a great boost to the area to see the confidence that the new investors have in their local workforce, who deliver highly technical specialist products to the most exacting of standards."
Related Businesses
Related Articles
HIE is calling on businesses across the region to be 'Business Brave' and take the leap into trading overseas by signing up to its Selling Online International trade workshops. Share The organisation has kicked off a series of free international trade workshops in a bid to support businesses that aspire to sell to overseas markets via the web but lack the knowledge and expertise to do so.
HIE is now recruiting for the 2018 intake to its Pathfinder Accelerator, a tried and tested business programme nurturing growth in life sciences and technology. Share The Pathfinder Accelerator is specifically designed to help companies and start-ups develop novel business ideas relating to life sciences or technology and reduce time to market by testing it in the most time-efficient, cost-effective way to determine its commercial viability.
Use of social media and mobile technology is on the increase by Highlands and Islands businesses, according to the region's second Digital Economy Business Survey (DEBS) released today. Share The findings of the survey carried out by Ipsos MORI, were launched by Highlands and Islands Enterprise (HIE) during the week-long DataFest18 Fringe event being held in Inverness for businesses and the wider community for the first time.
People in 14 communities across the Highlands and Islands are being asked to take part in an online survey on rural banking services. The survey will be used to gather feedback from a broad range of individual households, businesses and community groups in areas expected to be affected by local bank branch closures.
A £5.39m construction contract has been awarded for the development of a new Research and Innovation Campus in Orkney. The campus is a joint venture by Highlands and Islands Enterprise (HIE) and Orkney Islands Council (OIC) who have appointed Kirkwall based R Clouston Limited as the main contractor.
A Caithness engineering and design company has become the first to achieve national accreditation through the region's 'Cyber Strong' initiative. Thurso based Envision Engineering & Design has been awarded government backed Cyber Essentials certification.
Google's Digital Garage team, which offers free digital training to people of all ages to help them find a job, grow in their career and or business, is coming to four Highlands and Islands campuses this month to give students advice on how best to sell their skills to a new employer. As part of employability month, mentors from Google Digital Garage will travel to Alness, Inverness, Thurso and Kirkwall in Orkney to advise on how you can create a CV that shines.
Applications are now open for up to 50 ambitious entrepreneurs eager to grow their business and learn from one of the world's foremost entrepreneurs. Professor Bill Aulet, managing director of the Martin Trust Center for Entrepreneurship at Massachusetts Institute of Technology (MIT), will be in Edinburgh this summer for the residential Can Do SCALE summer school which runs from 18 - 20 June.
Norscot, the Highlands and Islands manufacturer of timber frame kits, windows and doors, received the Innovation of the Year Award at the prestigious Scottish Knowledge Exchange Awards 2018. The awards, run by Interface, aim to celebrate the achievements of academic and business collaborations and partnerships.
Young people in Caithness will be the first in Scotland to benefit from new Norwegian style learning centres. A network of 'Newton rooms' in Norway and one in Denmark are used to inspire more young people into careers in science, technology, engineering and maths (STEM).