Energy first for revamped Scrabster Harbour
13th August 2013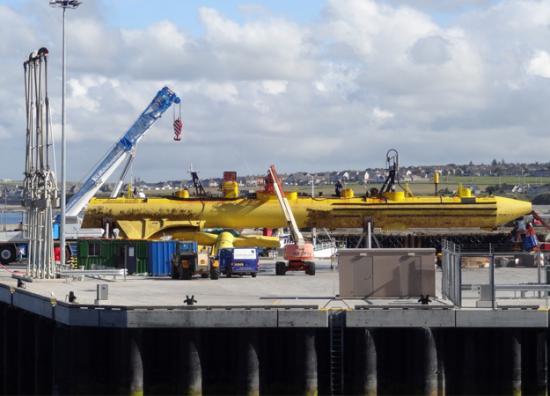 A new multi-million pound redevelopment at mainland Scotland's most northerly port, Scrabster Harbour, is already reaping the benefits, only two months after coming into operation. Scotrenewables Tidal Power Ltd, based in Orkney, has chosen Scrabster as the location for their most recent operations and maintenance work on their prototype tidal turbine, the SR250.

This is the first tidal device to arrive at Scrabster since the £20 million infrastructure redevelopment. It was towed from Orkney in around seven hours earlier this week by Scotrenewables' sister company Scotmarine Ltd and is due to stay until Monday afternoon. The contract lift was undertaken by local crane contractors Hugh Simpson Ltd.

This is an example of joint working and of closer links between supply chain companies in the Pentland Firth and Orkney Waters Marine Energy Park area.

Barry Johnston from Scotrenewables Tidal Power Ltd, commented: "We are delighted to be using the facilities and expertise at Scrabster Harbour. This highlights the cost effectiveness and mobility of our turbine which is unique in that we can easily tow it to the maintenance equipment and facilities rather than have the expense of mobilising the equipment to the turbine. We are therefore able to use facilities on both sides of the Pentland Firth. The local contractors and harbour staff at Scrabster have been a pleasure to work with."

William Calder, Chairman of Scrabster Harbour Trust, commented: "It is extremely exciting that the new pier has come into life within the renewables industry so early by hosting an Orcadian tidal device from ScotRenewables. Scrabster Harbour is ideally placed to capitalise on the marine renewable activity in the Pentland Firth and oil and gas development West of Shetland and this confirms our strategy is the correct route. The surrounding supply chain in Caithness are also exceptional and have demonstrated their skills and experience with a range of recent developments to support our work at the Harbour. Despite being in the early stages of our redevelopment, we have seen a rise in the volume of oil-related activities over the past couple of months with platform supply and subsea operations vessels for the oil and gas industry already using the new pier, proving our facilities are versatile and suitable for all aspects of the energy market."

The developments at Scrabster Harbour are supported by the Scottish Government and Highlands and Islands Enterprise (HIE).

Calum Davidson, Director of Energy and Low Carbon at Highlands and Islands Enterprise, commented: "To see companies from both sides of the Pentland Firth and Orkney Waters Marine Energy Park working together to build on the opportunities emerging in offshore renewables is extremely exciting, and a solid demonstration of the real business benefits that this emerging industry can bring. The investment in Scrabster Harbour is now reaping the rewards for local firms and work such as this cements the reputation of both Caithness and Orkney as being at the forefront of global marine renewables research."
Related Businesses
Related Articles
Young people in Caithness will be the first in Scotland to benefit from new Norwegian style learning centres. A network of 'Newton rooms' in Norway and one in Denmark are used to inspire more young people into careers in science, technology, engineering and maths (STEM).
A kit home and window manufacturer with operations in Caithness and Inverness has been shortlisted for a national award for innovation. Norscot is one of three finalists in the Scottish Knowledge Exchange Awards 2018 Innovation of the Year category, after developing a system for clients to view their new homes on site virtually before building work starts.
A Shetland boat building and engineering company has increased its workforce and is set to expand internationally as orders for workboats grow. Six new jobs have already been created at Malakoff Ltd after opening a new site earlier this year at Greenhead Base in Lerwick.
A £60m fund to keep Scotland at the forefront of low carbon innovation is now open for applications. The Low Carbon Infrastructure Transition Programme (LCITP) will fund large scale projects which support the ambitions of the Scottish Government's new Scotland's Energy Strategy, which was published in December 2017.
A global software development business with its technology hub based in Orkney is moving to larger premises. Kyloe is set to double its staff in the next few years and has secured £191,250 investment from Highlands and Islands Enterprise (HIE) to help it move to a more suitable premises.
Recent VisitScotland figures have highlighted that 62%* of holidaymakers to Scotland said trying locally sourced food and drink is an important part of their visit. Share In a bid to capitalise on the benefits of a close relationship between food and drink producers and the tourism sector, a range of industry representatives and public agencies are working together to develop a new strategy - the 'National Framework to Grow Food Tourism'.
A special week long programme is being held in the Highlands and Islands de-mystifying the ways data can be used to change lives, deliver better services and grow business. Share Highlands and Islands Enterprise (HIE) is co-ordinating a local Fringe programme as part of the Scottish DataFest18 festival, organised by The Data Lab.
Luxury resort Auchrannie has completed its transition to become Scotland's latest employee-owned business, with 160 members of staff becoming owners. Share Located in Brodick on the Isle of Arran, Auchrannie is an award-winning resort comprising two 4-star hotels, thirty 5-star self-catering lodges, two leisure clubs, three individually branded restaurants, a children's Playbarn, an ASPA spa and Arran Adventure outdoor company.
The increasing use of digital services in a connected world brings an increasing threat of cyberattack. The Internet that connects systems doesn't discriminate between the type of traffic it allows on the network, it is our responsibility to manage this when we connect to and use the Internet by recognising and reducing the risk as appropriate.
A new £16 million initiative is to be launched in the Highlands to boost innovation. The Northern Innovation Hub (NIH) will focus on four key industry sectors.