Buying cigarettes for children could cost you a packet
7th October 2014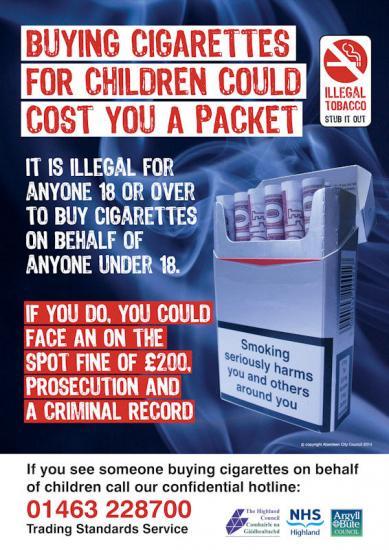 A poster campaign to highlight the risks of buying cigarettes for children has been launched by the Trading Standards services in Highland and Argyll and Bute Councils, in partnership with NHS Highland.

The campaign aims to increase awareness that it is unlawful for adults aged 18 or over, to knowingly buy or attempt to buy cigarettes, tobacco or cigarette papers for a person who is under the age of 18, this is known as a "proxy purchase".

The public are being reminded that it is the person buying or attempting to buy tobacco products, not the shopkeeper, who is guilty of the offence. They can face a fixed penalty notice of £200 and failure to pay may result in action in the criminal court.

Around 800 awareness posters are being distributed to registered tobacco retailers, in both The Highland Council and Argyll and Bute Council areas, for display in their shops. This is as a result of a partnership agreement with NHS Highland's Health Promotion Service.

Trading Standards Manager with The Highland Council, Gordon Robb, said : "We are keen to support responsible tobacco retailers in the fight against tobacco sales to children. We are aware that this is a real problem and wish to highlight the legal implications among the community, informing the public about the risks and penalties associated with proxy purchase of tobacco products and that it is individuals and not shopkeepers who must take responsibility for such actions."

Regulatory Services Manager with Argyll and Bute Council, Alan Morrison, added: "The community needs to be aware of their role in stopping children and young people getting hold of tobacco. Older friends, relatives or even strangers supplying cigarettes and tobacco to those under age need to know they are breaking the law and that action can and will be taken. We are grateful to NHS Highland for assisting Trading Standards in this educational campaign."

A Scottish survey among 13 to 15 year olds, who said they were regular smokers, reported they get someone else to buy them cigarettes from a shop, with 54% of 13 year olds and 55% of 15 year olds reporting this. Among 13 year old regular smokers, this was most likely to be an unknown adult (35%) and, among 15 year olds, similar proportions reported getting them from a known adult (32%) and an unknown adult (30%).

The Scottish Government has set a target date of 2034 to reduce smoking prevalence to 5% of the Scottish population.
Senior Health Promotion Specialist with NHS Highland, Susan Birse, said: "Although teenage smoking rates have decreased in Highland over the last few years, smoking remains a problem. Evidence shows the younger you start smoking, the more you tend to smoke in adulthood, the harder it is to quit, and the more harm is done to your health. "

Anyone who suspects a person of purchasing, or attempting to purchase, tobacco products on behalf of under 18's should contact the Trading Standards confidential helpline on 01463 228700.

Proxy purchase of tobacco products has been an offence in Scotland since 1st April 2011 under the Tobacco and Primary Medical Services (Scotland) Act 2010. The Act also contains measures aimed specifically at reducing the attractiveness and availability of tobacco to under 18's. It:

■ introduced a tobacco retailers registration scheme
■ makes it an offence for under 18's to purchase tobacco
■ makes it an offence for adults to buy tobacco for under 18's (proxy purchase)
■ gives Trading Standards powers to issue fixed penalty notices
■ gives courts the power to ban retailers from selling tobacco where they have continually broken the law
■ bans the display of tobacco and smoking related products in retail shops (from 29th April 2013 for large retailers and small retailers by 6th April 2015)
■ bans the sale of tobacco from vending machines

A fixed penalty notice issued for a proxy purchase offence is £200, discounted to £150 if paid within 15 days. The level of fixed penalty will increase by an additional £200 for every further offence committed by a person within a one year period.

The Scottish survey referred to is the Scottish Schools Adolescent Lifestyle and Substance Use Survey (SALSUS) National Report "SMOKING, DRINKING AND DRUG USE AMONG 13 AND 15 YEAR OLDS IN SCOTLAND IN 2010" www.drugmisuse.isdscotland.org/publications/local/SALSUS_2010.pdf (The more recent 2013 SALSUS report is due for publication in November 2014).
Related Businesses
Related Articles
Bill Alexander, Director of Care and Learning, has announced his intention to retire from The Highland Council. Bill commenced with the Council in 2000, in a joint post with NHS Highland as Head of Children's Services.
Beware of calls from scammers pretending to be the Telephone Preference Service warns Highland Council Trading Standards. Highland Council Trading Standards wish to warn consumers not to fall for a new telephone call scam in which fraudsters pretend to be calling from the Telephone Preference Service (or TPS).
Recent outcomes of Redesign work were noted by Members at yesterday's Highland Council meeting. In the first year of the programme, 8 redesign projects were undertaken using a "Lean" approach and 36 staff have been trained as facilitators.
Motorists are being advised that The Highland Council is currently preparing to carry out resurfacing works at the following locations: • B862 Fort Augustus - Whitebridge - Torness - Dores – Inverness Road; specifically at Errogie Village (North Gateway), Errogie Village (South Gateway), and Compass Farm; and • B851 Errogie – Strathnairn – Daviot Bridge – Culloden Moor Road; specifically at Aberarder House. Advanced works notification signage will be provided at various locations from Thursday 15 March 2018.
The Highland Council has agreed a capital programme of £482m over the next 5 years. The Highland Council serves the largest geographical area in Scotland (over 30%) and has just under £2bn of assets on its balance sheet comprising, amongst other things, 203 operational schools, over 6,700km of roads and over 2,000 properties.
The Highland Council's Enforcement Officers have stepped up patrols in Caithness in a move to tackle the problem of littering, fly tipping and dog fouling. A number of fixed penalty notices have been issued recently including an £80 fine for dog fouling in the Stafford Lane and Back Bridge area of Wick, a £200 fine for fly-tipping on Ackergill Street and another £80 fine for dog fouling in Lybster.
Speaking ahead of today's Council meeting to agree the Council's Capital Programme for 2018/19 to 2022/23, Cllr Margaret Davidson, Leader of the Highland Council said:- "This programme delivers significant investment in a range of key projects across the Highlands. We are investing in schools, roads, bridges, harbours and flood prevention schemes that will benefit our communities.
Highland Council is to make a special case for extra capital investment in the road infrastructure after a winter period which has seen the Highlands battered by some 57 days of severe weather. Highland Council area is particularly subject to severe winter weather, which has a significant impact on the roads and other infrastructure.
Maps of the Council's gritting routes by priority and policy are available online at www.highland.gov.uk/gritting. The information provided is a summary of reports from operational staff and is intended to give a general indication of typical conditions in each area at a point in time.
The £48.5m Wick Community Campus built by Morrison Construction has been announced as a finalist at the Royal Town Planning Institute (RTPI) Awards for Planning Excellence 2018. The project is entered in the category for "Excellence in Planning for a Successful Economy" against eight other finalists from across the UK with the winner to be announced during a ceremony at Milton Court Concert Hall on 24 May 2018.