Mey Selections Adding More Profits For Northern Farmers
26th May 2007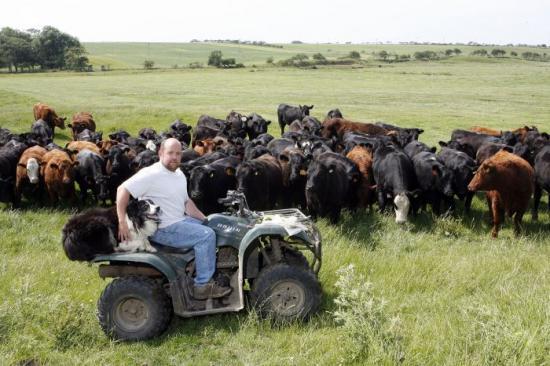 MEY SELECTIONS RAISES ALMOST A QUARTER OF A MILLION POUNDS IN PREMIUMS FOR BEEF AND LAMB

£4.6m turnover in first full trading year

25 May 2007: North Highland Products - the operating company for the Mey Selections brand - has reported a turnover of £4.6m in its first full year of operation, with around £240,000 raised in premiums over the Scottish average price in 2006.

"In our first full year we have achieved a significant rise in turnover," said Danny Miller, chairman, at the company's Annual General Meeting, held last night at the Park Hotel, Thurso. "2006 was a very good year in that we have been able to successfully develop our product range, our supply chain and, return good premiums to our members."

"We have secured about £240,000 in premiums above average market prices and I am very pleased we are delivering what we set out to do - returning more money to farmers and food producers in the North Highlands.", Mr Miller explained.

The Chairman also commented on the increasing numbers of farmer members attracted to North Highland Products, "We currently have over 270 members in the scheme, far exceeding the target we set ourselves."

Mr Miller believed the NHP supply chain was working well. "Cattle and lambs continue to be processed by Dunbia, at a dedicated Mey Selections facility at Dornoch. Cattle and lambs are slaughtered at Kirkwall, Inverurie and Dornoch (lambs) through commercial arrangements with Orkney Meat and Scotch Premier. This shows the benefits of collaboration in the supply chain."

The partnership between Sainsbury's and NHP has grown, with Mey Selections now working with a dedicated brand manager at the multiple retailer. Describing Sainsbury's as 'a key partner in our plans' Mr Miller said the company had offered North Highland Products a long-term contract, which would be finalised in the near future.

"In addition, Pioneer Foods (Carlisle), McClay Foods (Glasgow) and Icefront (London) are signed up as NHP's foodservice distributors and Mey Selections beef and lamb is now available locally through Harrold Bros in Wick to a growing number of local hotels and restaurants."

Mey Selections products are currently offered in over 100 Sainsbury's stores (including most of its Scottish stores). Sainsbury's Taste the Difference Meatballs, which use Mey Selections non-prime cuts, won two prestigious national awards in 2006 and 2007; the Best New Meat Product in the Meat Industry Awards and a Grocer Own Label Excellence Award. The supermarket chain has also recently successfully introduced Mey Selections Gourmet Beefburgers."

"We were delighted when Mey Selections rib beef won the Best Fresh Meat product of 2006 in the Supermeat awards in May last year, while North Highland Products were highly commended in the New Business Award category at the second Highlands and Islands Food and Drink Forum Awards in Inverness in the autumn of 2006 - a great achievement."

"We are hoping to develop more ready-cook and ready-meal products in the future, in collaboration with Dunbia, extending the range of products using non prime cuts, so that the whole carcass of the animal can be economically used."

He added that the company had also made progress in developing supply chains for non-meat products, with the introduction of Mey Selections Honey and Barrogill North Highland Blended Scotch malt whisky.

James Graham, CEO of SAOS, Guest Speaker at the AGM, confirmed his delight at being able to support this outstanding example of the successful commercial co-operation between all parties in a supply chain.

"The early success of North Highland Products demonstrates the value that can be captured when co-operation amongst farmers, and collaboration in supply chains, are fully developed in tandem. It's a powerful demonstration to farmers throughout Scotland, that co-operation and collaboration provide the best route to market, and to more profitable business."

Earlier
25 May 2006
Mey Selections Adds £140k In Premium Prices For Local Farmers
See - http://www.caithness-business.co.uk/article.php?id=241

Web Site Of Mey Selections - www.mey-selections.com

Photo shows Danny Miller, chairman of North Highland Products, the operating company for Mey Selections products. Danny Miller farms at Bilbster in Caithness.
Related Businesses
Related Articles
A brand new children's food festival will take place in the North Highlands in the summer of 2015 it has been announced. Created and organised by the North Highland Initiative (NHI) in partnership with Scotland Food & Drink, the festival will take place from 5 and 6 June 2015 and aims to highlight the importance of local food production, how to make great cuisine and good food choices and the variety of career opportunities in food production and service.
Croft-reared Highland beef and lamb served at the royal wedding reception of Prince William and Kate Middleton is now available nationwide and even across Europe, thanks to a brand new partnership between Mey Selections and Campbells Prime Meat Ltd. Eight Mey Selections cuts of beef are now available for sale direct to the public on Campbells Website and can be delivered fresh across the UK and Europe.
After all the months of planning, wondering if the idea would work, and waiting for stallholders to come forward, it was a great boost yesterday to see so many locals and visitors coming in to see us. We already have a waiting list of potential stallholders but we are fully booked for the whole season at the present time.
David Whiteford has been appointed as the new Chairman of The Prince's North Highland Initiative. Mr Whiteford will take up the position on 1st June 2009.
Organised and hosted by Mey Selections, and with the support of Highlands and Islands Enterprise, a group of ten top London chefs have, over the past few days, experienced for themselves just what it is about the North Highlands that produces award winning food and drink. Philip Corrick, Head Chef of the Royal Automobile Club, commented, "I am certain I speak for the rest of the group when I say that the North Highlands is unique in the UK in being able to deliver time after time, such a variety of quality produce - be it beef, lamb, mutton, seafood, cheese or bakery products, and much more." "The winning combination of the unspoilt environment together with the care and traditional skills employed by the region's fine food producers creates wonderful ingredients and products which consistently deliver on taste and performance.
Mey Selections becomes first Scottish consumer goods company to put carbon labels on products Mey Selections, the Caithness based food brand, is the first consumer goods company in Scotland to be certified with the Carbon Trust's Carbon Reduction Label. Mey Selections Luxury Shortbread and two Honey products will carry the Carbon Reduction Label in stores from 1 May, demonstrating the company's work to measure and, crucially, its commitment to reduce its carbon footprint over the next two years.
The Kandahar Club races each year in Switzerland at the world famous Murren Inferno downhill ski race - the longest downhill race in the world. This year the North Highland's Mey Selections Barrogill has sponsored the Hulse-Palmer Cup which is awarded to the three Kandahar teams with the best improved times in the Inferno race, and to the member of the Club with the best individual performance.
Mey Selections won the Best Retail Initiative award last week at the NEC in Birmingham. The award, given by Radio 4's food and farming programme is seen as the Oscar of the food and farming world and it acknowledges Mey Selections outstanding achievement with customers on a national scale.
The Mey Selections brand has now been enhanced by a special range of tweeds designed and manufactured by world leading textiles and cashmere producers, Johnstons of Elgin, and developed in conjunction with HRH The Prince Charles, Duke of Rothesay. Mey Selections Castle of Mey Estate Tweed was launched at the new Johnstons £1.5million Heritage Centre yesterday where it was received by TRH The Duke and Duchess of Rothesay during their visit where they viewed the weaving of the tweed in one of the only traditional mills left in the country.
A range of Mey Selections fine food products is now available in Aviemore Highland Shopping, Scotland's latest luxury shopping complex, to be found at the Macdonald Aviemore Highland Resort. Tracy Waters, Business Development Manager for Mey Selections commented: "It is really exciting to be involved with such a visionary retail experience, which has succeeded in gathering together the top quality Scottish brands.