Restored Thurso building to throw open its doors
11th July 2016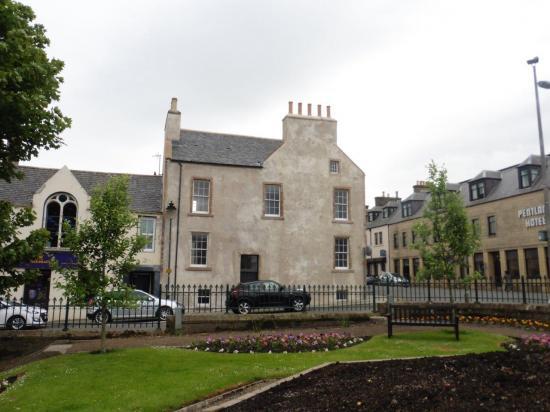 The Highland Council is to throw open the doors of 30 Princes Street on the corner with St John Square in Thurso on Saturday 16th July 2016 to give members of the public, councillors and community councillors the chance to see how it has restored and brought back into use this iconic Category B listed building which sits a prime position within the conservation area of the town.

Originally constructed in the early 1800s, over a period of time, lack of maintenance led to the demolition of the chimney head and the rear stair tower. The building became an eyesore and in order to save it, The Highland Council acquired the building by Compulsory Purchase.

Renovation works started in May last year and now the property has been transformed into three, one bedroom flats. During the works, where possible, the original features of the building were repaired and preserved. These include repairs to sash and case windows, the original timber doors, skirtings and facings, the ornate plaster cornices and the original roofing slates had been removed are now replaced. Stone repairs have included rebuilding the original window openings at the shopfront and rebuilding the gable chimneyhead. The external walls have been lime rendered in keeping with how the building would have been rendered from early in its history.

This intervention by the Council has saved the building for the foreseeable future and it will now provide useful accommodation in the centre of the town.

Leader of the Caithness Committee, Councillor Roger Saxon said: "This building has been a cause celebre with the Thurso community because of its prominent position at the corner of Sir John's Square and Princes Street, the town's square. It's kept the local paper's columns and letters pages filled for over a decade.

"After years of legal argument, a compulsory purchase order and a public local enquiry, the council gained control of the property. Along the way, the council had to act to make the building safe and preserve its structure. This was a long and frustrating process for all concerned but we persevered. There were even calls for it to be demolished, but as we saw with the Miller library building, Thurso is proud of its built heritage and will work hard to preserve our important buildings for future generations. We congratulate the many council officials involved in planning, conservation, legal etc, also Historic Scotland for their work and advice.

So now we have a restored, 200 year old B-listed building which will shortly be occupied - it's already on the councils 'choice-based lettings' web page at a very reasonable rent. This will provide three much needed flats in central Thurso.

"We very much hope the public will come along to see how the building has been sensitively restored to use."

The main contractors for the works have been the Laing Traditional Masonry Group Ltd who specialise in works to historic buildings and O'Brien Construction.

The open day takes place on Saturday from 10.00am to 1.00pm on Saturday 16th July 2016 and anyone is welcome to come along.

History of the property:

30 Princes Street is a Category B Listed Building within the Conservation Area of Thurso. It occupies a key position in the planned town grid of the early nineteenth century new town.

It was constructed in the early 1800s and along with a similar building at No.26, they provide a strong frame to Sir John's Square.

In the order to accommodate two families, a rear stair tower was constructed around the late 1880s.

In the late 1930s, a shopfront was created in Sir John's Square and the shop was used as an optician and electrical retailer and later a drapers and fish shop.

In the late 1990s, 30 Princes Street was converted into bed-sit accommodation and lack of maintenance caused it to fall into disrepair.

See the photo gallery link to see what it looked like in January 2013.
By that time the council had put on a temporary roof covering and made the building safe as walls were bulging.
Related Businesses
Related Articles
A Corporate Parenting Board is to be established which will have a duty of care for currently around 500 'Looked After' children and young people in Highland. Members of the Highland Community Planning Partnership's, Community Planning Board have this week (21 March 2018) agreed to establish a Corporate Parenting Board the purpose of which will be to: • promote the corporate parenting role of statutory agencies and awareness of the duties towards care experienced young people in Highland.
The Highland Child Protection Committee has launched a Toolkit to assist individuals, volunteers and community groups working with children and young people understand their roles and responsibilities in relation to child protection. Over 60 people providing activities for children, young people and families in a paid and voluntary capacity came along to the launch event in Inverness yesterday.
Bill Alexander, Director of Care and Learning, has announced his intention to retire from The Highland Council. Bill commenced with the Council in 2000, in a joint post with NHS Highland as Head of Children's Services.
Beware of calls from scammers pretending to be the Telephone Preference Service warns Highland Council Trading Standards. Highland Council Trading Standards wish to warn consumers not to fall for a new telephone call scam in which fraudsters pretend to be calling from the Telephone Preference Service (or TPS).
Recent outcomes of Redesign work were noted by Members at yesterday's Highland Council meeting. In the first year of the programme, 8 redesign projects were undertaken using a "Lean" approach and 36 staff have been trained as facilitators.
Motorists are being advised that The Highland Council is currently preparing to carry out resurfacing works at the following locations: • B862 Fort Augustus - Whitebridge - Torness - Dores – Inverness Road; specifically at Errogie Village (North Gateway), Errogie Village (South Gateway), and Compass Farm; and • B851 Errogie – Strathnairn – Daviot Bridge – Culloden Moor Road; specifically at Aberarder House. Advanced works notification signage will be provided at various locations from Thursday 15 March 2018.
The Highland Council has agreed a capital programme of £482m over the next 5 years. The Highland Council serves the largest geographical area in Scotland (over 30%) and has just under £2bn of assets on its balance sheet comprising, amongst other things, 203 operational schools, over 6,700km of roads and over 2,000 properties.
The Highland Council's Enforcement Officers have stepped up patrols in Caithness in a move to tackle the problem of littering, fly tipping and dog fouling. A number of fixed penalty notices have been issued recently including an £80 fine for dog fouling in the Stafford Lane and Back Bridge area of Wick, a £200 fine for fly-tipping on Ackergill Street and another £80 fine for dog fouling in Lybster.
Speaking ahead of today's Council meeting to agree the Council's Capital Programme for 2018/19 to 2022/23, Cllr Margaret Davidson, Leader of the Highland Council said:- "This programme delivers significant investment in a range of key projects across the Highlands. We are investing in schools, roads, bridges, harbours and flood prevention schemes that will benefit our communities.
Highland Council is to make a special case for extra capital investment in the road infrastructure after a winter period which has seen the Highlands battered by some 57 days of severe weather. Highland Council area is particularly subject to severe winter weather, which has a significant impact on the roads and other infrastructure.