Natural Retreats Begins John O'Groats Transformation
9th September 2011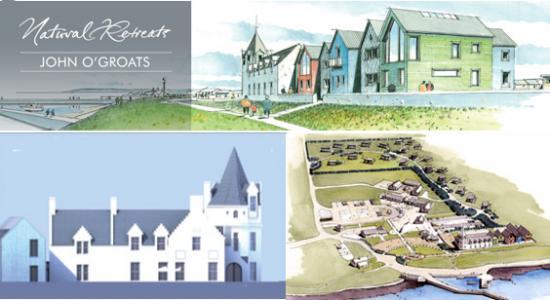 Natural Retreats begins development work to transform and revitalise John O'Groats

Following a £1.8 million funding boost from Highlands and Islands Enterprise, Natural Retreats in partnership with Heritage Great Britain, have started work on redeveloping the historic hotel and adjacent land in an ambitious plan to rejuvenate John O'Groats as a premium tourist destination.

This event marks the start of the first phase of work for this unique development that includes the creation of a number of luxurious apartments and stand alone holiday residences, using environmentally sustainable construction methods and cutting-edge design.

With the aim of bringing the world-renowned site of John O'Groats back to its former glory, the development will be underpinned by strong sustainable principles including the use of locally sourced materials and trades, green build techniques and Highland contractors, in a highly efficient development programme.

Natural Retreats in its on-going commitment to work with the local community, invited more than 100 key stakeholders to the launch event today, to be both part of this historic day, but also to hear the vision for the development from Natural Retreats Chief Executive Officer, Matt Spence.

Speaking on site today Matt Spence said, "We are delighted to announce the expansion of Natural Retreats on the historic hotel site at John O'Groats. It has been and will continue to be our aim to develop luxury self-catering accommodation in areas of outstanding natural beauty. John O'Groats with its stunning headlands and place in history, make it the next perfect location for our next stage of growth in developing and opening our unique accommodation and holiday residences."

Allan Leech, Chief Executive Officer of Heritage Great Britain, was also on site to commemorate the opening saying, "This is a remarkable moment in the history of this popular tourist destination and is something that the destination and region as a whole richly deserves. This development will help John O'Groats once again establish itself as a tourism experience with a true sense of place, providing high quality services for the tourist and a superb accommodation experience."

Highlands and Islands Enterprise Chief Executive, Alex Paterson, said of today's launch "HIE took the lead in bringing together the vision of businesses, residents, visitors and the community to create a masterplan for John O'Groats which will unlock its true potential. Less than two years from its publication we are delighted that quality tourism developers, Natural Retreats and Heritage Great Britain (HGB), are starting work.

"HIE has invested £1.8 million into this first phase of development - which will see the John O'Groats House Hotel site brought back to life and will create luxury self catering accommodation. This private public partnership investment will act as a catalyst for a number of projects that together will develop a sustainable tourist destination creating economic growth and local employment."

Anderson Building and Construction Limited from Muir of Ord, has been selected for the demolition and strip out works to the former hotel. Martin Anderson, Managing Director was also at the launch today saying, "We're extremely excited to be part of this prestigious project and to be the first contractor on site helping to develop this historic location. Its an honour to be working on this unique build, that will help elevate John O'Groats as a premium tourist location".