Official Opening Of New Premises For Hilltop Horses
26th November 2013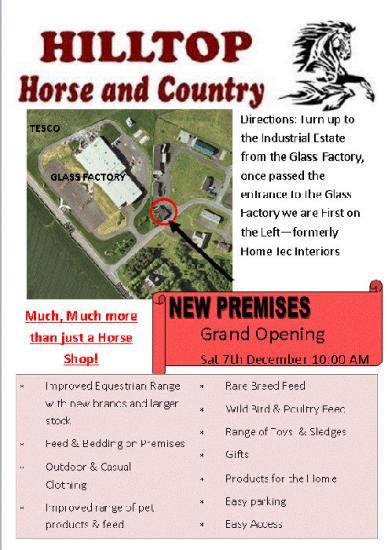 Hilltop Horses continues with expansion to offer a growing range of goods and wlil have its official opening on 7th December at the new premises formerly occupied by Hometec Interieors.

The new much larger premises has presented the opportunity not only to expand the range of goods on offer and not just for horses and pets but for many other interests.

Well worth a visit in the run up to Christmas to find that special present.

The new premises is for opening day hosting a range of other businesses including -
Flavours Ice Cream from John O\'Groats.
Sally Crowe Livestock Services
Far North Soap
Labrador Retriever Rescue Scotland

On the official opening day there will be refreshments and catering and some great deals.



Related Articles
Get over to Wick for some bargains at the Hilltop Horses sale..