Flavours Ice Cream Opens Second Shop In Thurso
1st July 2014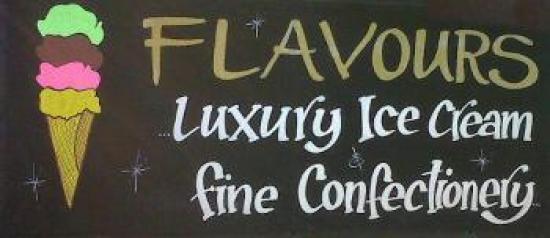 Flavours ice Cream Shop At John O'Groats has been a huge success and scored a hit with the public. with so much enthusiasm for the shop a new one has been set up in Thurso and will open its doors on Wednesday 2nd July 2014 at 2.00pm.

Building on the recognisable quality that is standard at Flavours, we can assure excellence at our new shop in Thurso. While offering their already established range, they will sell over 30 flavours of scooped ice cream and have a range of cones, including our speciality cones as well as a couple of new editions. The award winning Oreo Cone and the brand new (unique to Flavours) - blue & white sprinkled waffle. This will be called "The Great Scot" but they may temporarily call it The Andy Murray : )

A fantastic selection of ice cream Sundaes; Waffle Baskets; Milk Shakes and Slushes as well as their signature Hot Chocolate with Whipped Cream and Marshmallows. They have a brand new concept (unique to the Highlands) which will go down an absolute treat! "Swirly Whirly" - Flavours version of the McDonalds McFlurry.

Introducing a unique Swirly Whirlies menu which is exclusive to Flavours Thurso. Also a soft serve ice cream machine which gives flavoured and traditional or a mix of the 2.

"Our flavour for opening is blue raspberry and we are certain that this is again unique to the Highlands. It's been great researching all these extras and introducing them to Thurso. Our local custom is valued and it is a pleasure to be able to offer our regulars something unique and new."

Opening a second shop in Thurso was something that they had not considered, but the experience of Flavours Christmas Shop in the Pop Up Shop in November and December last year was incredible. The shop sold the Christmas themed confectionery, signature Festive Hampers and Wraps and were blown away by the response. Not only was the Christmas confectionery a resounding success, they heard it first hand that the residents of Thurso were wanting us to bring the ice cream. We will continue to stock a range of fine confectionery and look forward to increasing our selection from the fabulous Cocoa Mountain Highland Chocolatiers and Tablet from Slickly Croft.

The sweet toppers are warmly received from our local supplier Lorna Binnie at Sweet Treats. Lorna is working on the Thurso packaging for the new shop.