NEW UHI Principal Meets Staff and Students At North Highland College
17th June 2014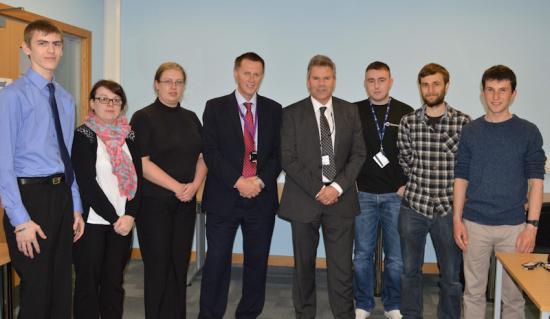 University of the Highlands and Islands principal and vice-chancellor meets staff and students at North Highland College UHI.

Professor Clive Mulholland met with staff and students last week at North Highland College UHI just 12 days after taking up his post as the second principal and vice-chancellor of the University of the Highlands and Islands.

Professsor Mulholland was welcomed by Acting Principal Donald MacBeath and received a tour of the campus which included the Centre for Energy and Environment and the Land-Based Centre of Excellence in Halkirk. He then met with the executive group for lunch in the College's refectory - Cafe at Morven. As well as meeting the Chair of the Board of Management, Mr Niall Smith, and the College Management Team, Professor Mulholland was particularly keen to meet with North Highland College UHI students.

He chatted with students studying from HNC level right up to PHD level including students from Alness who joined by video conference. It was a great opportunity for them to have an informal chat about what life is like as a UHI student and improving the student experience even further.

BA Equine Business Management student, Meghann Ashpoole said, "Professor Mulholland seems progressive and forward thinking and had lots of enthusiasm about the future of UHI."

HNC Computing student Andrew Martin added "It was really good to have the chance to meet Professor Mulholland and he took the time to personalise the experience by asking us all about our UHI student experiences. He really wants to make things simpler and easier to use, with a keen eye on making video conferencing easier and finding new ways for lecturers and students to effectively communicate."

Professor Mulholland said: "I am delighted to be joining the University of the Highlands and Islands at an exciting time of its development. I want to build strong relationships with our partnership, that's why I'm visiting all 13 colleges and research institutions this month. We must be a university for all of our region. And, as a partnership delivering both college and university level education, I hope I can bring my experience of further and higher education, technology enhanced learning, research and the enhancement of the student experience to support the strategic goals of our unique partnership.

"I am looking forward to working with our partners to deliver an exemplar distributed institution for 21st century learners across our region and beyond."

Professor Mulholland joins the university from the University of South Wales where he was deputy vice-chancellor (research & student experience).

A biomedical scientist, with expertise in clinical biochemistry and online learning, Professor Mulholland has held positions in the scientific civil service and in the NHS, as well as the universities sector.

He is a Fellow of the Institute of Biomedical Sciences, a Senior Fellow of the Higher Education Academy, a Fellow of the Royal Society of Medicine, a Fellow of the Royal Society of Arts and he is a Chartered Scientist. He has previously held appointments at The University of Ulster, Queens University Belfast, Swansea University, the NHS, and the Department of Agriculture Northern Ireland.

He is a native of Bangor, Northern Ireland.

Professor Mulholland replaces James Fraser who retired at the end of December 2013.
Related Businesses
Related Articles
A new report has revealed that 70.3% of full-time students successfully completed their studies at Highlands and Islands colleges in the 2016 to 2017 academic year. This is higher than the national average figure which shows that 65.3% of students passed further education courses at Scottish colleges in the period.
A new report has highlighted the threat marine plastic pollution poses to seabirds in the northeastern Atlantic region. Researchers found that, of 34 seabird species investigated, 74% have ingested plastic.
Vice-principals take up roles at University of the Highlands and Islands. The University of the Highlands and Islands has appointed three new vice-principals to its senior management team to increase representation from the 13 colleges and research institutions which make up its partnership.
North Highland College UHI are inviting applications for the Engineering and Construction Employability Essentials summer programme. The course is now in its fourth year and run in conjunction with Skills Development Scotland.
A new three-year partnership agreement between North Highland College UHI and Nigg Skills Academy has been signed to deliver engineering skills and qualifications to the Ross-Shire area at their academy in Nigg. Nigg Skills Academy works with employers and industry bodies to deliver engineering skills to meet today's industry demands, has established a memorandum of understanding with North Highland College UHI to continue to provide opportunities for those seeking careers within the engineering and energy industry.
To date, the Inverness Campus project has attracted over £100m of investment, and independent research has shown that it already has potential to support up to 1,300 jobs on site and create 940 new jobs across the Highlands and Islands over the next five years. www.uhi.ac.uk.
North Highland College UHI's evening classes and short courses are a great way for you to learn a new skill, turn a hobby into a money earner or even take the first step on the road to achieving a new qualification. With ILA funding available, you might be able to learn a whole new skill without it costing you a penny! From Digital Photography to Working With Wood, there's something for everyone.
Engineering & Construction "Employability Essentials" course, which runs from 4th July to 5th August. Last year 100% of the attendees went onto into positive destinations (employment, modern apprenticeships or further education), and there are 4 places remaining of the course for this year.
If you will be in 4th, 5th or 6th year in 2016/17 and you are unsure what path to take when you leave school then this course may be for you. This course will provide you with the practical skills and information required to support your success in moving into employment.
--- More than 200 students enjoy Inverness College UHI CREATE event ---. --- Highland entrepreneurs offer advice on starting out in business ---.