Thurso chef crowned Young Highland Chef of the Year
28th October 2014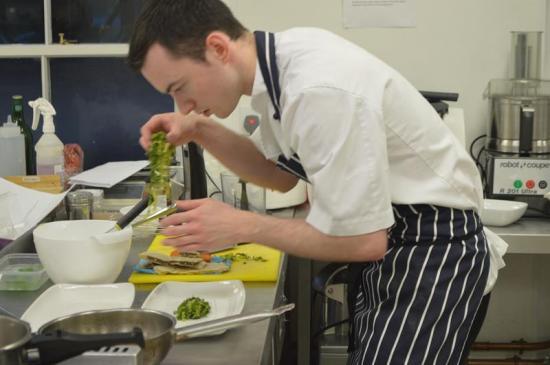 A chef from Thurso has been named as the Young Highland Chef of 2014. 23 year old Robert Smith beat off competition from six other finalists to win the title at last night's cook-off, held at the Burghfield House Hotel in Dornoch.

Robert was selected as the winner of the title by a panel of expert judges led by internationally renowned chef Albert Roux OBE KFO. The other chefs on the panel were Andrew Fairlie of Gleneagles Hotel; Brian Maule of Chardon d'Or in Glasgow; Steven Docherty of The First Floor Cafe in Windermere and Glen Watson of The Belfry in Sutton Coldfield.

Robert will be awarded with a week's work experience at the Roux family's two Michelin starred restaurant, Le Gavroche, in London, £500 and a trophy.

The Young Highland Chef competition, now in its fifth year, is organised by North Highland College UHI's Burghfield House training hotel and the Albert Roux Consultancy in association with Caterer and Hotelkeeper magazine. Entrants aged between 18 and 30 were invited to submit a three-course dinner menu for two with langoustine in the starter, beef in the main and apple in the sweet, with a budget of £20 per cover. Seven applicants who were judged to have come up with the best menus on paper went on to cook their dishes at the final.

Robert, who is a sous chef at the Ulbster Arms Hotel in Halkirk, produced the winning meal. He prepared poached langoustine with soft herb mash, wilted spinach, roast shellfish bisque and light champagne essence for the starter; slow cooked short rib beef served with haggis duxelle, glazed carrots and button onions, braising juices and truffle oil for the main and vanilla and apple crumble parafait with cloutie dumpling soufflé for the sweet.

David Macdonald (24) from The Lovat Hotel in Fort Augustus came second in the competition, winning £250 and a week's work experience at The RAC Club in London. Arkadiusz Swider (26) from Kingsmill Hotel in Inverness took the third spot, receiving £100.

Speaking about his win, Robert said: "I'm delighted; I don't think it's sunk in yet! I started cooking with my gran and it's something I enjoy. It's not just been a great occasion for me, but for all the competitors and for the Highlands. It's good that the judges come up to support the event."

Albert Roux praised the quality of all the competitors' food at the presentation ceremony, explaining: "Today has been a great day, the standard of cooking was better than last year and the year before, it's great to see it lifting. Although we have a winner, there are no losers; the very fact these young chefs have been selected for the final is an accolade. In Scotland, we are blessed with a beautiful larder and it's important we have cookery skills for tourism, one of the region's important industries."

Russell Rekhy, Burghfield campus manager, said: "It's been a pleasure to see the quality of cooking climb again this year and it has been an honour for Burghfield House Hotel to be involved in the Young Highland Chef competition once again. It is an opportunity for us to showcase some of the fantastic talent in our region as well as our training hotel, which serves one of the region's key industries. Well done to all the contestants."

Other finalists in the Young Highland Chef competition were Stuart Calder of Skibo Castle, near Dornoch; Ryan Campbell of Duchally Country Estate near Auchterarder; Aiden Macdonald of The Glen Mhor Hotel, Inverness and Jamie Farmer, a student at West Highland College UHI. Every contestant was presented with a Roux Brothers' cook book and a trophy.

Burghfield House is run as a training hotel by North Highland College UHI, part of the University of the Highlands and Islands. It offers a range of courses in hospitality and cookery, including a tourism and hospitality honours degree. Students can also study for Scottish vocational and higher national qualifications there.
Related Businesses
Related Articles
A new report has revealed that 70.3% of full-time students successfully completed their studies at Highlands and Islands colleges in the 2016 to 2017 academic year. This is higher than the national average figure which shows that 65.3% of students passed further education courses at Scottish colleges in the period.
A new report has highlighted the threat marine plastic pollution poses to seabirds in the northeastern Atlantic region. Researchers found that, of 34 seabird species investigated, 74% have ingested plastic.
Vice-principals take up roles at University of the Highlands and Islands. The University of the Highlands and Islands has appointed three new vice-principals to its senior management team to increase representation from the 13 colleges and research institutions which make up its partnership.
North Highland College UHI are inviting applications for the Engineering and Construction Employability Essentials summer programme. The course is now in its fourth year and run in conjunction with Skills Development Scotland.
A new three-year partnership agreement between North Highland College UHI and Nigg Skills Academy has been signed to deliver engineering skills and qualifications to the Ross-Shire area at their academy in Nigg. Nigg Skills Academy works with employers and industry bodies to deliver engineering skills to meet today's industry demands, has established a memorandum of understanding with North Highland College UHI to continue to provide opportunities for those seeking careers within the engineering and energy industry.
To date, the Inverness Campus project has attracted over £100m of investment, and independent research has shown that it already has potential to support up to 1,300 jobs on site and create 940 new jobs across the Highlands and Islands over the next five years. www.uhi.ac.uk.
North Highland College UHI's evening classes and short courses are a great way for you to learn a new skill, turn a hobby into a money earner or even take the first step on the road to achieving a new qualification. With ILA funding available, you might be able to learn a whole new skill without it costing you a penny! From Digital Photography to Working With Wood, there's something for everyone.
Engineering & Construction "Employability Essentials" course, which runs from 4th July to 5th August. Last year 100% of the attendees went onto into positive destinations (employment, modern apprenticeships or further education), and there are 4 places remaining of the course for this year.
If you will be in 4th, 5th or 6th year in 2016/17 and you are unsure what path to take when you leave school then this course may be for you. This course will provide you with the practical skills and information required to support your success in moving into employment.
--- More than 200 students enjoy Inverness College UHI CREATE event ---. --- Highland entrepreneurs offer advice on starting out in business ---.