New Police North Highland Area Commander
31st October 2014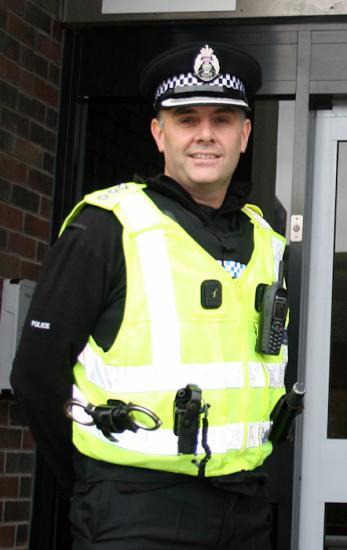 North Highland Area Commander - Chief Inspector Iain MacLelland

Aberdeen born Chief Inspector, Iain MacLelland, was promoted to Area Commander for the North Highland area last month, taking over from Chief Inspector Ross MacKillop.

With family connections to Skye and the Western Isles, the opportunity to relocate to the Highland capital was gladly seized by Iain and his family last month.

Iain joined the Police in 1992, serving as a Police Constable in various posts across Aberdeenshire, including the Road Policing Unit.

Promoted to Sergeant in 2003, Iain was then based in Aberdeen city centre, working on events planning that including policing major organised events, such as football matches and rallies. Promoted to Inspector in 2008, Iain then transferred to Burnett Road Police station in Inverness in August this year, before stepping in to the new position as Area Commander for the North Highland area last month.

Ch.Inspector MacLelland reflects on his new role:

"It's a privilege for me to serve such a diverse and picturesque region as the north Highlands. Serving the largest geographical command area in the UK will not be without its unique challenges but I am confident I can build on the excellent work carried out by my predecessor, Ch.Insp Ros MacKillop, with the strong team we have spread across the area; all committed to serving the local communities we represent.

The Highlands remain one of the safest areas to live and I am committed to maintaining this statistic by working closely with partner agencies and listening to our communities at every opportunity. We have our main policing priorities as set out in local policing plan: road safety, protecting people, reducing violence, substance misuse, tackling organised crime and anti-social behaviour - I'm very pleased that crime rates continue to fall while detection rates rise.

As the Area Commander for the North Highlands, I am committed to ensuring the area remains a very safe and secure place to live."
Related Businesses
Related Articles
Chair of Badenoch and Strathspey Area Committee questions Police Control Room decisions Chair of the Council's Badenoch and Strathspey Area Committee, Cllr Bill Lobban (Independent), has questioned Police Scotland's proposals for closing the Inverness Control Room and establishing two National Database Enquiry Units (NDEUs). His comments follow a presentation by Police Scotland to members at the local Committee today, Tuesday 5 September.
HMICS PUBLISHES Thematic Inspection of the Scottish Police Authority - Phase 1 Review of Openness and Transparency. A review by HM Inspectorate of Constabulary in Scotland (HMICS) into the openness and transparency of the way that the Scottish Police Authority conducts its business has concluded that there is a need for the Authority to genuinely engage with its stakeholders and listen to the views of those with an interest in the policing of Scotland.
The Highland Council took part in observing a minute's silence at 11:00 today Tuesday 6 June, in respect of the terrorist attack in London on Saturday 3 June 2017. Leader of the Highland Council, Margaret Davidson said: "Our thoughts and sympathies are with all those affected by these most recent horrific incidents.
Police Scotland to strengthen community focus and deal with emerging threats. Scotland needs an increasingly resilient, flexible, responsive and locally-focused police service to help keep communities safe.
A new safety camera motorcycle which can be used across the country is being launched by The Scottish Safety Camera Programme. The motorcycle will supplement and enhance the mobile fleets as its compact nature will allow it to attend at locations previously unavailable to the current fleet of camera vans.
The Leader of the Council has welcomed the announcement by Police Scotland of their plan to delay the closure of the Inverness Control Room and transfer of command and control to Dundee until June 2017. Leader of The Highland Council, Cllr Margaret Davidson said: "The HMICS (Her Majesty's Inspector of Constabularies Scotland) Report set the bar high for standards of assurance and we need to have a guarantee that all these standards have been met before any changes can take place.
Thursday, 1st September 2016, Drop in between 1pm - 4.30pm Thurso Police Office, Olrig Street, Thurso, Caithness KW14 7JA Police Scotland are carrying out Preliminary Supplier Engagements, "Meet the Buyer" Events, across a few geographical areas in Scotland as part of their research into deciding the best way forward for their new upcoming tender for joinery and locksmith services in relation to boarding up premises in the Highlands and Islands. They would like to invite any suppliers that are interested in participating, to come along to the above venue for an informal drop in session.
The Highland Council has congratulated Divisional Commander of the Highlands and Islands, Julian Innes on his retiral and thanked him for his service at his last Committee meeting on 23 March 2016. Chair of the Communities and Partnerships Committee, Cllr Hamish Fraser said: Chief Superintendent Innes has made a huge contribution to the safety of our communities.
Police Scotland are holding a Candidate Briefing Session on Saturday 16th January 2016 at Wick Police Station, Bankhead Road, Wick. Candidate Briefing Sessions are aimed at those who are interested in joining Police Scotland as a Regular or Special Constable.
As part of Operation Monarda, Police Scotland's campaign against Bogus Callers and associated Doorstep Crime, officers from Police Scotland, VOSA, SEPA and Highland Council Trading Standards, carried out a high visibility operations in both Inverness and Brora last week. Operation Monarda aims to raise awareness of bogus callers, rogue traders and associated doorstep crime by providing advice and information on how householders can protect themselves from such crimes.