Partnership agreement between North Highland College and Dounreay Site Restoration Ltd
24th March 2015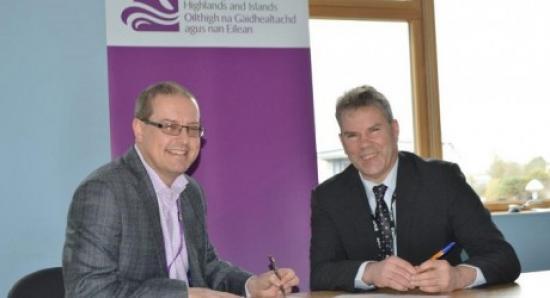 A NEW partnership agreement has been signed to develop and deliver training required at the Dounreay site during decommissioning work and help staff gain the qualifications they need to transfer to other employment sectors as the site closure progresses.

Dounreay Site Restoration Limited (DSRL), responsible for the clean-up and demolition of Britain's former centre of fast reactor research and development, has established a memorandum of understanding with North Highland College UHI and the University of the Highlands and Islands to help close collaboration working and academic links across further and higher education and the nuclear industry.

Commenting on the signing of the memorandum of understanding, Mark Rouse, Dounreay's managing director, said: "Our working relationship with North Highland College UHI is a strong and successful partnership that has stood the test of time.

"We are pleased to formalise the agreement to work together with the University of the Highlands and Islands to develop and deliver training required to decommission the Dounreay site.

"As the programme is extended, our staff are our biggest asset working at the heart of the nuclear industry and their knowledge and experience will be valuable to them and the local community once their careers extend beyond Dounreay."

Donald MacBeath, North Highland College UHI principal, added: "For many decades now, the education to business partnership between North Highland College UHI and the Dounreay site has been a key economic driver in the north highland area providing innovative skills and professional development programmes of regional, national and international repute.

"I have no doubt that all three parties to this agreement are committed to working together proactively to create new career development opportunities for our students and staff in the years ahead."

There is already significant nuclear expertise with the staff at Dounreay and the site is established as the European reference site for nuclear decommissioning and site closure.

As part of this, there is a further opportunity to provide training for the nuclear industry both in the UK and overseas using the knowledge gained at Dounreay.

Professor Clive Mulholland, principal and vice-chancellor of the University of the Highlands and Islands said: "This is an excellent partnership, showing the real difference our university can make to distinct communities but with the potential for national and international impact through research and exchange of ideas.

"We want to act as a force for economic, social and cultural change across the Highlands and Islands by connecting and collaborating with businesses to provide enhanced training and skills development and the promotion of sustainable economic growth."
Related Businesses
Related Articles
A new report has revealed that 70.3% of full-time students successfully completed their studies at Highlands and Islands colleges in the 2016 to 2017 academic year. This is higher than the national average figure which shows that 65.3% of students passed further education courses at Scottish colleges in the period.
Work has started to make safe one of the most hazardous materials left at Dounreay. Highly radioactive liquid, known as raffinate, has been stored in tanks for around 20 years after being produced as a by-product of Prototype Fast Reactor (PFR) fuel reprocessing.
Construction of a new facility to support the decommissioning of reactors and demolition of historic active laboratories are just two of Dounreay's major projects expected to be delivered as part of a new framework agreement, potentially worth up to £400 million, which is being published in the Official Journal of the European Union (OJEU) today. - www.ojeu.eu The decommissioning services framework agreement will initially be for a period of up to 4 years with the possibility of extensions of up to 3 years meaning skyline changes could be delivered over the next decade under the arrangements.
Engineers at Dounreay have raided a scrap car and a kitchen can opener to help decommission one of the site's reactors. The handbrake from a vintage 1968 Ford Cortina has been used to help steer a camera, attached to wheels taken from can openers, into the Prototype Fast Reactor (PFR) where a detailed survey inside the plant was completed.
Dounreay Site Restoration Limited has submitted a planning application to the Highland Council covering a series of decommissioning projects expected to take place between 2018 and the site's shut down, also known as the interim end state. The application, which is the last of three planning phases covering the overall decommissioning of the site, follows engagement undertaken earlier this year including public events and an opportunity to comment on draft documents online.
Drone technology is helping Dounreay reduce the risk of accidents and save money on its inspection of buildings. A camera mounted on an unmanned aerial vehicle is taking over tasks previously carried out by workers on elevated work platforms.
Work is underway to retrieve the last remaining radioactive fuel elements that have been stuck for decades inside the iconic Dounreay Fast Reactor (DFR). The experimental dome-shaped nuclear reactor once led the world in fast breeder technology and after it closed in 1977 most of the core fuel was removed.
A new report has highlighted the threat marine plastic pollution poses to seabirds in the northeastern Atlantic region. Researchers found that, of 34 seabird species investigated, 74% have ingested plastic.
Eleven young people who have completed their Dounreay apprentice training are "very much a part of the future of the far north." Guest speaker Jamie Stone MP told the audience at the apprentice indenture ceremony that took place last Friday that, as Dounreay continues to decommission, the newly indentured apprentices would be an important part of the area's ability to offer a skilled and innovative workforce. Dounreay Managing Director and former nuclear industry apprentice Phil Craig added: "I am very proud that we are celebrating yet another group of talented apprentices.
Companies are being invited to LINC together and support Scotland's largest decommissioning project thanks to an innovative new scheme designed to increase the number of small and medium enterprises (SMEs) delivering clean-up work at Dounreay. Up to five companies will be invited to help understand and develop the best proposal for size-reducing all of the machinery and components that will need to be removed from Dounreay's Prototype Fast Reactor (PFR) - the largest to be built at the Caithness site.