Beauty students attend UK's leading beauty event in London
31st March 2015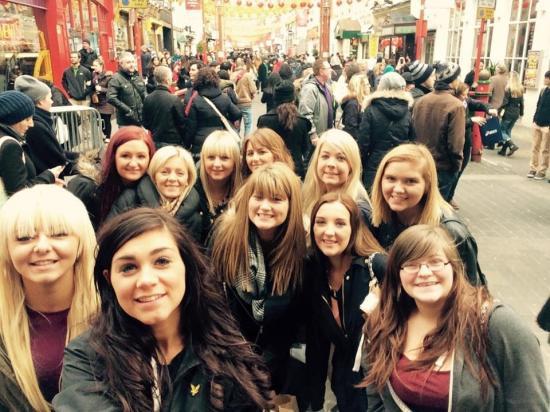 Beauty Therapy students from the North Highland College UHI have recently returned from a trip to the Professional Beauty Exhibition at the ExCel in London. With more than 800 brands, including Clarins, 3D Lipo, CACI, Dermalogica, CND and OPI the exhibition houses all the different aspects of the beauty industry. The students were able to be a part of the latest launches and see this year's beauty trends first hand.

The students that attended the UK's leading beauty event were, Chloe Anderson, Elly Jackson, Ashley Johnson, Emily Mahood, Courtney McIvor, Katie Moar, Chloe Pritchard, Erin Sutherland, Lauren Wilson, Susan New, Lorna Philip and Lynne Stewart along with beauty lecturers Caroline MacDonald, Carey Youngson and Kirsty Scollay.

Commenting on the trip, beauty lecturer Caroline MacDonald said; "The student's highlights were watching the nail enhancements and eyebrow demonstrations along with getting to meet Amy Childs! Some of our students had never been to London so they definitely enjoyed getting to see the big city life. The trip from start to finish went brilliant and the students were a joy to take away!"

To fund the trip, students each paid £100 and then raised £223.85 through their enterprise unit where they held a raffle with prizes donated by local businesses and suppliers.

The event gave the students the opportunity to touch, test and compare products, update their skills at beauty seminars and take part in exciting competitions as well as network with the most influential businesses in the industry. Free treatment demos and talks also ran for the two days of the exhibition across different live stages focussed on beauty and advanced treatments of make-up and hair.
Related Businesses
Related Articles
A new report has revealed that 70.3% of full-time students successfully completed their studies at Highlands and Islands colleges in the 2016 to 2017 academic year. This is higher than the national average figure which shows that 65.3% of students passed further education courses at Scottish colleges in the period.
A new report has highlighted the threat marine plastic pollution poses to seabirds in the northeastern Atlantic region. Researchers found that, of 34 seabird species investigated, 74% have ingested plastic.
Vice-principals take up roles at University of the Highlands and Islands. The University of the Highlands and Islands has appointed three new vice-principals to its senior management team to increase representation from the 13 colleges and research institutions which make up its partnership.
North Highland College UHI are inviting applications for the Engineering and Construction Employability Essentials summer programme. The course is now in its fourth year and run in conjunction with Skills Development Scotland.
A new three-year partnership agreement between North Highland College UHI and Nigg Skills Academy has been signed to deliver engineering skills and qualifications to the Ross-Shire area at their academy in Nigg. Nigg Skills Academy works with employers and industry bodies to deliver engineering skills to meet today's industry demands, has established a memorandum of understanding with North Highland College UHI to continue to provide opportunities for those seeking careers within the engineering and energy industry.
To date, the Inverness Campus project has attracted over £100m of investment, and independent research has shown that it already has potential to support up to 1,300 jobs on site and create 940 new jobs across the Highlands and Islands over the next five years. www.uhi.ac.uk.
North Highland College UHI's evening classes and short courses are a great way for you to learn a new skill, turn a hobby into a money earner or even take the first step on the road to achieving a new qualification. With ILA funding available, you might be able to learn a whole new skill without it costing you a penny! From Digital Photography to Working With Wood, there's something for everyone.
Engineering & Construction "Employability Essentials" course, which runs from 4th July to 5th August. Last year 100% of the attendees went onto into positive destinations (employment, modern apprenticeships or further education), and there are 4 places remaining of the course for this year.
If you will be in 4th, 5th or 6th year in 2016/17 and you are unsure what path to take when you leave school then this course may be for you. This course will provide you with the practical skills and information required to support your success in moving into employment.
--- More than 200 students enjoy Inverness College UHI CREATE event ---. --- Highland entrepreneurs offer advice on starting out in business ---.