Apply Now For Engineering And Construction Employability Essentials Summer Programme
31st May 2017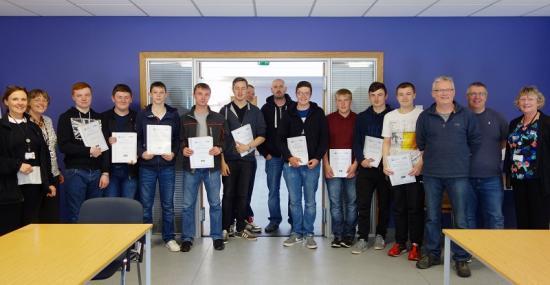 North Highland College UHI are inviting applications for the Engineering and Construction Employability Essentials summer programme. The course is now in its fourth year and run in conjunction with Skills Development Scotland.

Principal Donald MacBeath said, "This course is valued by our local employers and has become an established part of the College's summer provision. It has helped many of the young participants to make the transition into the world of work or alternatively full-time training. The College greatly appreciates the support of our partners at SDS in delivering this high quality training experience"

Successful candidates will study at the North Highland College UHI's Engineering, Technology and Energy Centre (ETEC) for five weeks from Monday 10th July. The course aims to help young people by providing essential training, skills and knowledge to progress into employment within the engineering and construction industry. The elements of the course have been carefully selected with local employers to include nine industry standard training and certification as well as key skills in engineering and construction.

To apply for a place this summer visit www.northhighland.uhi.ac.uk or call our Admissions team on 01847 889250, applications close on Friday 9th June 2017. Students may be entitled to a £55 per week training allowance and support to travel to College.
Related Businesses
Related Articles
A deal to harmonise staff pay at a cost of £50m a year will absorb projected savings from the reform of Scotland's colleges, says the Auditor General. Caroline Gardner's annual report on colleges says the sector reported a very small surplus in its underlying financial position in 2016/17, compared to the previous year's £8m deficit.
A new report has revealed that 70.3% of full-time students successfully completed their studies at Highlands and Islands colleges in the 2016 to 2017 academic year. This is higher than the national average figure which shows that 65.3% of students passed further education courses at Scottish colleges in the period.
A new report has highlighted the threat marine plastic pollution poses to seabirds in the northeastern Atlantic region. Researchers found that, of 34 seabird species investigated, 74% have ingested plastic.
Vice-principals take up roles at University of the Highlands and Islands. The University of the Highlands and Islands has appointed three new vice-principals to its senior management team to increase representation from the 13 colleges and research institutions which make up its partnership.
A new three-year partnership agreement between North Highland College UHI and Nigg Skills Academy has been signed to deliver engineering skills and qualifications to the Ross-Shire area at their academy in Nigg. Nigg Skills Academy works with employers and industry bodies to deliver engineering skills to meet today's industry demands, has established a memorandum of understanding with North Highland College UHI to continue to provide opportunities for those seeking careers within the engineering and energy industry.
To date, the Inverness Campus project has attracted over £100m of investment, and independent research has shown that it already has potential to support up to 1,300 jobs on site and create 940 new jobs across the Highlands and Islands over the next five years. www.uhi.ac.uk.
North Highland College UHI's evening classes and short courses are a great way for you to learn a new skill, turn a hobby into a money earner or even take the first step on the road to achieving a new qualification. With ILA funding available, you might be able to learn a whole new skill without it costing you a penny! From Digital Photography to Working With Wood, there's something for everyone.
Engineering & Construction "Employability Essentials" course, which runs from 4th July to 5th August. Last year 100% of the attendees went onto into positive destinations (employment, modern apprenticeships or further education), and there are 4 places remaining of the course for this year.
If you will be in 4th, 5th or 6th year in 2016/17 and you are unsure what path to take when you leave school then this course may be for you. This course will provide you with the practical skills and information required to support your success in moving into employment.
--- More than 200 students enjoy Inverness College UHI CREATE event ---. --- Highland entrepreneurs offer advice on starting out in business ---.