Waste contract signals Dounreay's community commitment
2nd October 2016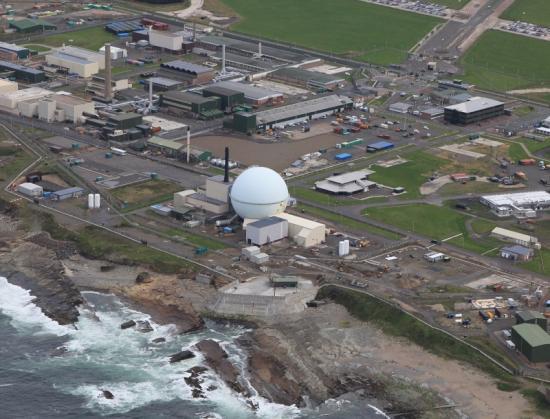 Amec Foster Wheeluker has been awarded a contract to design and build a new effluent treatment plant at Dounreay.

The agreement signals a landmark move for the Caithness site as the first to incorporate socio-economic commitments following the introduction of a new procurement policy earlier this year.

Head of Commercial, Stephen Adamson, said: "As a major employer in the area we take our responsibility to support the future of our community seriously. New guidelines, introduced earlier this year, ensure that our biggest suppliers think about how they can help contribute and we are delighted with the way the supply chain, including Amec Foster Wheeler, has responded."

The work, worth up to £7 million, is expected to begin as early as next year with the plant set to support the retrieval, processing and packaging of waste from the site's shaft and wet silo areas.

Andy White, Vice President for Decommissioning at Amec Foster Wheeler, said: "We share Dounreay's commitment to the development of communities where we work. We will be engaging the local supply chain to deliver major aspects of this contract as well as offering subject matter experts to support local education programmes and secondment opportunities for Dounreay graduates to gain experience within Amec Foster Wheeler."

Dounreay was once the United Kingdom's centre of fast reactor research and development, and now is on an ambitious journey to deliver one of Europe's most complex nuclear closure programmes. The skilled workforce is delivering a varied programme incorporating construction, demolition and waste management projects. Its mission is to return the site to as near as practicable its original condition.

PHOTO
In this aerial photo supplied by Dounreay the shaft is below the dome.
Related Businesses
Related Articles
Construction of a new facility to support the decommissioning of reactors and demolition of historic active laboratories are just two of Dounreay's major projects expected to be delivered as part of a new framework agreement, potentially worth up to £400 million, which is being published in the Official Journal of the European Union (OJEU) today. - www.ojeu.eu The decommissioning services framework agreement will initially be for a period of up to 4 years with the possibility of extensions of up to 3 years meaning skyline changes could be delivered over the next decade under the arrangements.
Engineers at Dounreay have raided a scrap car and a kitchen can opener to help decommission one of the site's reactors. The handbrake from a vintage 1968 Ford Cortina has been used to help steer a camera, attached to wheels taken from can openers, into the Prototype Fast Reactor (PFR) where a detailed survey inside the plant was completed.
Dounreay Site Restoration Limited has submitted a planning application to the Highland Council covering a series of decommissioning projects expected to take place between 2018 and the site's shut down, also known as the interim end state. The application, which is the last of three planning phases covering the overall decommissioning of the site, follows engagement undertaken earlier this year including public events and an opportunity to comment on draft documents online.
Drone technology is helping Dounreay reduce the risk of accidents and save money on its inspection of buildings. A camera mounted on an unmanned aerial vehicle is taking over tasks previously carried out by workers on elevated work platforms.
Work is underway to retrieve the last remaining radioactive fuel elements that have been stuck for decades inside the iconic Dounreay Fast Reactor (DFR). The experimental dome-shaped nuclear reactor once led the world in fast breeder technology and after it closed in 1977 most of the core fuel was removed.
Eleven young people who have completed their Dounreay apprentice training are "very much a part of the future of the far north." Guest speaker Jamie Stone MP told the audience at the apprentice indenture ceremony that took place last Friday that, as Dounreay continues to decommission, the newly indentured apprentices would be an important part of the area's ability to offer a skilled and innovative workforce. Dounreay Managing Director and former nuclear industry apprentice Phil Craig added: "I am very proud that we are celebrating yet another group of talented apprentices.
Companies are being invited to LINC together and support Scotland's largest decommissioning project thanks to an innovative new scheme designed to increase the number of small and medium enterprises (SMEs) delivering clean-up work at Dounreay. Up to five companies will be invited to help understand and develop the best proposal for size-reducing all of the machinery and components that will need to be removed from Dounreay's Prototype Fast Reactor (PFR) - the largest to be built at the Caithness site.
Graduates from as far afield as Portugal and London arrived in Caithness last week to kick start their career at Dounreay. Ten new recruits have started on the two-year graduate scheme with educational backgrounds as diverse as engineering, law and digital forensics and ethical hacking.
It is 60 years this weekend since the first criticality was achieved in Scotland using a test rig at Dounreay. Now the decommissioning team responsible for the site is marking that milestone by taking a major step towards demolishing the oldest reactor that remains at the former fast reactor research centre.
This film, produced by AEA Technology in 1994, looks back on the history of the fast reactor development programme at Dounreay..