2017/2018 Council Tax
20th February 2017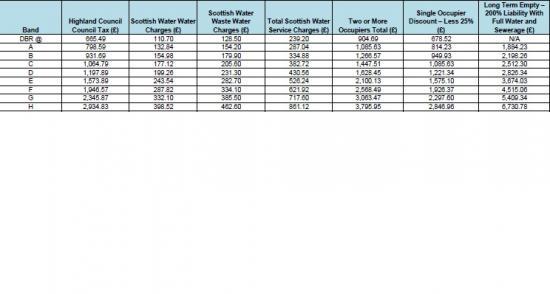 From 1 April 2017 the Scottish Government is changing the basis on which properties are assessed for Council Tax and this will increase the charge for Council Tax properties that are banded E to H.

The Highland Council has no discretion in this matter and must apply these increases to the Council Tax charges from 1 April 2017. Households living in properties in Bands A-D are not affected by these increases.

Further information on the Council Tax increases by the Scottish Government can be found on their website at:

• www.gov.scot/Topics/Government/local-government/17999/counciltax

To check what band your property falls under visit the Assessor's web site at:

• www.saa.gov.uk/

Queries relating to Council Tax Bands must be made to the Assessor by emailing assessor@highland.gov.uk or by phoning 01463 703311.

In addition to the increase in Council Tax set by the Scottish Government on properties falling within Bands E to H, The Highland Council has been given the flexibility to increase Council Tax on all properties, Bands A to H, by up to 3% from 1 April 2017. Council Tax legislation, set by the Scottish Government, determines any increase must be applied to all Bands in A to H.

At the meeting of the Highland Council on 16 February 2017 it was agreed to increase Council Tax on all properties by 3% from 1 April 2017.

Council Tax for 2017/2018 can be found at: www.highland.gov.uk/downloads/download/525/council_tax_rates.

Scottish Water and Waste Water Service charges are also shown and these charges are set by Scottish Water.

A comparison of Council Tax Charges between 2016/2017 and 2017/2018 can also be found at www.highland.gov.uk/downloads/download/525/council_tax_rates

If households would like support with their personal budgeting they should contact the Council's Welfare Support Team at welfare.support@highland.gov.uk or by phoning 0800 0901004. This support includes checking and claiming your entitlement to all benefits.

Alternatively households may wish to contact their local Citizens Advice Bureau which provides a service on behalf of the Council to help individuals and households manage debts.

Financial assistance is available for those on low incomes to reduce their Council Tax bills. This is called Council Tax Reduction. A leaflet providing details of this relief can be found at www.highland.gov.uk/counciltax

Households already in receipt of Council Tax Reduction will have their entitlement automatically recalculated.

Households can check whether they are eligible for assistance by completing the Highland Council's innovative 'Apply Once' online application form at www.highland.gov.uk/applyonce

This form will also automatically identify any other entitlements that are administered by the Council based on the individual's circumstances. Households supply their details only once and the Council will put into payment all entitlements that are legitimately available to them.

The 82,000 households who are currently paying their Council Tax by Direct Debit do not need to cancel or change their existing payment amount as this will be updated automatically from 1 April 2017. Households who wish to set up a Direct Debit for payment of their Council Tax can do so at www.highland.gov.uk/counciltax.
Related Businesses
Related Articles
A Corporate Parenting Board is to be established which will have a duty of care for currently around 500 'Looked After' children and young people in Highland. Members of the Highland Community Planning Partnership's, Community Planning Board have this week (21 March 2018) agreed to establish a Corporate Parenting Board the purpose of which will be to: • promote the corporate parenting role of statutory agencies and awareness of the duties towards care experienced young people in Highland.
The Highland Child Protection Committee has launched a Toolkit to assist individuals, volunteers and community groups working with children and young people understand their roles and responsibilities in relation to child protection. Over 60 people providing activities for children, young people and families in a paid and voluntary capacity came along to the launch event in Inverness yesterday.
Bill Alexander, Director of Care and Learning, has announced his intention to retire from The Highland Council. Bill commenced with the Council in 2000, in a joint post with NHS Highland as Head of Children's Services.
Beware of calls from scammers pretending to be the Telephone Preference Service warns Highland Council Trading Standards. Highland Council Trading Standards wish to warn consumers not to fall for a new telephone call scam in which fraudsters pretend to be calling from the Telephone Preference Service (or TPS).
Recent outcomes of Redesign work were noted by Members at yesterday's Highland Council meeting. In the first year of the programme, 8 redesign projects were undertaken using a "Lean" approach and 36 staff have been trained as facilitators.
Motorists are being advised that The Highland Council is currently preparing to carry out resurfacing works at the following locations: • B862 Fort Augustus - Whitebridge - Torness - Dores – Inverness Road; specifically at Errogie Village (North Gateway), Errogie Village (South Gateway), and Compass Farm; and • B851 Errogie – Strathnairn – Daviot Bridge – Culloden Moor Road; specifically at Aberarder House. Advanced works notification signage will be provided at various locations from Thursday 15 March 2018.
The Highland Council has agreed a capital programme of £482m over the next 5 years. The Highland Council serves the largest geographical area in Scotland (over 30%) and has just under £2bn of assets on its balance sheet comprising, amongst other things, 203 operational schools, over 6,700km of roads and over 2,000 properties.
The Highland Council's Enforcement Officers have stepped up patrols in Caithness in a move to tackle the problem of littering, fly tipping and dog fouling. A number of fixed penalty notices have been issued recently including an £80 fine for dog fouling in the Stafford Lane and Back Bridge area of Wick, a £200 fine for fly-tipping on Ackergill Street and another £80 fine for dog fouling in Lybster.
Speaking ahead of today's Council meeting to agree the Council's Capital Programme for 2018/19 to 2022/23, Cllr Margaret Davidson, Leader of the Highland Council said:- "This programme delivers significant investment in a range of key projects across the Highlands. We are investing in schools, roads, bridges, harbours and flood prevention schemes that will benefit our communities.
Highland Council is to make a special case for extra capital investment in the road infrastructure after a winter period which has seen the Highlands battered by some 57 days of severe weather. Highland Council area is particularly subject to severe winter weather, which has a significant impact on the roads and other infrastructure.