Tourism Campaign - Highland Autumn & Winter
18th September 2011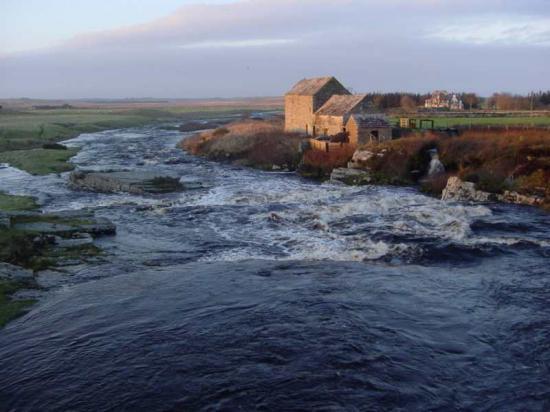 New tourism campaign promotes autumn and winter in the Highlands

Inspiring ideas are part of the national tourism organisation's marketing campaign, Surprise Yourself, which aims to highlight the more surprising aspects of the Highlands to visitors in the coming months.

A new direct mail campaign, created by VisitScotland and in partnership with the Highland Council, will be delivered to around 50,000 households this month, encouraging those who may already be familiar with the Highlands to discover more of what the region has to offer during the autumn and winter months. In addition, the Surprise Yourself campaign is being heavily promoted in VisitScotland's network of information centres across the country.

The glossy, ten-page promotional insert will be part of the national Surprise Yourself campaign and highlights some of the many attractions in the Highlands, including Badcall Bay in Sutherland, the Cromarty Firth, the Isle of Ewe Smokehouse, Strathconnon, Traigh Golf Course, the Highland Wildlife Park, Torridon, Dalwhinnie and skiing in Glencoe.

The direct mail campaign for the Highlands in particular aims to showcase activities such as walking, golfing, mountain biking, kayaking and snowsports, as well as the area's abundance of wildlife and the wealth of local food and drink produce on offer. As well as attracting new visitors to the Highlands, it is also hoped that requests for the VisitScotland visitor guide for the area will lead to repeat visitors.

Scott Armstrong, VisitScotland Regional Director for the Highlands, said: "The Highlands is a fantastic place to visit at any time of the year and we are encouraging more visitors to come this autumn and winter to experience the rich and varied landscape and the array of things to see and do here. The quirky and more unusual facts related to the region are being promoted as part of our national campaign, Surprise Yourself, which has already proved to be very popular."

Chairman of The Highland Council's Planning, Environment and Development Committee, Councillor Ian Ross said: "We are committed to promoting the Highlands as a top year-round destination to visitors from Britain and further afield and I am delighted the Council is supporting this campaign. Working in partnership certainly allows us to maximise the potential of these awareness raising campaigns. Showcasing the wide range of things to do and see over the autumn and winter months will increase visitor numbers at what use to be considered the tail end of the tourism season, and lead to additional spend into the local economy.

For further information go to
www.visitscotland.com/surprise or www.visithighlands.com

Photo
A mill at Westerdale, Caithness, North Highland, Scotland
Note - there are two mills at Westerdale and the one in the photo is often quoted mistakenly as Westerdale Mill whereas it is Dale Mill and is associated with the nearby Dale House. The mill has water driven generator and still supplies electricity to storage radiators in the house and has done for many decades.
Related Businesses
Related Articles
Bill Alexander, Director of Care and Learning, has announced his intention to retire from The Highland Council. Bill commenced with the Council in 2000, in a joint post with NHS Highland as Head of Children's Services.
Beware of calls from scammers pretending to be the Telephone Preference Service warns Highland Council Trading Standards. Highland Council Trading Standards wish to warn consumers not to fall for a new telephone call scam in which fraudsters pretend to be calling from the Telephone Preference Service (or TPS).
Recent outcomes of Redesign work were noted by Members at yesterday's Highland Council meeting. In the first year of the programme, 8 redesign projects were undertaken using a "Lean" approach and 36 staff have been trained as facilitators.
Motorists are being advised that The Highland Council is currently preparing to carry out resurfacing works at the following locations: • B862 Fort Augustus - Whitebridge - Torness - Dores – Inverness Road; specifically at Errogie Village (North Gateway), Errogie Village (South Gateway), and Compass Farm; and • B851 Errogie – Strathnairn – Daviot Bridge – Culloden Moor Road; specifically at Aberarder House. Advanced works notification signage will be provided at various locations from Thursday 15 March 2018.
The Highland Council has agreed a capital programme of £482m over the next 5 years. The Highland Council serves the largest geographical area in Scotland (over 30%) and has just under £2bn of assets on its balance sheet comprising, amongst other things, 203 operational schools, over 6,700km of roads and over 2,000 properties.
The Highland Council's Enforcement Officers have stepped up patrols in Caithness in a move to tackle the problem of littering, fly tipping and dog fouling. A number of fixed penalty notices have been issued recently including an £80 fine for dog fouling in the Stafford Lane and Back Bridge area of Wick, a £200 fine for fly-tipping on Ackergill Street and another £80 fine for dog fouling in Lybster.
Speaking ahead of today's Council meeting to agree the Council's Capital Programme for 2018/19 to 2022/23, Cllr Margaret Davidson, Leader of the Highland Council said:- "This programme delivers significant investment in a range of key projects across the Highlands. We are investing in schools, roads, bridges, harbours and flood prevention schemes that will benefit our communities.
Highland Council is to make a special case for extra capital investment in the road infrastructure after a winter period which has seen the Highlands battered by some 57 days of severe weather. Highland Council area is particularly subject to severe winter weather, which has a significant impact on the roads and other infrastructure.
Maps of the Council's gritting routes by priority and policy are available online at www.highland.gov.uk/gritting. The information provided is a summary of reports from operational staff and is intended to give a general indication of typical conditions in each area at a point in time.
The £48.5m Wick Community Campus built by Morrison Construction has been announced as a finalist at the Royal Town Planning Institute (RTPI) Awards for Planning Excellence 2018. The project is entered in the category for "Excellence in Planning for a Successful Economy" against eight other finalists from across the UK with the winner to be announced during a ceremony at Milton Court Concert Hall on 24 May 2018.