Wick To Receive Huge Volume Of Nuclear Records At New Archive Centre By 2016
19th August 2013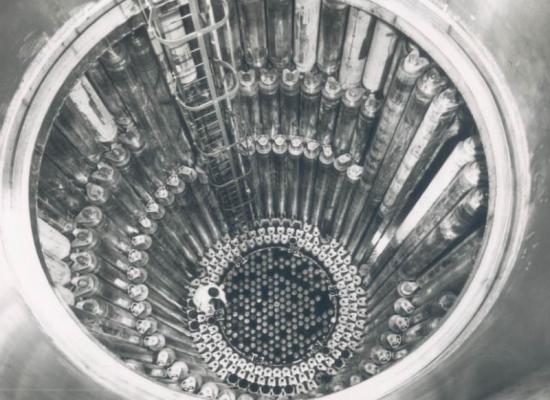 Dounreay's huge collection of historic documents will be among the first items to be stored in the new archive to be built in Caithness.

The National Nuclear Archive is due to be open for business by 2016, said NDA's director for Dounreay, Nigel Lowe.

The facility will be purpose built beside Wick John O'Groats Airport, and is expected to cost in the region of £20million.
It will house up to 30 million digital records, papers and photos covering the history of the UK's civil nuclear industry, including archives from UKAEA in Harwell.

It will be open just in time for the majority of the documents in the Dounreay archive to be moved offsite, as the existing building is scheduled to be vacated at the end of 2016.

Dounreay archivist Ian Pearson says that the site's archive currently holds 250 tonnes of records stretching nearly four kilometres. Some of these date back to the early days on construction and operation of Dounreay.

The new archive will be run by a specialist contractor on behalf of the NDA, and is expected to create up to 20 new jobs.

Bringing the National Nuclear Archive to Caithness is just part of the NDA's socio economic commitment to the area which has seen it spend more than £10m on support for local projects including Scrabster and Wick Harbours, the Caithness Chamber of Commerce and the Engineering Technology facility at the North Highland College.
Nigel Lowe said "Locating the archive in Wick is part of the NDA's commitment to this area in the post Dounreay Interim End State era.

History has shown that similar legacies in other industries and other areas, have always stood the test of time."

I feel very privileged that this has fallen on my watch."

There has been a strong awareness that as Dounreay runs down employment in the far north could be difficult. Several public bodies and organisations have been moving relentlessly to address these problems. Highland Council is concentrating on Capital Investment in the area while Highlands and Islands Enterprise has kept the pressure on developing new opportunities in energy projects such as are now being seen in early development in the Pentland firth and Moray firth. Investing in Harbour infrastructure projects such as at Scrabster.

Highland council has been focussiing on elements that fal within their remit such as education. Modest improvements at Thurso high have been overshadowed by the unique investments announced for Wick where all five schools one secondary and four primaries wil be replaced in a flurry of activity in the town in the next two years. In one of the biggest projects ever seen in education anywhere in Scotland Wick is to get a new high School and on the same site new primary and nursery facilites to make a 3 to 18 campus with community swimming pool and library on site. The whole lot will be joined by a covered street to take account of the sometimes ferocious weather in the far north.

On the north of Wick a new proimary will see the amalgamation of two schools into one new one.

The local childrens home run by Highland council also is to be provided with anew state of the art facility near the High school.

Wick Harbour authority is also moving forward with investment from Highlands and Islands Enterprise and the NDA to instal a new heavy lift pad to enable the transfer iof heavy engineering and large itesm arriving for marine energy schems which might see several transports at Wick every week for a couple of years or more just for the Moray firth projects alone.

With Scrabster , Wick and gills harbours all gearing up for the new work there is certain to be increasing activity which the Caithness and North Sutherland Regeneration Partnership hope will offset some of the run down at Dounreay.

The Nuclear Archive for Wick is projected to supply 20 high quality jobs and will be a welcome addition to the area.

PHOTO
From the Dounreasy collection shows a Reactor Void
Related Businesses
Related Articles
Nominations are being invited from people seeking election onto eight community councils across the Highlands. The resignation of some members have brought the following six community council's down to below half of their memberships so interim elections have been called in order to fill the vacancies.
The Highland Council and its Commercial and Procurement Shared Services partners Aberdeen City and Aberdeenshire Councils are running a series of events to help businesses supply to the public sector. Some of the events are hosted by other organisations and we will be signposting suppliers to these as well.
Leader of the Highland Council, Margaret Davidson has moved to reassure communities about forthcoming budget decisions. She said: "No decisions will be made until the Council meets on 15 February.
Recent VisitScotland figures have highlighted that 62%* of holidaymakers to Scotland said trying locally sourced food and drink is an important part of their visit. Share In a bid to capitalise on the benefits of a close relationship between food and drink producers and the tourism sector, a range of industry representatives and public agencies are working together to develop a new strategy - the 'National Framework to Grow Food Tourism'.
At Highland Council work has been ongoing for some months to prepare a Revenue and Capital Budget for 2018/19 and beyond, with the anticipation of a significant cut to available funds. The Scottish Government's proposed grant settlement was announced on 14 December 2017.
A special week long programme is being held in the Highlands and Islands de-mystifying the ways data can be used to change lives, deliver better services and grow business. Share Highlands and Islands Enterprise (HIE) is co-ordinating a local Fringe programme as part of the Scottish DataFest18 festival, organised by The Data Lab.
Luxury resort Auchrannie has completed its transition to become Scotland's latest employee-owned business, with 160 members of staff becoming owners. Share Located in Brodick on the Isle of Arran, Auchrannie is an award-winning resort comprising two 4-star hotels, thirty 5-star self-catering lodges, two leisure clubs, three individually branded restaurants, a children's Playbarn, an ASPA spa and Arran Adventure outdoor company.
The increasing use of digital services in a connected world brings an increasing threat of cyberattack. The Internet that connects systems doesn't discriminate between the type of traffic it allows on the network, it is our responsibility to manage this when we connect to and use the Internet by recognising and reducing the risk as appropriate.
Around £3 million of funding has been agreed for a ground-breaking Highland project that could transform the lives of people with complex health needs as part of the Inverness and Highland City Region Deal. The business case for the 'FitHome' assisted living project was approved in November last year with £3m funding from the Scottish Government.
An article in the Press and Journal today 9th January 2018 highlights the cuts in staffing levels across Scottish councils with Highland being one of the highest. In 2009 Highland had 9953 Full-time Equivalent Staff and in 2017 it had dropped by 21% to 7838.