Good progress with new school provision in Wick
23rd July 2014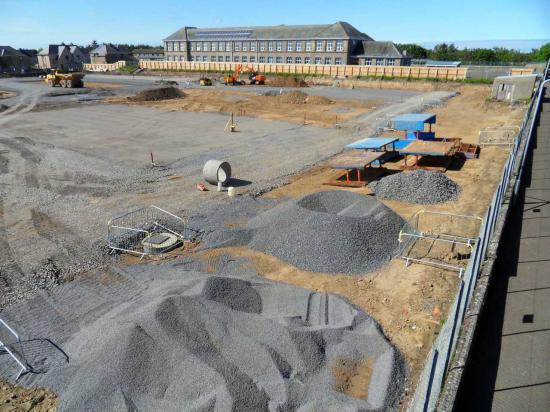 The main construction contract for the new £15.4M Noss Primary School in Wick has been signed. The site, on the existing North Primary School campus, is already cleared and ready for the foundation work to begin. The main contractor is Miller Construction.

The new 387 pupil school, with nursery provision and community facilities, is due to be completed in July 2015 and opened to pupils in August 2015. Thereafter the existing North Primary School building will be demolished to make way for a multi-use games area, netball area and car park.

When open, Noss Primary school will replace the existing North and Hillhead Primary Schools.

South of the river, site clearance for the new £48.5 million Wick Community Campus will begin shortly. The new campus will replace Wick High School, Pulteneytown Academy Primary School, South Primary School and the existing community swimming pool and library facilities. The new campus is due to be available to pupils by the start of the 2016/17 academic session.

The project, which is part of the 3rd phase of Scotland's Schools for the Future programme, is co-funded by the Scottish Government and The Highland Council.

Wick Councillor Gail Ross, Vice Chair of the Council's Education, Children and Adult Services Committee said: "It's great news that everything is in place and work on Noss Primary can really get underway. The new school is going to be very much the heart of the local community so I am delighted that as well as an excellent environment for the young people to learn in, the school will have community facilities for everyone to use and enjoy.

"With Noss Primary and the campus under construction,it's a very exciting time for education in Wick and shows a significant investment by the Council into the educational needs and aspirations of young people and for the skilled and dedicated staff and parents that support them."

Angus Macfarlane, chief executive of hub North Scotland, said: "Reaching contract close on the Noss Primary School in Wick very much signals the next exciting stage of development for the project and we're delighted at the progress that is currently being made.

"As an organisation, we strive to ensure that the local supply chain is embraced at each stage of the project and we will continue to work closely with Miller Construction to ensure that this happens. Through this commitment, we will aim to help support significant investment in the local economy during the construction period. However in the long term, the greatest benefit will of course be the provision of a fantastic school to serve the community for decades to come."

Miller construction was acquired by The Galliford Try subsidiary earlier in July 2014 and will build the new Inverness Royal Academy for £35.4m and Noss Primary School in Wick for £15.4m.

The two contracts are part of a £200m programme of new school building work awarded to Miller Construction last October. Project client is Hub North Scotland, the public/private development company working in partnership with The Highland Council.

Galliford Try bought Miller Group's construction business for £16.57m. Miller Construction's order book of £1.4bn doubles Galliford Try's order book at a stroke to £2.8bn.
Related Businesses
Related Articles
Recent outcomes of Redesign work were noted by Members at yesterday's Highland Council meeting. In the first year of the programme, 8 redesign projects were undertaken using a "Lean" approach and 36 staff have been trained as facilitators.
Motorists are being advised that The Highland Council is currently preparing to carry out resurfacing works at the following locations: • B862 Fort Augustus - Whitebridge - Torness - Dores – Inverness Road; specifically at Errogie Village (North Gateway), Errogie Village (South Gateway), and Compass Farm; and • B851 Errogie – Strathnairn – Daviot Bridge – Culloden Moor Road; specifically at Aberarder House. Advanced works notification signage will be provided at various locations from Thursday 15 March 2018.
The Highland Council has agreed a capital programme of £482m over the next 5 years. The Highland Council serves the largest geographical area in Scotland (over 30%) and has just under £2bn of assets on its balance sheet comprising, amongst other things, 203 operational schools, over 6,700km of roads and over 2,000 properties.
The Highland Council's Enforcement Officers have stepped up patrols in Caithness in a move to tackle the problem of littering, fly tipping and dog fouling. A number of fixed penalty notices have been issued recently including an £80 fine for dog fouling in the Stafford Lane and Back Bridge area of Wick, a £200 fine for fly-tipping on Ackergill Street and another £80 fine for dog fouling in Lybster.
Speaking ahead of today's Council meeting to agree the Council's Capital Programme for 2018/19 to 2022/23, Cllr Margaret Davidson, Leader of the Highland Council said:- "This programme delivers significant investment in a range of key projects across the Highlands. We are investing in schools, roads, bridges, harbours and flood prevention schemes that will benefit our communities.
Highland Council is to make a special case for extra capital investment in the road infrastructure after a winter period which has seen the Highlands battered by some 57 days of severe weather. Highland Council area is particularly subject to severe winter weather, which has a significant impact on the roads and other infrastructure.
Maps of the Council's gritting routes by priority and policy are available online at www.highland.gov.uk/gritting. The information provided is a summary of reports from operational staff and is intended to give a general indication of typical conditions in each area at a point in time.
The £48.5m Wick Community Campus built by Morrison Construction has been announced as a finalist at the Royal Town Planning Institute (RTPI) Awards for Planning Excellence 2018. The project is entered in the category for "Excellence in Planning for a Successful Economy" against eight other finalists from across the UK with the winner to be announced during a ceremony at Milton Court Concert Hall on 24 May 2018.
A Partnership for Procurement event was held in Inverness today (Thursday 6 March) to raise awareness and the capability of the third sector to successfully bid, supply and deliver services for the public sector. Partnership for Procurement (P4P) is a new initiative funded through the Scottish Government's 10 Year Social Enterprise Strategy; supporting social enterprises and third sector organisations to better access public contracts and build partnerships.
Across the Northern Alliance local authorities an exciting project has been rolled out to raise attainment in literacy, language and communication. The programme is being delivered in around 50% of primary schools across the Northern Alliance and is aimed at supporting practitioners to take a developmental approach to supporting early literacy development.