New old look for Dingwall business as piece of High Street history is restored
25th March 2015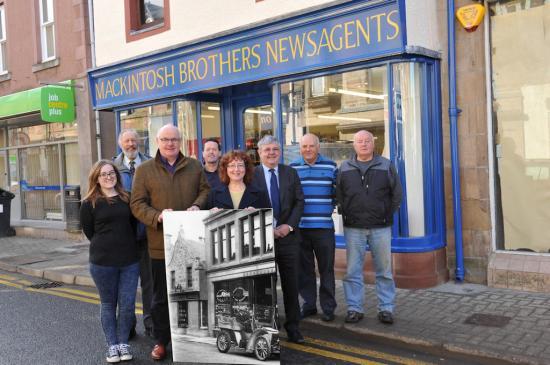 With assistance of a Grant from Historic Scotland, the Mackintosh Brothers have transformed their Dingwall newsagent's premises back to its former Victorian glory and the recent work is attracting very favourable comments from the local community. No 4 High Street, Dingwall is one of a series of Victorian shop premises at the West end of the High Street. The 1970's shop front has been entirely replaced to bring it back to how it would have appeared when it was first constructed around 1880.

The distinctive Dutch gable and roof had previously been refurbished by the present owners and when the opportunity of an historic building grant arose three years ago they decided to apply. The new shop front is now complete and the Mackintosh Brothers, Architects (Thomas Munro & Co) and local builder Derek Mellon are very pleased with the result.

The project comprised the installation of low stone 'stall risers', purpose built timber windows, including curved glass corner panes, new threshold tiling and new cornice and fascia. The signage is hand painted and the whole ensemble is now very close to the elegant Jeweller's shop which was located at No 4 early last century.

A proportion of the funding for the project comes from the Dingwall Conservation Area Conservation Scheme (CARS) grant. Dingwall High Street was awarded the £400,000 Grant in 2011 and although take up has been slow to date, it is hoped that others will follow the Mackintosh Brothers example and take advantage of the funding support while it is available.

Co-owner Ali Mackintosh said: "We are very pleased with the way this has turned out. My brother and myself are Dingwall people and we take a pride in the town. The family have owned this business for 30 years. When the opportunity arose to get some help to return the shop front to its former glory, we jumped at the chance. We think it looks great"

Local Joiner and Building Contractor Derek Mellon won the tender to do the work. Derek commented: "I really enjoyed this one. All the work and materials are high quality and working out some of the original detailing was quite a task. It is very rewarding when you get the chance to work on old buildings using traditional crafts and skills. I hope more owners on the High Street take the chance of grants to improve their premises."

The Council commissioned Thomas Munro & Co to prepare a design proposal and pricing package, based on early photographic evidence and joinery features that have survived at a similar Dingwall shop front.

Speaking on behalf of the Dingwall Ward Councillors, Councillor Graham MacKenzie said: "I think everyone will agree that the work has really transformed the building and Derek and his team have done a great job in bringing back a bit of lost history to our High Street. It's a great example of how the CARS funding can be used to safeguard and protect our buildings and heritage for many years to come. This funding for businesses in the town will come to an end in March next year but as the design and approvals process takes time, any other business owners interested in doing a project should be applying now to meet the deadline."

Dingwall CARS is a partnership funded scheme between Historic Scotland and Highland Council. The aim of the funding is to invest in Dingwall's Historic Buildings, particularly on the High Street, and to deliver regeneration benefits to the town. The £400,000 scheme opened in 2012 and grant supported work must be complete by March 2016. The funding covers repairs to the external fabric of historic buildings within the CARS area covering such items as roofing, stonework, rainwater goods and lead work.

There is specific funding for the repair and in some cases replacement of historic shop fronts. Dingwall High Street has a number of very interesting shop fronts dating from the late 19th and early 20th century. Some have distinctive cast iron columns and others elegant curved glass and fine timber windows.

Nigel Greenwood, Chair of the Dingwall CARS Stakeholder group added: "It is so nice to see one of the shop fronts being restored and we hope the success of this project will encourage other business owners to come forward. There are still unallocated funds available and applications are very welcome."

Applications need to be submitted to the Council by the end of June in order to be processed in time for works commencing late summer. This will ensure that the grant scheme can be closed early 2016 in accordance with the Historic Scotland grant terms. If you think your property might qualify for a grant, please get in touch with the CARS Project Officer, Neil Cameron on 07557 480846 or e-mail DingwallCARS[AT]highland.gov.uk

PHOTO
Left to right are Business Manager Lucie Mackintosh, Chair of Dingwall CARS Stakeholder Group Nigel Greenwood, Cllr Alister MacKinnon, Contractor Derek Mellon, Cllr Angela MacLean, Cllr Graham MacKenzie and brothers Ali and Dennis Mackintosh.

For more photos of Dingwall go to the Photo Gallery link top left.
Related Businesses
Related Articles
Recent outcomes of Redesign work were noted by Members at yesterday's Highland Council meeting. In the first year of the programme, 8 redesign projects were undertaken using a "Lean" approach and 36 staff have been trained as facilitators.
Motorists are being advised that The Highland Council is currently preparing to carry out resurfacing works at the following locations: • B862 Fort Augustus - Whitebridge - Torness - Dores – Inverness Road; specifically at Errogie Village (North Gateway), Errogie Village (South Gateway), and Compass Farm; and • B851 Errogie – Strathnairn – Daviot Bridge – Culloden Moor Road; specifically at Aberarder House. Advanced works notification signage will be provided at various locations from Thursday 15 March 2018.
The Highland Council has agreed a capital programme of £482m over the next 5 years. The Highland Council serves the largest geographical area in Scotland (over 30%) and has just under £2bn of assets on its balance sheet comprising, amongst other things, 203 operational schools, over 6,700km of roads and over 2,000 properties.
The Highland Council's Enforcement Officers have stepped up patrols in Caithness in a move to tackle the problem of littering, fly tipping and dog fouling. A number of fixed penalty notices have been issued recently including an £80 fine for dog fouling in the Stafford Lane and Back Bridge area of Wick, a £200 fine for fly-tipping on Ackergill Street and another £80 fine for dog fouling in Lybster.
Speaking ahead of today's Council meeting to agree the Council's Capital Programme for 2018/19 to 2022/23, Cllr Margaret Davidson, Leader of the Highland Council said:- "This programme delivers significant investment in a range of key projects across the Highlands. We are investing in schools, roads, bridges, harbours and flood prevention schemes that will benefit our communities.
Highland Council is to make a special case for extra capital investment in the road infrastructure after a winter period which has seen the Highlands battered by some 57 days of severe weather. Highland Council area is particularly subject to severe winter weather, which has a significant impact on the roads and other infrastructure.
Maps of the Council's gritting routes by priority and policy are available online at www.highland.gov.uk/gritting. The information provided is a summary of reports from operational staff and is intended to give a general indication of typical conditions in each area at a point in time.
The £48.5m Wick Community Campus built by Morrison Construction has been announced as a finalist at the Royal Town Planning Institute (RTPI) Awards for Planning Excellence 2018. The project is entered in the category for "Excellence in Planning for a Successful Economy" against eight other finalists from across the UK with the winner to be announced during a ceremony at Milton Court Concert Hall on 24 May 2018.
A Partnership for Procurement event was held in Inverness today (Thursday 6 March) to raise awareness and the capability of the third sector to successfully bid, supply and deliver services for the public sector. Partnership for Procurement (P4P) is a new initiative funded through the Scottish Government's 10 Year Social Enterprise Strategy; supporting social enterprises and third sector organisations to better access public contracts and build partnerships.
Across the Northern Alliance local authorities an exciting project has been rolled out to raise attainment in literacy, language and communication. The programme is being delivered in around 50% of primary schools across the Northern Alliance and is aimed at supporting practitioners to take a developmental approach to supporting early literacy development.