NOSS PRIMARY SCHOOL, WICK PROJECT REACHES PRACTICAL COMPLETION
1st April 2016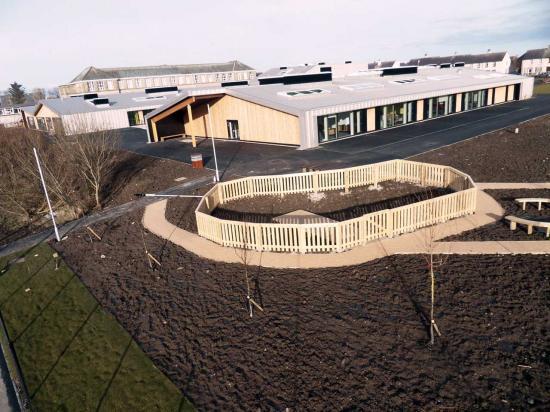 The new £15.4million Noss Primary School has reached a vital milestone with the practical completion of the facility.
Replacing the existing North and Hillhead Primary Schools in Wick, work on the 4,620 sq m facility commenced in late 2014 and has been delivered by hub North Scotland on behalf of The Highland Council. The main contractor for the project was Morrison Construction.

With construction of the new school building now complete, work is set to begin on the demolition of the existing school, completion of landscaping works alongside the formation of the adjacent Multi Use Games Area (MUGA) pitch.

The school itself, which will welcome its first pupils later in April, is a blend of educational and extra-curricular facilities and benefits from 14 classrooms in total, a library, two nursery rooms, two learning support rooms, a games hall, dining area, a medical room and a multi-use games area along with a grass pitch.

The construction project itself has also brought a number of benefits, with 90% of the total value of work for the new school awarded to SMEs alone. It also created four apprenticeships and two graduate positions.

Chair of The Highland Council's Education, Children and Adult Services Committee Councillor Drew Miller said: Completing a new school is a major achievement so I would like to thank everyone involved for the tremendous work they have done to ensure everything is in place to welcome pupils and staff to their new school on Wednesday 13 April 2016. Noss Primary is going to be very much the heart of the local community and I am delighted that as well as an excellent environment for the young people to learn in, everyone will be able to use and enjoy the first-rate facilities.

Wick Councillor currently chairman of the Resouces committee and Highland Budget Leader and former chairman of the Education and Adult Services committee Bill Fernie said - I am very pleased to see the coming to fruition of what is part of an overall plan we conceived to make Wick one of the best places for education and ensuring for many years to come a great place to live for families. In addition we had in mind the investment would help give an economic boost to Caithness by building new schools for all the primaries and high school in Wick all at the same time. The boost to Wick is likely to be unequalled in any other similar sized town in Scotland and will stand us in good stead as a place to attract more families as new developments take place in the county.

With the completion of a new school and the Wick campus project well underway now is a very exciting time for education in Caithness and shows a significant investment by the Council into the educational needs and aspirations of young people and for the skilled and dedicated staff and parents that support them.

Angus Macfarlane, chief executive of hub North Scotland, said: hub North Scotland was appointed by The Highland Council to deliver the new Noss Primary School and we are delighted to have fulfilled this goal.

The new school itself is a first class educational facility and will act as a modern learning environment that I'm sure both pupils and staff will be proud to attend and work within for many years to come. Enhancing the overall educational experience has been a key theme throughout this project and alongside the various classroom provision, the school also benefits from various extra-curricular facilities that I am sure pupils will enjoy.

hub North Scotland is proud to have played a part in this project and we look forward to welcoming pupils, staff and the wider community for a first-look of the new facility.

hub North Scotland comprises Alba Community Partnerships (a joint venture of Galliford Try Investments, Equitix and Sweett Investment Services), Scottish Futures Trust and 16 Northern Territory Partners, working with local suppliers and contractors to deliver quality buildings and services.
Related Businesses
Related Articles
Highland Councillors agreed a council tax increase of 3% which will mean an increase of £35.93 per annum on a Band D property. Overall, the budget gap of £15,146 million has been met by a package of savings which includes increasing Council Tax income by £3.448 million, increasing income by £3,059 million, setting a target of £2,250 million to be saved through Redesign and reducing expenditure by £5.1 million.
Redesign is about the Council being more open-minded to new ways of delivering services, more commercially-minded to raise income to support services and jobs across the region and being more community-minded, listening locally and supporting more community-run services. The Highland Council is seeking to release over £2.2 million in savings this year through redesign projects.
An election will take place for Dunnet and Canisbay Community Council on Wednesday 21 February 2018. The maximum permitted membership for the Community Council is 7 and as 8 nominations have been received, the 1349 electors in the community council area are being invited to cast their vote via a postal ballot.
Over three thousand people visited Inverness Town House last weekend to see for themselves the completion of interior works on the public historic Grade A listed building following recent renovations. Around 2,000 visitors passed through the Town House doors on Saturday 10th and another 1,200 people on Sunday 11th February.
Nomination packs for prospective candidates for the Caol and Mallaig Ward by-election are now available from The Highland Council's website. The by-election is being held following the sad death of Councillor Billy MacLachlan who was one of three Councillors representing Ward 11.
Maps of the Council's gritting routes by priority and policy are available online at www.highland.gov.uk/gritting The information provided is a summary of reports from operational staff and is intended to give a general indication of typical conditions in each area at a point in time. It is not intended to imply that any individual route is entirely snow and ice free and drivers must be aware that conditions can change rapidly and make their own assessment of conditions for travelling.
In recognition that roads are a high priority for communities in Highland the Administration at The Highland Council will be putting forward a budget on Thursday (15 February) that protects the budget for local roads. Chair of the Environment, Development and Infrastructure Committee, Councillor Allan Henderson said: "We have nearly 7,000 kilometres of roads in the Highlands and this network is vital to our rural communities and lifeline services.
The Highland Council is asking stakeholders and members of the public for feedback on new draft guidance aimed at ensuring high quality designs for traditional, replacement and new shopfronts. Not only does the draft Shopfront Design Guide: Planning Guidance provide advice to help promote good quality applications but it encourages developers and applicants to consider design at the earliest stage in their proposals.
The Highland Council Budget team have agreed their final budget proposals which will go to Council for agreement on 15 February 2018. Budget Leader Councillor Alister Mackinnon said: "We have done everything we can to protect frontline services and jobs in a good budget.
The timetable for the election for the return of a councillor for the Caol and Mallaig ward of The Highland Council has been announced today (Monday 5 February) The by-election is being held following the sad death of Councillor Billy MacLachlan who was one of three Councillors representing Ward 11. The other Ward members are Councillors Allan Henderson (Independent) and Ben Thompson (Independent) The Notice of Election and Nomination Form will be published on the Council's website www.highland.gov.uk (external link) on Tuesday 13 February.