Highland Council 2017 Election Called
13th March 2017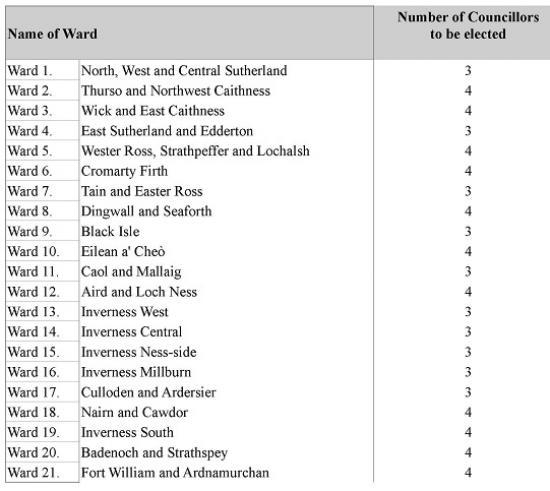 The 2017 Highland Council election has been officially called today (Monday 13 March) with the Returning Officer seeking nominations from candidates wishing to stand in the local government elections which take place on Thursday 4 May.

A total of 74 Councillors will be appointed to represent the Council in 21 electoral wards, each with three or four elected members. Previously Highland has had 80 councillors. Caithness will now have two wards instead of three and will lose 2 councillors.

The deadline for nominations is 4.00 pm on Wednesday 29 March

The Returning Officer for the election is Steve Barron, Chief Executive, The Highland Council and in the lead up to the election, a series of briefings for prospective candidates have been held in Inverness; Fort William; Skye; Dingwall; Golspie and Wick which have been well attended.

Voting will be taking place on 4 May in 267 polling stations with the option for people to use a postal vote. If you choose to vote by post then you cannot vote in person at a polling station.

The votes will be counted electronically on the following day (Friday 5 May 2017) at Inverness Leisure.

Nomination forms can be downloaded from the Council's website www.highland.gov.uk/elections along with information on where candidates for particular wards need to return their forms to. Forms can also be obtained by telephoning 01349 886657.

Completed nomination papers must be delivered no later than 4.00 pm on Wednesday 29 March 2017 to the appropriate Depute Returning Officer. The Depute Returning Officers are unable to accept nomination papers electronically.

An election helpline has been set up by the Returning Officer to assist the public and candidates with any queries. The number is 01349 886657.

If an elector is away or cannot go to the polling station on Thursday 4 May 2017, they can apply to vote by post or apply to vote by proxy. To find out how to apply, call the helpline immediately.

Extensive information about the elections is also posted on The Highland Council's web site - www.highland.gov.uk. This includes information for anyone considering standing on the different aspects of a councillor's role so they are prepared if successfully elected. There are also links to the Electoral Commission site where guidance and resources are available for candidates and their agents.
Related Businesses
Related Articles
The Highland Child Protection Committee has launched a Toolkit to assist individuals, volunteers and community groups working with children and young people understand their roles and responsibilities in relation to child protection. Over 60 people providing activities for children, young people and families in a paid and voluntary capacity came along to the launch event in Inverness yesterday.
Bill Alexander, Director of Care and Learning, has announced his intention to retire from The Highland Council. Bill commenced with the Council in 2000, in a joint post with NHS Highland as Head of Children's Services.
Beware of calls from scammers pretending to be the Telephone Preference Service warns Highland Council Trading Standards. Highland Council Trading Standards wish to warn consumers not to fall for a new telephone call scam in which fraudsters pretend to be calling from the Telephone Preference Service (or TPS).
Recent outcomes of Redesign work were noted by Members at yesterday's Highland Council meeting. In the first year of the programme, 8 redesign projects were undertaken using a "Lean" approach and 36 staff have been trained as facilitators.
Motorists are being advised that The Highland Council is currently preparing to carry out resurfacing works at the following locations: • B862 Fort Augustus - Whitebridge - Torness - Dores – Inverness Road; specifically at Errogie Village (North Gateway), Errogie Village (South Gateway), and Compass Farm; and • B851 Errogie – Strathnairn – Daviot Bridge – Culloden Moor Road; specifically at Aberarder House. Advanced works notification signage will be provided at various locations from Thursday 15 March 2018.
The Highland Council has agreed a capital programme of £482m over the next 5 years. The Highland Council serves the largest geographical area in Scotland (over 30%) and has just under £2bn of assets on its balance sheet comprising, amongst other things, 203 operational schools, over 6,700km of roads and over 2,000 properties.
The Highland Council's Enforcement Officers have stepped up patrols in Caithness in a move to tackle the problem of littering, fly tipping and dog fouling. A number of fixed penalty notices have been issued recently including an £80 fine for dog fouling in the Stafford Lane and Back Bridge area of Wick, a £200 fine for fly-tipping on Ackergill Street and another £80 fine for dog fouling in Lybster.
Speaking ahead of today's Council meeting to agree the Council's Capital Programme for 2018/19 to 2022/23, Cllr Margaret Davidson, Leader of the Highland Council said:- "This programme delivers significant investment in a range of key projects across the Highlands. We are investing in schools, roads, bridges, harbours and flood prevention schemes that will benefit our communities.
Highland Council is to make a special case for extra capital investment in the road infrastructure after a winter period which has seen the Highlands battered by some 57 days of severe weather. Highland Council area is particularly subject to severe winter weather, which has a significant impact on the roads and other infrastructure.
Maps of the Council's gritting routes by priority and policy are available online at www.highland.gov.uk/gritting. The information provided is a summary of reports from operational staff and is intended to give a general indication of typical conditions in each area at a point in time.