Pipers to lead pupils back to school at new Wick Campus
24th April 2017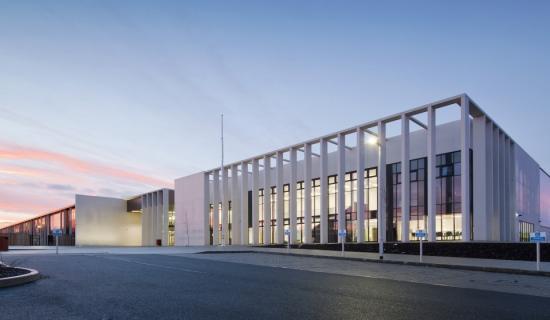 Around 400 pupils and teachers attending Newton Park Primary school and Nursery at Wick Campus in Wick will walk to their new school on Wednesday 26 April setting off at 9am from the Old Pulteneytown Academy building.

The procession of pupils in their new school uniforms will be led by Highland Bagpipers Alistair Miller and Chester Henry, a P7 pupil, along the new pedestrian access path and ramp down to the new building. Parents and carers have been invited to watch the procession as the children go into the playground and then into their new school.

Lilian Wark, Head Teacher of Newton Park Primary said: "This is a historic day for us as pupils attending Newton Park Primary School enter the new Wick joint Campus. It not only marks the beginning of a new era but final closure of the former Pulteneytown Academy Primary and South Primary schools which have combined last August to become Newton Park Primary School.

"Looking forward, we have also planned an afternoon for parents, grandparents and carers to visit Newton Park Primary on Tuesday 2nd May when the children will be hosts and show their parents around the building."

It is not just the primary aged children who are eagerly looking forward to their new premises. Fiona Grant, Head Teacher of Wick High School added: "For well over a century Wick High School served the local community of East Caithness in its premises on West Banks Avenue. Now, our staff and pupils look forward with great excitement and enthusiasm to the next chapter of our school's rich history as we move to our state-of-the-art building. The move marks the culmination of months of preparatory work in making the transition from old to new, most recently involving each pupil having a guided tour of the school and community facilities. Pupils have been fully briefed on what to expect on their first day in the new school and our website will hold the most up-to-date information for parents and carers. Once we have settled in to our new surroundings we will hold an official open day and a series of commemorative events to mark this historic moment."

Michael Padzinski, Chief Executive of hub North Scotland, said: "We are delighted that the students and teaching staff have an excellent environment to learn and develop in. We have worked closely with The Highland Council, Morrison Construction and key stakeholders to create a world class, modern learning Campus that will be at the heart of the community for years to come."

The following link takes you to a video which previews the superb new facilities at Wick Campus. An open day is being planned for members of the community to view the building.

https://www.hubnorthscotland.co.uk/news/2017/wick-community-campus
Related Businesses
Related Articles
The property is located in a pleasant residential area and is approximately a 5 minutes walk from Wick railway station and the Caithness General Hospital. The facilities of Wick town centre and the expanding Wick Harbour are approximately a 10 minute walk.
The progress of ICT learning by pupils at Wick High School is bucking national trends as more girls at the school take part in the "Apps for Good" programme and teams of boys and girls from the school win UK competitions. Five pupils, Leanne Cormack, Megan Shearer, Konrad Szewczyk, Ellora James, John Sutherland and their Teacher, Chris Aitken impressed Members of the Council's Education, Children and Adult Services Committee with presentations about their experiences in developing Apps and participating in the "Apps for Good" final at London.
Deputy First Minister Nicola Sturgeon today broke the ground on the new £48.5 million Wick Community Campus. The facility, which will replace Wick High School, Pulteneytown Academy Primary School, and South Primary School, is part of Scotland's Schools for the Future programme and will receive more than £17 million from the Scottish Government.
MAKLAB is one of several projects to benefit from SSE's new £1m Highland Sustainable Fund. It received an award of £40,000 (90% match funding) to establish a MAKLab North workshop at Wick High School and mobile MAKLAB to deliver access and skills training in digital fabrication technology across the Highland region.
Last year a group of Wick High School pupils won an award for creating great new app for your phone. It will cut down on paper work for farmers.
For the school rolls for all of Highland for the past five years see - Five Year School Rolls In Highland Primary School Capacity and Occupancy rates are published at Primary School Capacity and Occupancy.
A week long summer school was held in late July for students of Thurso, Wick and Farr High School students in 4th, 5th & 6th years to prepare them for the world of work. The course, organised by DSRL (Dounreay Site restoratiopn Ltd) on behalf of the NDA (Nuclear Decommissioning Agency), was supported by North Highland College and Skills Development Scotland.
WICK HIGH SCHOOL LAUNCHES INNOVATIVE ONLINE REWARDS SCHEME IN SCOTLAND. Wick High School is the first school in Scotland to sign up to Vivo Miles, the award winning online rewards system for secondary school students.
Wick High School Computing Science department is the first in Scotland to be selected as a certified partner with Apps for Good, a not-for-profit organisation that aims to encourage young people to use technology to tackle problems for social good. The new third year cohort of 55 students will be working with industry experts throughout the year to research, build and market apps on the android mobile platform using App Inventor and will then, if selected, take part in a national competition where the winning teams will work with professional developers to re-launch their app and potentially make some money for the school.
Pupils in Highland secondary schools are to receive guidance on mobile phone safety as they return to school this week. Advice in a joint letter from The Highland Council and Northern Constabulary to parents and carers of secondary pupils aims to raise awareness and specifically highlight the dangers of young people finding themselves in uncomfortable, compromising or illegal situations as a result of inappropriate use of mobile phones.