HIE Board Checks Out Wick's New Community Centre
19th November 2011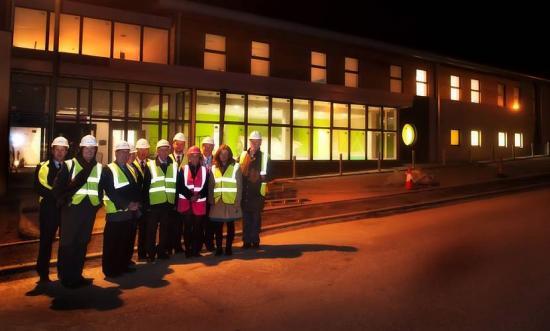 As the final stages of work take place on the £3.8 million community centre for Wick, Highlands and Islands Enterprise's most senior staff have enjoyed a sneak preview.

As part of a two day programme of meetings with ambitious Caithness and Sutherland businesses and social enterprises, the HIE Board visited the Pulteney Centre due to open in the new year and paid tribute to the achievements of the Pulteneytown People's Project (PPP).

PPP was established by the community over eight years ago and as well as providing a range of vital community services it has attracted millions into the local economy. HIE has been working with PPP since its earliest days and is one of the funders of the community centre visited yesterday.

Alex Paterson Chief Executive of HIE, said: "PPP is a remarkable example of what can be achieved when communities, the public and the private sector work together."

Two community companies, both registered charities, make up PPP. Pulteneytown People's Project takes the lead in terms of broader regeneration, training, capacity building, child care and youth work while Homelink has a more particular focus on delivering floating housing support primarily for young people and families.

Mr Paterson added: "Increasingly, both organisations have recognised the value in adopting a business approach with regard to the delivery of services and have now firmly established themselves as social enterprises of substance."

PPP are once again finalists in the national SURF awards and earlier this year Homelink were runners-up in the prestigious Scottish Care Awards.

Katrina McNab, Chief Executive Officer of PPP, said: "We are delighted to welcome the HIE Board to the Centre. Getting to this point has been a lot of hard work but when we open the Centre it will be a great public asset for Wick and the wider county. It is purpose-built to meet lots of different needs; leisure, arts, sport, and business. It will allow services and activities which on their own in a rural community are not viable, to become viable because they are in a multi purpose setting."

The centre build and related development support has involved extensive partnership working. As well as HIE these include, the Big Lottery Fund, European Regional Development Fund, Social Investment Scotland, The Highland Council, Nuclear Decommissioning Authority (NDA), The Scottish Government's Wider Role Fund accessed through Albyn Housing Society, Landfill Communities Fund, SCORE Environment Fund, Community Energy Scotland and The Robertson Trust.

Mr Paterson said: "The Pulteney Centre in Wick is looking fantastic. It will have a significant impact on the wider economy and social infrastructure of the area. It offers exciting new facilities for everyone and will also allow PPP to develop their activities."

As well as the Chief Executive, the HIE Board team in Caithness and Sutherland includes HIE Chair Willy Roe and Board members Craig Spence, Mary Bownes and Jim Royan.

Their two day itinerary includes a panel meeting with Sutherland businesses in Dornoch discussing how the public sector can help remove barriers and increase growth. the Hie Board also had a business breakfast in Caithness Horizons arranged by the Chamber of Commerce, followed by meetings with ABSL Power Solutions and then the UHI Centre for Energy and the Environment.
Related Businesses
Related Articles
Young people in Caithness will be the first in Scotland to benefit from new Norwegian style learning centres. A network of 'Newton rooms' in Norway and one in Denmark are used to inspire more young people into careers in science, technology, engineering and maths (STEM).
The Highland Council has agreed to use City-Region Deal funding to part fund new mid-market housing projects throughout the Highlands. The affordable housing projects will be developed by Albyn Housing Society and Highland Housing Alliance in Ullapool, Fort William, Alness, Inverness, Aviemore, Grantown, Drumnadrochit and Newtonmore and will deliver 61 new homes targeted at young people working in the area.
The Highland Council is set to make it easier for the public to report incidents of fly tipping and be advised when action is taken. As part of an evaluation of its street cleaning service an in-depth LEAN review of how the council deals with fly tipping has been carried out to look at ways of improving responsiveness and customer satisfaction.
Highland Councillors agreed a council tax increase of 3% which will mean an increase of £35.93 per annum on a Band D property. Overall, the budget gap of £15,146 million has been met by a package of savings which includes increasing Council Tax income by £3.448 million, increasing income by £3,059 million, setting a target of £2,250 million to be saved through Redesign and reducing expenditure by £5.1 million.
Redesign is about the Council being more open-minded to new ways of delivering services, more commercially-minded to raise income to support services and jobs across the region and being more community-minded, listening locally and supporting more community-run services. The Highland Council is seeking to release over £2.2 million in savings this year through redesign projects.
An election will take place for Dunnet and Canisbay Community Council on Wednesday 21 February 2018. The maximum permitted membership for the Community Council is 7 and as 8 nominations have been received, the 1349 electors in the community council area are being invited to cast their vote via a postal ballot.
Over three thousand people visited Inverness Town House last weekend to see for themselves the completion of interior works on the public historic Grade A listed building following recent renovations. Around 2,000 visitors passed through the Town House doors on Saturday 10th and another 1,200 people on Sunday 11th February.
Nomination packs for prospective candidates for the Caol and Mallaig Ward by-election are now available from The Highland Council's website. The by-election is being held following the sad death of Councillor Billy MacLachlan who was one of three Councillors representing Ward 11.
Maps of the Council's gritting routes by priority and policy are available online at www.highland.gov.uk/gritting The information provided is a summary of reports from operational staff and is intended to give a general indication of typical conditions in each area at a point in time. It is not intended to imply that any individual route is entirely snow and ice free and drivers must be aware that conditions can change rapidly and make their own assessment of conditions for travelling.
In recognition that roads are a high priority for communities in Highland the Administration at The Highland Council will be putting forward a budget on Thursday (15 February) that protects the budget for local roads. Chair of the Environment, Development and Infrastructure Committee, Councillor Allan Henderson said: "We have nearly 7,000 kilometres of roads in the Highlands and this network is vital to our rural communities and lifeline services.