Gills Harbour Sees More Activity To Progress Energy Projects
19th September 2015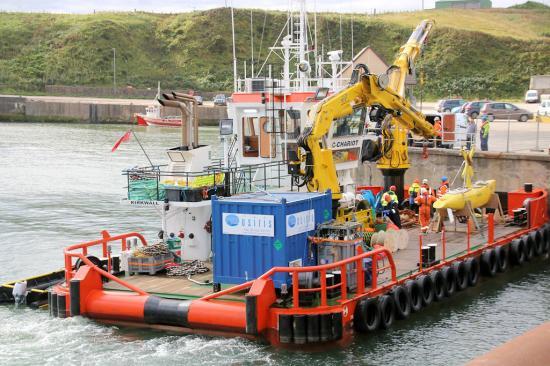 On Friday 18th September 2015 the 24 metre-long rectangular steel multi-cat C-Chariot built in 2013 was to be seen loading a Data-fish buoy at Gills Harbour, Caithness.

North Sea systems Ltd who own the Datafish describe it on their web site (http://www.northseasystems.com/) as follows -
"DataFish is North Sea System's metocean survey buoy for unforgiving marine environments. By providing real time data and undertaking long duration, multi-application surveys, the system reduces the risk and cost of metocean data collection. DataFish is the only system able to provide real time data from tidal energy sites."

These are exciting times for the Pentland Firth and there is more and more chance to see unusual vessels as Gills is near to many of the potential sites for underwater turbines.

Transiting vessels are requested to pass at least 200m away from Data Fish marker buoy.

John Green photographed C-Chariot as it loaded the Datafish at Gills getting ready to deploy it in the Pentland Firth.


Related Businesses
Related Articles
OFFICIAL FIGURES SHOW MORE PEOPLE AND CARS SAILED ACROSS THE PENTLAND FIRTH FROM CAITHNESS TO ORKNEY IN 2016 FROM GILLS BAY THAN ON ANY OTHER ROUTE. Official figures recently published by Scottish Government 'spending watchdog' body Audit Scotland show that the so-called 'short sea-route' from Gills Bay to St Margaret's Hope was the busiest seaway to Orkney across the Pentland Firth in 2016.
One of the contractors that has been operating in the Inner Sound for Atlantis RL's MeyGen site has been taken over by another, a much-larger one. See note on Insight Marine Services Ltd of Cornwall.
Notice of Annual General Meeting: On Tuesday 21.03.2017 @ 19.30. Gills Harbour Ltd: A Community- owned trading Company limited by guarantee.
Jack-up barge Neptune arrives in the PF's Inner Sound early this afternoon 22.09.16. German tug Elbe, which will be working closely with the self-propelled JU, is already on site.
Update From Bill Mowatt. 'Notice to mariners': Installation of first tidal-stream turbine in the Pentland Firth's Inner Sound at Atlantis RL's MeyGen site c.
Seabed cable-laying operations in the Pentland Firth's Inner Sound, off Canisbay, which may occur in the period 10.09.15 to 25.09.15. The cable ship being used in the Inner Sound is the 121 metre long Siem Daya 1 and she will reel in the four cables at Hartlepool in NE England.
We thank John Green for his picture of what £4.5 million of marine renewables vessels + kit looks like when alongside at Gills Harbour..
The most modern vessel in the Far North of Scotland's 'marine renewables' fleet is conducting debut operations in the Pentland Firth's Inner Sound this week. (commences 24.08.15).
Scotland's Shadow Minister for Transport Mr David Stewart, Labour MSP for the Highlands & Islands constituency, has made a fact-finding visit to community-owned Gills Harbour on the shores of the Pentland Firth's Inner Sound. There he was shown around by three officers of Gills Harbour Ltd (GHL), the Canisbay company that owns and operates the Scottish Mainland's most Northerly port.
Community-owned Gills Harbour is the most Northerly seaport on the British mainland, lying on the shores of the Pentland Firth's Inner Sound, just off the A 836 road, only four miles West of John O'Groats. The spring of 2015 has seen some significant developments locally, both in sea-transport and marine electricity, that bode well for the future of the little port on the inland 'apex' of Gills Bay; it belongs to the 600 people living along the North coast.