Gills Harbour Sees More Activity To Progress Energy Projects
19th September 2015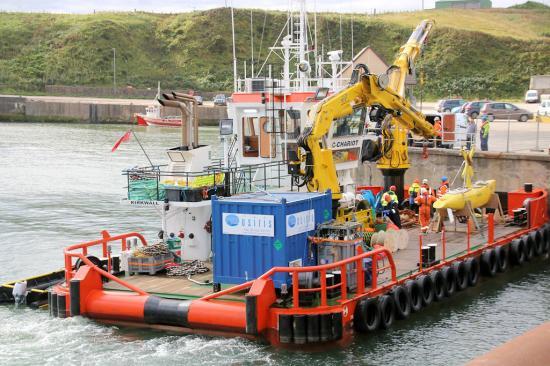 On Friday 18th September 2015 the 24 metre-long rectangular steel multi-cat C-Chariot built in 2013 was to be seen loading a Data-fish buoy at Gills Harbour, Caithness.

North Sea systems Ltd who own the Datafish describe it on their web site (http://www.northseasystems.com/) as follows -
"DataFish is North Sea System's metocean survey buoy for unforgiving marine environments. By providing real time data and undertaking long duration, multi-application surveys, the system reduces the risk and cost of metocean data collection. DataFish is the only system able to provide real time data from tidal energy sites."

These are exciting times for the Pentland Firth and there is more and more chance to see unusual vessels as Gills is near to many of the potential sites for underwater turbines.

Transiting vessels are requested to pass at least 200m away from Data Fish marker buoy.

John Green photographed C-Chariot as it loaded the Datafish at Gills getting ready to deploy it in the Pentland Firth.


Related Businesses
Related Articles
Scotland's most modern + environmentally-friendly, fuel-efficient ROPAX ferry ship rge MV Alfred, arrived AM today (Wed 09.10.19 at St Margarets Hope. The boat went round to Kirkwall immediately at the end of 9,000+ miles voyage from the Strategic Marine yard near Ho Chi Minh city (ex.
Gills Harbour Ltd, the community-owned body that owns & operates the busy little port on Caithness's North Coast, has awarded a remedial contract to a Wick-based company. The deal, won in a competitive tender, has gone to builders/civil engineers Messrs GMR Henderson Ltd, of Martha Terrace in Wick.
REPORT FROM GILLS HARBOUR Ltd., GILLS BAY, KW1 4YB, FOR CAITHNESS TRANSPORT FORUM OF 06.03.2019. 1) ECONOMIC DEVELOPMENT ZONE.
The big offshore construction vessel Seabed Stingray (8,878 tonnes) arrived in the Pentland Firth's Inner Sound from the Cromarty Firth's Nigg Energy Park around 07:00 on Monday (15.10.18) morning with a very special cargo on board. The 121 metre-long vessel was in the narrow strait between Gills Bay and Stroma Island to replace two of the four 'pioneering' tidal turbines that had been lifted out from SIMEC Atlantis Energy's MeyGen site last Summer for inspection and modification at Nigg.
Picture by Gills Harbour Ltd's Hon Sec Lyall Rennie, of Lower Warse, Canisbay KW1 4YB shows the busy Pentalina ferry in foreground approaching the harbour and passing by the heavy offshore construction vessel Viking Neptun. Deployed on Friday 20th July to recover two Andrtiz 1.5 MW turbines for warranty repairs from the Pentland Firth's Inner Sound from SIMEC Atlantis Energy plc's seabed lease, known as the MeyGen site, just off Gills Bay ( just over 1 NM) in NE Caithness.
Since the news came out in the John O'Groat Journal that Stage coach are to change bus services for Gills and John O'Groats protests have been getting louder. the proposed bus timetable changes from 20th August which effectively abolish the direct route from Wick to John o'Groats and Gills.
Gills Harbour Ltd, the community body that owns and runs Gills Harbour on Caithness's North Coast, has a new office-bearer. At its recent Annual General Meeting, Mr Mark Gibson of Northern View, John O'Groats KW1 4YS, was unanimously appointed as the body's Vice-Chairman.
OFFICIAL FIGURES SHOW MORE PEOPLE AND CARS SAILED ACROSS THE PENTLAND FIRTH FROM CAITHNESS TO ORKNEY IN 2016 FROM GILLS BAY THAN ON ANY OTHER ROUTE. Official figures recently published by Scottish Government 'spending watchdog' body Audit Scotland show that the so-called 'short sea-route' from Gills Bay to St Margaret's Hope was the busiest seaway to Orkney across the Pentland Firth in 2016.
One of the contractors that has been operating in the Inner Sound for Atlantis RL's MeyGen site has been taken over by another, a much-larger one. See note on Insight Marine Services Ltd of Cornwall.
Notice of Annual General Meeting: On Tuesday 21.03.2017 @ 19.30. Gills Harbour Ltd: A Community- owned trading Company limited by guarantee.