Caithness and North Sutherland Regeneration Partnership - Update
14th February 2015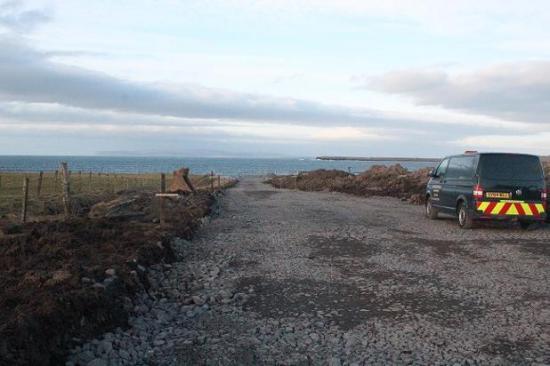 Week Commencing 9 February 2015

Energy & Business services:
Atlantis Resources, the company that owns the MeyGen tidal energy project, has issued an interesting Newsletter with updates on its progress - both on the ground at Ness of Quoys and with the build of its new 1.5MW AR1500 turbine. The newsletter includes interviews with its Chief Technology Officer and with the Chief Engineer of partner engineering design company Lockheed Martin. http://www.atlantisresourcesltd.com/images/pdf/newsletter2015-01.pdf The company's Twitter feed has also featured a snapshot of initial ground works at Ness of Quoys http://ow.ly/i/8Bf81

Gordon Calder's piece in today's (Friday's) John O'Groat Journal highlights the continuing expansion of Denchi Power. The company now employs 35 at Thurso Business Park, and is attempting to recruit further highly skilled posts. I spoke to MD Derek Campbell at last week's "Jobs & How To Get Them" event (see below) where he told me of the company's delight with its first year of operation, and his focus on filling further high quality engineering posts in Thurso. As previously reported here, both Denchi Power and AGM Batteries have received support from Highlands and Islands Enterprise and Caithness Chamber of Commerce.

Tourism, Food & Drink:
Good to see local company Reid's of Caithness taking part in Gulfood 2015, billed as "the world's biggest annual food and hospitality show". Reid's is already an exporter of products to overseas markets, and is at Gulfoods 2015 in Dubai as part of Scottish Development International's Scottish Pavilion. More about this major event is at http://www.gulfood.com

Enabling activities:
Last Saturday a successful "Jobs and How To Get Them" event, held this year in North Highland College's Engineering Technology & Energy Centre. Led by Caithness Chamber of Commerce, a team of agencies (Job Centre Plus, CNSRP partners Skills Development Scotland and Highland Council) have once again planned and funded the event, which featured over 40 companies/ organisations from a range of sectors, and also offered workshops on useful employability issues. It was interesting to note the continued interest in apprenticeships from young people, and to note the number of jobs currently on offer from exhibiting companies. Around 250 visited the event, and from discussions since it seems that at least one job offer has already been made as a result of attendance at the event.

Along with a number of other people from local businesses and organisations I spent some time this week with pupils from Thurso High School helping them prepare for a debate on tourism in Caithness. It was great to see a range of tourism businesses coming forward to give their time, and great to see the students honing their debating skills on subjects relevant to the area's future economic growth.

Highlands & Islands Airports Ltd (HIAL) released annual statistics for 2014 that highlighted Wick John O' Groats airport having had one of its "best-ever years" despite a fall in passenger numbers from 2013's unprecedented high. This week's local press also points out that Far North Aviation has been working with two energy sector companies in recent weeks, leading to around 150 helicopter movements in and out of Wick John O'Groats airport.

Communications:
As part of an ongoing process of helping communicate progress with the delivery of aspects of our economic transition programme CNSRP's partners work together to generate news stories for local, regional and national media. I also speak on a regular basis to individuals and organisations across the area to update on progress. This week:

Along with other members of the Dounreay Stakeholder Group I met this week with the Chief Executive, Head of Operations and Head of Engagement from NHS Highland. We had an extremely frank and useful discussion on issues currently affecting NHS Highland in Caithness and in other areas, and I came away from the meeting with a much better understanding of the issues. We were also able to agree a much closer working relationship with NHS Highland, so that we can help communicate our priority areas of activity as we seek to diversify the area economy away from dependence on nuclear decommissioning.

I also met this week with members of Thurso & Wick Trades Council at one of their regular meetings, at which I give an update on CNSRP-related activities. The Trades Council is an important member of the CNSRP Advisory Board.
With much positive focus on Scotland's Year of Food & Drink in 2015, it was good this week to see the announcement that the first of Forestry Commission Scotland's "starter farms" will be in Caithness, with Scottish Government Cabinet Secretary Richard Lochhead MSP announcing that Sandy Douglas and family will be taking on Achnamoine Farm just south of Spittal on the Causeymire. With the North having previously taken part in initiatives over the years (eg Croft Entrants' Scheme) it is good to see continuing support for new entrants to primary agriculture. http://www.northern-times.co.uk/News/Caithness-family-to-run-Forestry-Commission-starter-farm-in-Halkirk-10022015.htm

Eann Sinclair
Programme Manager
Caithness & North Sutherland Regeneration Partnership
Highland Council Offices, Rotterdam Street, Thurso KW14 8AB
Tel: 01847 805520
Mob: 07717 694055
Mail: eann.sinclair[AT]hient.co.uk
Web: www.cnsrp.org.uk
Twitter: [AT]eanncnsrp

PHOTO
Ness of Quoys where groundworks have commenced in connection with the Meygen power project - see above first paragraph.
Related Businesses
Related Articles
Week Commencing 12th March 2018 Energy & Business services: Crown Estate Scotland has announced that following last September's Contracts for Difference auction, which demonstrated a sharp fall in the cost of offshore wind electricity, it will now consult industry and government on further leasing rounds for offshore wind. Marine Scotland will lead a planning process to identify potential new sites, which will include both fixed and floating offshore wind.
Week Commencing 5th March 2018. Energy & Business services: An interesting update report in today's John O'Groat Journal, which highlights that Fraser Well Management has been appointed to carry out work on the "Wick well" oil field off the Caithness coast at Lybster.
Week commencing 19th February 2018. Energy & Business services: Good to see the installations of pontoons in Wick's Inner Harbour progressing, as part of the construction phase of the Beatrice Offshore Windfarm project.
Energy & business services: Staff from AGM Batteries were represented at a business breakfast event this week (see communications below), and it is great to see their recent success recognised in today's John o' Groat Journal. The company, which is based on Thurso's Business Park, has been awarded a £1.48 million grant through the UK Government's Faraday Battery Challenge.
Week Commencing 29th January 2018. Energy & business services.
Energy & business services: The Scottish Government's Low Carbon Infrastructure Transition Programme is now open for applications. Financial support through the programme has been designed to encourage innovation of both design and business models.
Week commencing 15th January 2018 Enabling activities: It is always great to see an innovative Caithness company being recognised - this time Norscot Joinery, whose partnership with Strathclyde University through the Interface programme, is up for Innovation of the Year in the 2018 Scottish Knowledge Exchange Awards. http://www.bqlive.co.uk/scotland/2018/01/11/news/scottish-knowledge-exchange-awards-finalists-announced-29865/ Business Gateway (managed in the Highlands by CNSRP partner the Highland Council) will be running two workshops for businesses interested in boosting their digital profile.
Week Commencing 8 January 2018 Energy & business services: Siemens Gamesa Renewable Energy - the suppliers of the turbines for the Beatrice Offshore Windfarm - are advertising several new roles to be based at the operations base in Wick. See http://forum.caithness.org/forumdisplay.php?22-Job-Vacancies.
Week Commencing 1st January 2018. Energy & business services: 2018 promises to be another year of exciting change in the energy sector, and to highlight how things have progressed in the north the Beatrice Offshore Windfarm team have produced a short booklet outlining the significant milestones that have been achieved during 2017 - you can access the booklet at https://www.beatricewind.com/single-post/2017/12/22/lookingbackat2017 .
Weeks commencing 20th and 27th November 2017 Energy & business services: Delighted to hear that SeaCat Services, the operators of the crew transfer vessels that will support both construction and operations work for the Beatrice Offshore Windfarm (BOWL) project, had a good level of interest at its recruitment event in Wick last week. SeaCat is seeking suitably qualified candidates for roles such as Master, Mate and Deckhand, and I understand that several applications are now being taken forward.