Growing worldwide demand for Caithness seafood company's produce
6th June 2014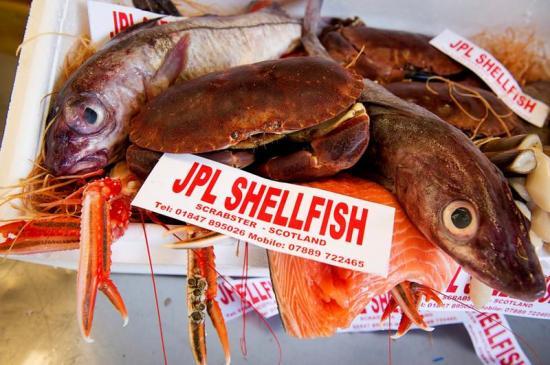 A Caithness based processor and supplier of locally sourced shellfish is to further expand its premises to help manage the growing worldwide demand for its products.

Highlands and Islands Enterprise (HIE) is supporting JPL Shellfish with a grant of £60,000 which will also allow the company to increase its workforce.

Situated at Scrabster Harbour, and established in 1992, JPL Shellfish serve customers across the UK and beyond. The company expanded its premises in 2012 and has since increased the number of staff from six to 32.

JPL Shellfish want to develop the business further to keep up with the worldwide demand for its range of products which include live lobster and crab, mussels, langoustines and lemon sole.

The business is run by husband and wife John and Christina Logue. It began as a local agent for a large shellfish export company based in central Scotland, however broke away to establish its own customers in Europe where weekly exports of live winkles were delivered.

In 2011, the company upscaled their current offering to the export markets and now sells overseas to 10 countries around the world, including France, Spain and Portugal, direct to restaurants and wholesalers looking for a range of live shellfish products.

The company currently also operates as a wholesaler and retailer with a fish shop in Thurso and fish vans in Inverness.

HIE has been working with JPL to develop further growth opportunities.

Laura Gunn, Development Manager at HIE, said: "We are delighted that JPL's growth in Scrabster over the last years has exceeded expectations and we are pleased to support the latest expansion. HIE will continue to work with the company to realise even further growth opportunities for this area. With the company breaking into new international markets, its success is showing the world the quality of the shellfish we have here in the Highlands."

John Logue, from JPL Shellfish, said: "Although the interest in our products is increasing, we are restricted to the amount we can supply because of lack of space in our current premises. The exporting side of the business has really taken off in the last couple of years. We recently showcased our products in Asia where we received a tremendous amount of interest in our products."

This expansion project seeks to help the company expand by providing increased storage capacity for their stock, expansion of the processing area and enhanced packaging facilities.

JPL has also been working with Scottish Development International (SDI) to expand its global reach in new markets including South East Asia, where JPL recently supplied shellfish at The World Gourmet Summit, Singapore's annual flagship gastronomic event which showcases the craftsmanship of award winning, Michelin and celebrity chefs.

Megan Donnachie, Senior International Trade Advisor at SDI, said: "JPL's premium quality shellfish is a perfect match for Singapore - a market that demands perfection on a plate. Our objective as the official seafood sponsor of the World Gourmet Summit was to raise awareness of Scotland's phenomenal seafood industry and JPL certainly helped us achieve this."

As a result of the event, SDI was able to help JPL secure business from a major importer in Singapore.
Related Businesses
Related Articles
Recent VisitScotland figures have highlighted that 62%* of holidaymakers to Scotland said trying locally sourced food and drink is an important part of their visit. Share In a bid to capitalise on the benefits of a close relationship between food and drink producers and the tourism sector, a range of industry representatives and public agencies are working together to develop a new strategy - the 'National Framework to Grow Food Tourism'.
A special week long programme is being held in the Highlands and Islands de-mystifying the ways data can be used to change lives, deliver better services and grow business. Share Highlands and Islands Enterprise (HIE) is co-ordinating a local Fringe programme as part of the Scottish DataFest18 festival, organised by The Data Lab.
Luxury resort Auchrannie has completed its transition to become Scotland's latest employee-owned business, with 160 members of staff becoming owners. Share Located in Brodick on the Isle of Arran, Auchrannie is an award-winning resort comprising two 4-star hotels, thirty 5-star self-catering lodges, two leisure clubs, three individually branded restaurants, a children's Playbarn, an ASPA spa and Arran Adventure outdoor company.
The increasing use of digital services in a connected world brings an increasing threat of cyberattack. The Internet that connects systems doesn't discriminate between the type of traffic it allows on the network, it is our responsibility to manage this when we connect to and use the Internet by recognising and reducing the risk as appropriate.
A new £16 million initiative is to be launched in the Highlands to boost innovation. The Northern Innovation Hub (NIH) will focus on four key industry sectors.
A new residential music studio in the Outer Hebrides is set to capitalise on its scenic location and high-end technology to attract both UK and international recording artists. Black Bay Studio has opened for business on the island of Great Bernera just off the west coast of the Isle of Lewis.
It has never been more important for businesses in the Highlands and Islands to target global markets, writes Martin Johnson, HIE's head of international trade and investment. At the same time global markets have never been more accessible to the region, so we are in a good place.
Highlands and Islands Enterprise (HIE) has appointed a new director of business and sector development. Originally from County Durham, David Oxley joined the organisation in 2004 as head of operations in Lochaber before moving to Forres with his wife and son in 2011 to take up the role of area manager in Moray.
The development of Inverness Campus moves another step forward with tenders being invited to build a second life science building. Highlands and Islands Enterprise (HIE) is leading on the development of the campus.
Aerospace and defence sector opportunities in the region highlighted at event Businesses in the Highlands and Islands are being invited to a free workshop to find out how the region can benefit from opportunities in the aerospace, defence, security and space industries. It will be held in at An Lòchran, Inverness Campus on Tuesday 26 September 2017 The event is organised by Highlands and Islands Enterprise (HIE) and ADS Scotland which is the Scottish branch of the aerospace, defence, security and space industry trade organisation, ADS.