Growing worldwide demand for Caithness seafood company's produce
6th June 2014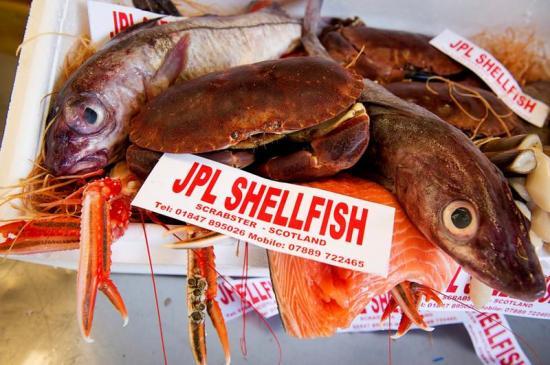 A Caithness based processor and supplier of locally sourced shellfish is to further expand its premises to help manage the growing worldwide demand for its products.

Highlands and Islands Enterprise (HIE) is supporting JPL Shellfish with a grant of £60,000 which will also allow the company to increase its workforce.

Situated at Scrabster Harbour, and established in 1992, JPL Shellfish serve customers across the UK and beyond. The company expanded its premises in 2012 and has since increased the number of staff from six to 32.

JPL Shellfish want to develop the business further to keep up with the worldwide demand for its range of products which include live lobster and crab, mussels, langoustines and lemon sole.

The business is run by husband and wife John and Christina Logue. It began as a local agent for a large shellfish export company based in central Scotland, however broke away to establish its own customers in Europe where weekly exports of live winkles were delivered.

In 2011, the company upscaled their current offering to the export markets and now sells overseas to 10 countries around the world, including France, Spain and Portugal, direct to restaurants and wholesalers looking for a range of live shellfish products.

The company currently also operates as a wholesaler and retailer with a fish shop in Thurso and fish vans in Inverness.

HIE has been working with JPL to develop further growth opportunities.

Laura Gunn, Development Manager at HIE, said: "We are delighted that JPL's growth in Scrabster over the last years has exceeded expectations and we are pleased to support the latest expansion. HIE will continue to work with the company to realise even further growth opportunities for this area. With the company breaking into new international markets, its success is showing the world the quality of the shellfish we have here in the Highlands."

John Logue, from JPL Shellfish, said: "Although the interest in our products is increasing, we are restricted to the amount we can supply because of lack of space in our current premises. The exporting side of the business has really taken off in the last couple of years. We recently showcased our products in Asia where we received a tremendous amount of interest in our products."

This expansion project seeks to help the company expand by providing increased storage capacity for their stock, expansion of the processing area and enhanced packaging facilities.

JPL has also been working with Scottish Development International (SDI) to expand its global reach in new markets including South East Asia, where JPL recently supplied shellfish at The World Gourmet Summit, Singapore's annual flagship gastronomic event which showcases the craftsmanship of award winning, Michelin and celebrity chefs.

Megan Donnachie, Senior International Trade Advisor at SDI, said: "JPL's premium quality shellfish is a perfect match for Singapore - a market that demands perfection on a plate. Our objective as the official seafood sponsor of the World Gourmet Summit was to raise awareness of Scotland's phenomenal seafood industry and JPL certainly helped us achieve this."

As a result of the event, SDI was able to help JPL secure business from a major importer in Singapore.
Related Businesses
Related Articles
HIE is calling on businesses across the region to be 'Business Brave' and take the leap into trading overseas by signing up to its Selling Online International trade workshops. Share The organisation has kicked off a series of free international trade workshops in a bid to support businesses that aspire to sell to overseas markets via the web but lack the knowledge and expertise to do so.
HIE is now recruiting for the 2018 intake to its Pathfinder Accelerator, a tried and tested business programme nurturing growth in life sciences and technology. Share The Pathfinder Accelerator is specifically designed to help companies and start-ups develop novel business ideas relating to life sciences or technology and reduce time to market by testing it in the most time-efficient, cost-effective way to determine its commercial viability.
Use of social media and mobile technology is on the increase by Highlands and Islands businesses, according to the region's second Digital Economy Business Survey (DEBS) released today. Share The findings of the survey carried out by Ipsos MORI, were launched by Highlands and Islands Enterprise (HIE) during the week-long DataFest18 Fringe event being held in Inverness for businesses and the wider community for the first time.
People in 14 communities across the Highlands and Islands are being asked to take part in an online survey on rural banking services. The survey will be used to gather feedback from a broad range of individual households, businesses and community groups in areas expected to be affected by local bank branch closures.
A £5.39m construction contract has been awarded for the development of a new Research and Innovation Campus in Orkney. The campus is a joint venture by Highlands and Islands Enterprise (HIE) and Orkney Islands Council (OIC) who have appointed Kirkwall based R Clouston Limited as the main contractor.
A Caithness engineering and design company has become the first to achieve national accreditation through the region's 'Cyber Strong' initiative. Thurso based Envision Engineering & Design has been awarded government backed Cyber Essentials certification.
Google's Digital Garage team, which offers free digital training to people of all ages to help them find a job, grow in their career and or business, is coming to four Highlands and Islands campuses this month to give students advice on how best to sell their skills to a new employer. As part of employability month, mentors from Google Digital Garage will travel to Alness, Inverness, Thurso and Kirkwall in Orkney to advise on how you can create a CV that shines.
Applications are now open for up to 50 ambitious entrepreneurs eager to grow their business and learn from one of the world's foremost entrepreneurs. Professor Bill Aulet, managing director of the Martin Trust Center for Entrepreneurship at Massachusetts Institute of Technology (MIT), will be in Edinburgh this summer for the residential Can Do SCALE summer school which runs from 18 - 20 June.
Norscot, the Highlands and Islands manufacturer of timber frame kits, windows and doors, received the Innovation of the Year Award at the prestigious Scottish Knowledge Exchange Awards 2018. The awards, run by Interface, aim to celebrate the achievements of academic and business collaborations and partnerships.
Young people in Caithness will be the first in Scotland to benefit from new Norwegian style learning centres. A network of 'Newton rooms' in Norway and one in Denmark are used to inspire more young people into careers in science, technology, engineering and maths (STEM).