Gills Harbour Works Repair Storm Damage
30th March 2014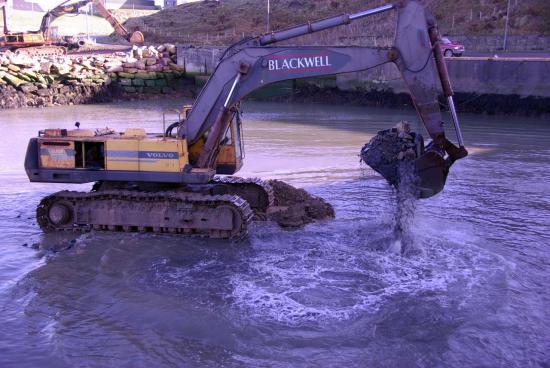 Works have been going on at the Inner Basin of Gills Harbour, on the North coast of Caithness, during the past few weeks.

The project, which is being undertaken mostly using large back-hoe excavators, is mainly aimed at removing boulders and loose jagged rocks from the Basin's sea-floor.

Those became scattered on the seabed there as a result of the exceptional sea-storms of the winter of 2012/13 and caused obstructions to the small fleet of registered creel-boats based at Gills.

The remedial contract, at the Scottish Mainland's most Northerly port, is being undertaken by Pentland Ferries Ltd's Gills Harbour-based 'direct labour squad', under foreman Donnie Shearer, of Upper Warse, Canisbay. It includes repairs to re-instate resulting storm-damage.

The project at the community-owned small port has been awarded grants totalling £25,000:00 from Marine Scotland's Fishery Harbours section, from its 'emergency winter storm-damage restoration fund'. It is designed to remove the offending materials from the Inner Basin 'to maintain its continued safe operation'.

The undertaking has had a tight deadline, with works to be concluded 'by the end of the 2013/14 financial year'.

Mr Bill Mowat, Gills Harbour Ltd's chairman, said that its fishing-boat operators appealed to him in the Autumn to find out whether remedial works were eligible for assistance from Marine Scotland's fisheries harbours emergency 'repair grant scheme'.

He said : 'We provided as much information as we could to Marine Scotland and we were pleasantly surprised at the most helpful attitude of its staff dealing with our subsequent application. We wish to publicly thank the team who dealt so expeditiously with this matter'.

Gills Harbour is best known as the Caithness terminal for Scotland's most successful 'Mainland to Island Group' year-round Roll-on, Roll-off (RO.RO) passenger and freight ferry seaway across the Eastern end of the Pentland Firth to St. Margaret's Hope, in Orkney, 15 miles away: the Firth's 'short-sea route'. The success of Pentland Ferries Ltd is measured by the fact that it receives no public subsidy on its thrice-daily return crossings with the modern 2,400 tonne catamaran ship Pentalina.

The port has been used in recent years by survey-boats and research vessels involved in the early stages of the long-term project to generate large quantities of 'renewable' electricity from the fast-flowing tidal streams of the narrowest East end of the Pentland Firth. All four of the Crown Estate's seabed leases lie near Gills, including MeyGen Ltd's Inner Sound scheme between one mile and 1.5 miles away.

But Mr Mowat added: 'There has been a small-boat fishery from Gills Bay for many generations, back to the days of cod caught by hand-lines and dried for export to Mediterranean lands.

'As well as actual landings, Gills Harbour now serves as a collection point where catches of velvets, edible-crabs and lobsters are loaded on to trucks with aerated sea-water-filled 'vivier tanks' to keep the animals alive for arrival at the main markets in Spain and France.

'Gills Harbour's eight-metre wide 'hard' concrete slipway, which is available at almost all states of the tide, is used by fishing boats from other harbours for sub-surface weed-cleaning from their hulls, for inspections of propellers and other minor repairs'.

'It is also used as a loading point by some Orkney boats purchasing chandlery and fishing gear manufactured in Wick by Caithness Creels Ltd.'

PHOTOS
Billy Magee, Lower Gills, Caithness, KW1 4YB.
Related Businesses
Related Articles
OFFICIAL FIGURES SHOW MORE PEOPLE AND CARS SAILED ACROSS THE PENTLAND FIRTH FROM CAITHNESS TO ORKNEY IN 2016 FROM GILLS BAY THAN ON ANY OTHER ROUTE. Official figures recently published by Scottish Government 'spending watchdog' body Audit Scotland show that the so-called 'short sea-route' from Gills Bay to St Margaret's Hope was the busiest seaway to Orkney across the Pentland Firth in 2016.
One of the contractors that has been operating in the Inner Sound for Atlantis RL's MeyGen site has been taken over by another, a much-larger one. See note on Insight Marine Services Ltd of Cornwall.
Notice of Annual General Meeting: On Tuesday 21.03.2017 @ 19.30. Gills Harbour Ltd: A Community- owned trading Company limited by guarantee.
Jack-up barge Neptune arrives in the PF's Inner Sound early this afternoon 22.09.16. German tug Elbe, which will be working closely with the self-propelled JU, is already on site.
Update From Bill Mowatt. 'Notice to mariners': Installation of first tidal-stream turbine in the Pentland Firth's Inner Sound at Atlantis RL's MeyGen site c.
On Friday 18th September 2015 the 24 metre-long rectangular steel multi-cat C-Chariot built in 2013 was to be seen loading a Data-fish buoy at Gills Harbour, Caithness. North Sea systems Ltd who own the Datafish describe it on their web site (http://www.northseasystems.com/) as follows - "DataFish is North Sea System's metocean survey buoy for unforgiving marine environments.
Seabed cable-laying operations in the Pentland Firth's Inner Sound, off Canisbay, which may occur in the period 10.09.15 to 25.09.15. The cable ship being used in the Inner Sound is the 121 metre long Siem Daya 1 and she will reel in the four cables at Hartlepool in NE England.
We thank John Green for his picture of what £4.5 million of marine renewables vessels + kit looks like when alongside at Gills Harbour..
The most modern vessel in the Far North of Scotland's 'marine renewables' fleet is conducting debut operations in the Pentland Firth's Inner Sound this week. (commences 24.08.15).
Scotland's Shadow Minister for Transport Mr David Stewart, Labour MSP for the Highlands & Islands constituency, has made a fact-finding visit to community-owned Gills Harbour on the shores of the Pentland Firth's Inner Sound. There he was shown around by three officers of Gills Harbour Ltd (GHL), the Canisbay company that owns and operates the Scottish Mainland's most Northerly port.