Two vessels make their debut visits to Gills Harbour
10th May 2015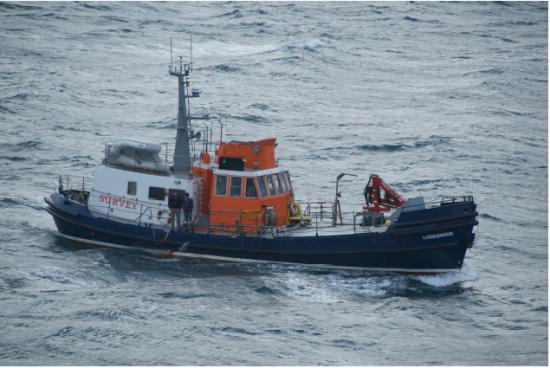 Two vessels made their debut visits to Gills Harbour on the morning of Sunday, May 10th, 2015.

The mini-ships Uskmoor and Lodesman sailed across the Pentland Firth from Orkney to conduct operations in the Inner Sound of the narrow, tide-swept, channel separating Caithness from the isles.

Just 36 hours earlier, an official 'Notice to Mariners' was issued by Glasgow-based survey company Partrac Ltd.

It provided precise positions in the Inner Sound from where the company would be conducting its marine operations, without naming the vessels to be utilised.

The steel-hulled, 16 metre-long, Uskmoor is owned and operated by Leask Marine of Kirkwall. She has a 4-tonne-capacity gantry crane at her stern, serviced by a single-barrel hydraulic winch, while a powerful Hiab crane fitted on one side can lift up to 3.8 tonnes at maximum alignment.

Leask Marine, headed by its award-winning entrepreneur Mr Douglas Leask, its managing director, operates seven vessels. This is the biggest fleet servicing the nascent marine renewables industry in the Pentland Firth & Orkney waters.

Its 25 metre-long many purpose rectangular-shaped 'multi-cats' C-Salvor and C-Odyssey have been fairly regular users of Gills Harbour over the past 18 months, as work on Atlantis Resources plc/MeyGen Ltd's pioneering £50 million 'Demonstration Array' of four electricity-generating tidal turbines has gathered pace. C-Salvor has recently been contracted to James Fisher Marine Services (JFMS), which holds the Inner Sound marine contract from the above.

Uskmoor has been used extensively in launching and recovering sophisticated Acoustic Doppler Current Profilers (ADCPs) at the tidal test-site of the European Marine Energy Centre (EMEC) at Falls of Warness, off Eday island in Orkney. She arrived at Gills Harbour just before 7:00 am on 10.05.14.

She has also been used 'in supporting inshore cable-laying projects throughout the UK', the company states. It is understood that several vessels in the Leask Marine fleet have charter-work overseas at present; the company added a third tug-style multi-cat, C-Chariot, to its successful fleet earlier this Spring (2015).

The 22 metre-long (72') Lodesman, which sailed in from Stromness, arrived at the 'Canisbay peoples port' shortly after 9:00 am on 10.05.15 .

She is a former Trinity House pilot vessel with a steel hull and a superstructure made of lighter 'glass reinforced plastic' (grp).

Lodesman is described as the 'primary work boat' of Roving Eye Enterprises, of Orphir, Orkney, on the shores of Scapa Flow.

Her owners state that, having been built as a '24-hour, all-weather pilot-boat' that their 'very capable manoeuvrable vessel is able to work in the extreme environment of the Pentland Firth in safety and comfort'.

This 80-tonne 'mini-ship has been specially modified to make Lodesman even more suitable for sea-operations using ROVs (remote-operated vehicles) which are tethered to and controlled from the mother-ship Lodesman for a wide range of underwater tasks for the 'marine electricity' market.

Both vessels have been used for ADCP work.

Partrac Ltd's operations this week are for recovering three six-sided stainless-steel 'cages' of 1.8 x 1.8 metres, that had been used to house ADCPs just over 0.5 metres off the seabed.

The frames are all attached to a 160 metre-long single steel wire ground-rope, while several other ground-weights are also being recovered after having spent the past winter under the 33 metre deep waters of the Inner Sound.

Those had all been used in the extensive Turbulence in the Marine Environment (TIME) study which Partrac Ltd operated for the Government-backed practical 'renewables' research body the Carbon Trust in the autumn of 2014 from Gills Harbour.

This was the most expensive applied-science experiment run in Caithness since Dounreay's heyday and was designed to find out about 'turbulence' affecting the Inner Sound's restless water-column half-way up between the seabed and it surface, roughly at the height of hubs of planned tidal turbines.

Top Carbon Trust marine scientist Dr Angus Vantoch-Wood came to Gills Harbour during the month-long test-programme of works that was not directly linked to MeyGen Ltd's activities there; it also made use of the pioneering Canadian-built Nemo buoy, which was recovered from the Sound last October.

During the past two weeks community-owned Gills Harbour Ltd has been represented at two major Scottish conference and exhibitions; The Scottish Highland Renewable Energy Conference in Inverness and the main European renewables All-Energy event that was held in Glasgow's Scottish Exhibitions & Conference Centre (SECC) for the first time, having been previously hosted in Aberdeen.

Both annual milestone events were opened by Mr Fergus Ewing MSP, the Scottish Government's Minister for Energy and Tourism, who re-iterated his intention to visit Gills Harbour for the first time in the near future.

Mr Bill Mowat, the former four-term (16 years) elected representative for NE Caithness on the Inverness-based Highland Council, is the chairman of the Canisbay harbour company.

He said: 'We are pleased to see that Gills Harbour is the little port of choice for mini-ships involved in Inner sound operations. We know that there will be much activity here over the coming months as works with the Inner Sound tidal electricity Demonstration Array roll out.

'The MeyGen Ltd sub-sea site lies between 1 and 1.5 miles off our harbour's entrance channel. The main operators and managers of small ships, such as Uskmoor and Lodesman, have been telling us about wishing to see our facilities being enhanced to make Gills Harbour even more suitable for those and multi-cats and we intend responding to this as positively as is possible for us'.

PHOTO
Lodesman

Overall design was by Burness Corlett & Partners to Lloyds
specifications. The hull is steel and superstructure G.R.P.
Certified as a Category 2 Vessel ( Up to 60 miles from a safe
haven)
General Information
Length: 21.67M
Beam: 5.48M
Draught 2.6M
Gross Tonnage 80
Service Speed 9knts
Main Equipment
Main Engines 2 x Gardner 8L3B's (230HP [AT] 1150RPM)
with Gardner gear boxes 2:1 reduction hydraulic operation
Steering :Tenjford hydraulic, spade rudders behind each propeller, dual
hydraulic system working from each engine as required with jockey lever
control through autopilot
Generators: 10KVA Kubota and 40KVA Perkins
Guerra Crane : 4.5M [AT] 800KG
Crew: 2-4 depending on operations
Scientific Officers: up to 12
Accommodation : 3 x cabins, Survey room and galley/mess
Large deck space forward of the wheelhouse.
Related Businesses
Related Articles
OFFICIAL FIGURES SHOW MORE PEOPLE AND CARS SAILED ACROSS THE PENTLAND FIRTH FROM CAITHNESS TO ORKNEY IN 2016 FROM GILLS BAY THAN ON ANY OTHER ROUTE. Official figures recently published by Scottish Government 'spending watchdog' body Audit Scotland show that the so-called 'short sea-route' from Gills Bay to St Margaret's Hope was the busiest seaway to Orkney across the Pentland Firth in 2016.
One of the contractors that has been operating in the Inner Sound for Atlantis RL's MeyGen site has been taken over by another, a much-larger one. See note on Insight Marine Services Ltd of Cornwall.
BMT Nigel Gee (BMT), a subsidiary of BMT Group, has announced a new project to design an 85m steel-hulled catamaran RoPax ferry for Strategic Marine, a subsidiary of Triyards Holding Limited. The ferry is for Scottish ferry operator Pentland Ferries and BMT will be responsible for concept through to production design, working closely with Strategic Marine.
Notice of Annual General Meeting: On Tuesday 21.03.2017 @ 19.30. Gills Harbour Ltd: A Community- owned trading Company limited by guarantee.
Jack-up barge Neptune arrives in the PF's Inner Sound early this afternoon 22.09.16. German tug Elbe, which will be working closely with the self-propelled JU, is already on site.
Update From Bill Mowatt. 'Notice to mariners': Installation of first tidal-stream turbine in the Pentland Firth's Inner Sound at Atlantis RL's MeyGen site c.
On Friday 18th September 2015 the 24 metre-long rectangular steel multi-cat C-Chariot built in 2013 was to be seen loading a Data-fish buoy at Gills Harbour, Caithness. North Sea systems Ltd who own the Datafish describe it on their web site (http://www.northseasystems.com/) as follows - "DataFish is North Sea System's metocean survey buoy for unforgiving marine environments.
Seabed cable-laying operations in the Pentland Firth's Inner Sound, off Canisbay, which may occur in the period 10.09.15 to 25.09.15. The cable ship being used in the Inner Sound is the 121 metre long Siem Daya 1 and she will reel in the four cables at Hartlepool in NE England.
We thank John Green for his picture of what £4.5 million of marine renewables vessels + kit looks like when alongside at Gills Harbour..
The most modern vessel in the Far North of Scotland's 'marine renewables' fleet is conducting debut operations in the Pentland Firth's Inner Sound this week. (commences 24.08.15).